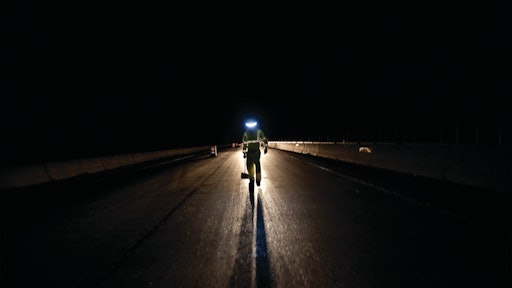 Looking to improve the safety of their workers, more than half of the U.S. Departments of Transportation (DOT) have deployed The Halo Light, according to ILLUMAGEAR, the Seattle-based manufacturer of The Halo Light.
According to ILLUMAGEAR CEO Max Baker, as of March 2016, DOTs in 26 states now are using The Halo Light to help improve visibility on construction sites.
"The growing adoption of The Halo Light by our country's DOTs is good news for worker safety in construction zones," said Baker. "It's our mission to help keep workers safe on the job. As we continue to stress to the industry, traditional personal protective equipment is, in many ways, outdated. New personal active safety systems are the future, and we are pleased that our nation's DOTs are embracing The Halo Light to protect their workers."
The state of Ohio is just one example of a DOT recognizing the benefits of improving the safety of workers on road construction sites. More than 150 Halo Lights are currently deployed among Ohio DOT workers, and, to date, there have been no reports of any accidents or injuries involving those wearing the system.
Izzy Ciptak, Safety & Health Program Consultant with the Ohio DOT, says, "Some of the biggest safety concerns our employees face are not being able to see hazards and being struck by a motorist. The Halo Light provides light in dark conditions to increase employees' safety and awareness, helps employees see and recognize hazards, and makes them more visible to motorists."