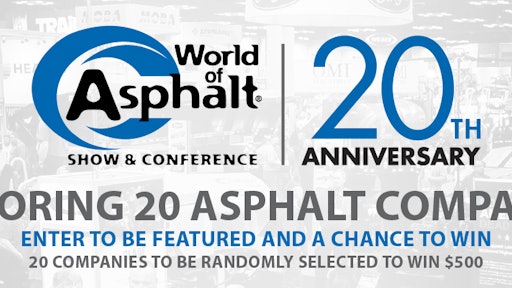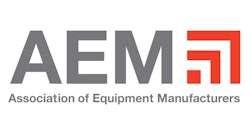 World of Asphalt trade show and conference will be heading to Nashville from March 29-31, 2022. The show is celebrating twenty years of bringing the asphalt industry together by honoring twenty asphalt companies with $500 toward attending the show.
"This is a significant milestone for World of Asphalt and we want to recognize the asphalt companies that make World of Asphalt and AGG1 possible," said show manager Brittany Weltcheff.  "The education and information at World of Asphalt are critical for businesses in this space to continue succeeding, and operating safely, into the future."
The selected companies can be found from Miami to Santa Cruz, from the Big Easy to the Twin Cities, and range from 2 to 4,200 employees.
"We wanted to give something back to the attending companies that make World of Asphalt possible as we celebrate our twentieth year this year," Weltcheff said.  "We originally planned to help them attend the 2021 show, but the pandemic prevented us from gathering like we planned. We can't wait to see these asphalt paving professionals in Nashville next year."
To see a list of the companies selected for this award, visit www.WorldOfAsphalt.com/Honor20. While you're there, register for the World of Asphalt People, Plants and Paving On-Demand education sessions, and check out World of Asphalt as it makes its way to Nashville in 2022 at the Music City Center.