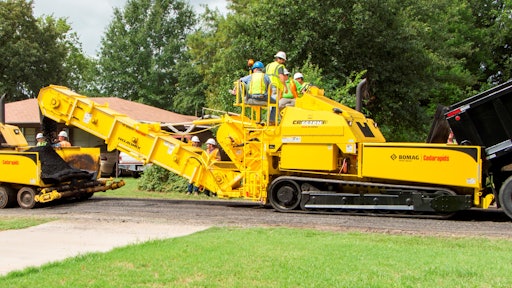 The Cedarapids CR662RM RoadMix MTV/Paver is the world's only machine designed as both a material transfer vehicle (MTV) and paver to significantly increase utilization rates. In less than four hours time, the CR662RM RoadMix allows a crew to remove the rear conveyor assembly used for transferring material from the tractor and replace it with the screed assembly for paving.
260-hp Tier 4 Final Cummins diesel engine
Low, 21-psi fully loaded ground contact pressure means the CR662RM can be used on all paving lifts, including the critical base layer, to help eliminate material and thermal segregation
Remix Anti-Segregation System delivery augers now feature hard-faced back sides to significantly increase wear life
Two sets of two variable-pitch, counter-rotating augers uniformly draw down material from inside the hopper to aggressively remix 100% of the asphalt to combat segregation at the jobsite
600 tph whether equipped as a paver or MTV
A new platform design increases the operator's line of sight to the RoadMix's sides, enhancing comfort and productivity
Smartrac technology extends the CR662RM RoadMix's track life, warranted for 3 years/3,000 hours
Oscillating bogie wheel assemblies combine with the system's frictionally driven rubber tracks to automatically apply the correct tension to the track, regardless of traveling in forward or reverse
When equipped as an MTV, the CR662RM's 30-in. wide conveyor offers a discharge height of 73.2 to 115.8-in. for non-contact paving and swivels 55° left or right of center for off-set paving
For mainline paving, the CR662RM can be equipped with either the Stretch 20 or Fastach 10 screed and is capable of paving at widths reaching up to 30 ft.
Request More Information
Fill out the form below to request more information about
Cedarapids CR662RM RoadMix MTV/Paver