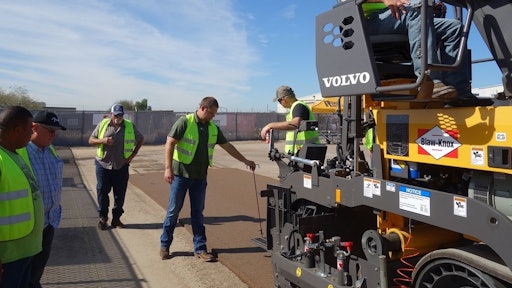 The construction industry is facing a very large skilled labor gap. Right now, 78% of construction companies are having a hard time finding skilled workers and  2.7 million infrastructure workers are projected to retire or permanently leave their positions over the next decade. As the labor market continues to tighten, and as more and more baby boomers head into retirement, construction companies need to realize the value of a well-trained worker, and the mentors that get them there. 
Construction mentors have most likely grown up in the industry. They know the job and they know how to get it done right. They are going to be your biggest asset in training the next generation of workers. Use them and appreciate them appropriately. If your company doesn't already have a mentor program, consider starting one/  It can be as easy as pairing a younger worker up with one who is more seasoned.
Developing Mentor Relationships
There are several benefits to starting a mentoring program at your company. Unlike sending new employees into a training program where they learn a specific skill, mentorships can be very customized and flexible. By working with a mentor, training can be adjusted to suit a particular mentee's goals and learning style, and they do not have a fixed end date. Mentor-mentee relationships can last throughout the duration of a mentee's career, including after a mentor has retired. 
In a mentorship situation, the mentor and mentee are also able to connect one-on-one, which strengthens the personal relationship and allows for low-pressure, high-value conversations. In addition, unlike an internship or apprenticeship program, mentorship programs benefit both the mentor and mentee in equal measure. While mentees gain insights into the construction industry and grow their networks and skill sets with the help of experienced workers, experienced workers are also eager to mentor and coach incoming talent. They understand that without passing on their wisdom and experience to a new generation of workers, that knowledge could all get lost. What a waste!
Mentors and mentees should be in regular contact, especially at first. Encourage a minimum of one weekly meeting, for lunch or at the office, where they can discuss what is going well, find opportunities for improvement and build their relationship consistently. As the relationship develops, they may work out their own meeting times and communicate differently, but at the outset a regular schedule will help build the habit of staying in touch. 
Mentees can also provide help with new technologies and bring fresh perspectives to old problems for more experienced workers. By pairing up talented Baby Boomers with eager, new workers, you provide each of them with opportunities for growth and express confidence in their respective, unique abilities.
Manufacturers Are Teachers Too 
Equipment manufacturers work hard to make sure their customers get the most out of every piece of equipment they own. In order to accomplish this, they host training events year-round both in classrooms and out on jobsites. Take advantage of these opportunities whenever you can. Contact your equipment dealers for support as well. Training keeps your employees engaged and invested in the business so make sure you consider sending them to some of the courses offered by manufacturers in the industry.
Teacher Appreciation Week extends well beyond any classroom and should be recognized for more than just one week a year. Thank the mentors in your life for everything they've done to help you advance in your construction career.