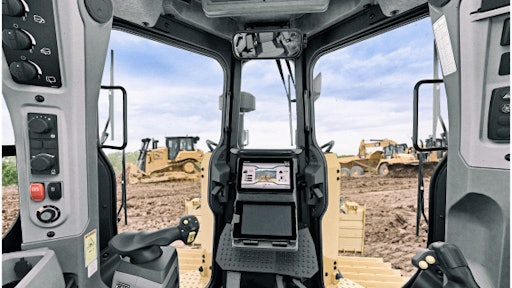 Caterpillar
Jason Hurdis, Global Market Professional, Construction Materials Industry, Caterpillar Inc.
Ask a question about improving productivity or uptime, and the first, second and third answers you'll  hear will likely involve advanced technology. While that makes sense — onboard systems can deliver double-digit efficiency gains — don't overlook the low-tech features that can help your operators work more quickly and accurately. Here are four "simple" productivity boosters to consider as you're equipment shopping:
1. Ergonomics
When an operator spends eight to 12 hours a day in the cab, ergonomics play a big role in productivity. Look for noise- and vibration-limiting features, seats that accommodate different shapes and sizes, and controls that are laid out in a way that limits unnecessary movement. Customizable joystick control settings are ideal because they let operators adjust hydraulic flow and speed to their liking, and extras like Bluetooth ports, cup holders, climate control and storage can go a long way toward limiting fatigue and making a long shift more comfortable.
2. Visibility
Good visibility in the cab gives your operators the confidence to work more quickly — helping eliminate guesswork, reduce the chance of errors and save time. When you're selecting equipment, spend plenty of time in the cab making sure there's a clear view of the implements, attachments and work area. Consider onboard cameras, too. They can help enhance productivity as well as safety by increasing visibility to the rear and/or sides of a machine.
3. Monitors
Because your operators spend so much time in the machine, they can tell better than anyone when it isn't operating as it should be — and a good onboard monitor plays a big role in helping them spot when productivity's on the decline. Look for easy-to-see, easy-to-operate monitors that display vital machine stats at a glance and alert operators to malfunctions. Many monitors also display attachment presets, allowing operators to match the specific operational requirements of each attachment, so there's no more time wasted on manual calibration.
4. Work modes
Not every job requires full-on, full-power performance. That's why many equipment manufacturers have added work modes to various machines. "Power" mode on an excavator might deliver maximum engine and hydraulic power for a tough digging or lifting job while "smart" mode automatically matches power to conditions. Work modes can help your operators complete every job as efficiently as possible — rather than underpowering and wasting time or overpowering and wasting fuel.
None of this is to say you don't need technology to boost productivity and uptime. You absolutely should consider grade control, bucket guidance, payload management, fleet monitoring and the like. But keep these "simpler" solutions in mind as well. By speeding and simplifying operation, they can help your operators get more done in less time — and that's the basis of productivity.