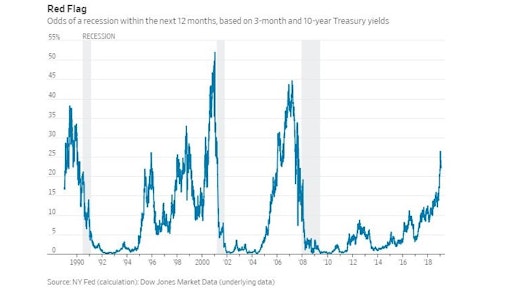 In December, U.S. existing-home sales cratered to 4.99 million, 10.3% below the mark from the year-ago period, according to data released last week by the National Association of Realtors.
Analysis of the data by BusinessInsider.com points out that's the steepest decline in more than seven years, and it followed year-over-year declines of 7.8% in November and 5.1% in October.
Home sales dropped in every month in 2018 except February, but the trend grew more aggressive in the final quarter. Declines have affected every U.S. region.
Wells Fargo mortgage-banking income fell by 50%, to $467 million, in the fourth quarter, while originations declined by 28%, to $38 billion.
JPMorgan saw mortgage income fall 46% compared with the same period last year to $203 million. Originations fell 30% to $17.2 billion.
Significant housing declines have foreshadowed nine of the 11 post-World War II recessions in the U.S., according to a note by UBS from December examining the housing slowdown.
"The housing market usually does not slow down in a vacuum, and a falling housing market may well be the first indication of broader economic weakness," the bank's analysts wrote.
UBS analysts estimated that rising mortgage interest rates accounted for roughly half of the slowdown. The rate on a 30-year mortgage rose to 4.94% in November – its highest mark since 2011 – before falling to 4.45% by year's end.
The median existing-home price in December was $253,600, a 2.9% increase from 2017 and the 82nd straight month of year-over-year gains, according to the National Association of Realtors.
Less-measurable factors include rising construction costs, a reduction in the mortgage deduction in the new tax law, and tightening credit standards by some lenders.
The number of consumers who say they think it's a favorable time to buy a home fell below the number who say they think it's a good time to sell one. As UBS pointed out, that's happened only twice in the 26 years those survey questions have been asked — and those instances preceded our two most recent recessions.
BusinessInsider.com says a housing collapse is by no means imminent, especially in light of current strength in other economic fundamentals. Consumer spending hasn't flatlined elsewhere, and unemployment and wage growth are trending in the right direction.
But consumer confidence in the economy has been slipping since it peaked in October, taking expectations for future expenditures down more than 20%. 
A Wall Street Journal poll suggests economists' weakening confidence in the economy.
The early-year poll put the chance of a recession beginning within the next 12 months at 25% – its highest since 2011. The government shutdown and its downstream impacts, cumulative effects of the Trump Administration's trade fight, and slowing growth abroad – particularly in China – compound those woes.
A JPMorgan recession-forecasting model puts the odds of impending recession at about 43% and a Federal Reserve Bank of New York model based on Treasury yields puts them at 22%.
The tight labor market is another reason recession odds have risen in models like JPMorgan's, and presents what may be an unappreciated risk. Most economists, including those at the Fed, believe the unemployment rate of 3.9% is below its sustainable level. In the past, when the rate has risen more than a few tenths of a percentage point, it has kept rising – and a recession has followed.
None of which is to say a downturn is necessarily in the offing; the U.S. economy has proved remarkably resilient in the past decade. But anyone who thinks it isn't facing a challenge now hasn't been paying attention.