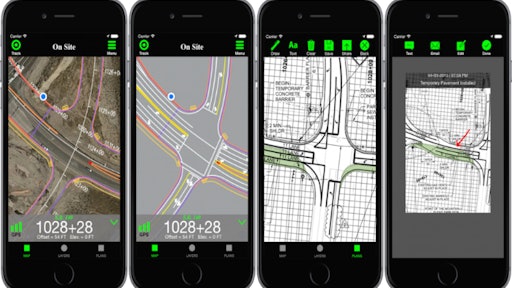 Mobile app: OnStation
Developer: PROJiTECH
Cost: Pricing varies by project
Available on: Apple devices
Designed as a multi-purpose mobile app for transportation construction projects, OnStation is a tool for project management personnel to use while in the field or in the office as a quicker, more efficient way to view plan sheets and reference project design.
OnStation is customized to each specific project and priced per user. A user provides the project's design drawings, plan sheets and survey data and PROJiTECH produces a custom OnStation app for the project that can then be distributed to the entire project team.
PROJiTECH can incorporate 100 percent of a user's plan sheets into OnStation so contractors can have the entire plan set with them wherever they go. There is even have a built in feature that will automatically display all of the plan sheets that relate to a specific location referenced from the project map. 
Video: How the OnStation Mobile App Works
One unique feature of the OnStation mobile app is its Station Finder technology. With this technology, the mobile app displays a user's current stationing with offset and automatically updates as you move around a job. This feature allows a user to quickly reference stationing, determine lengths and distances, and compare elevations.
Another unique feature of OnStation is its Mobile Design Maps which allow the user to view the project design on a satellite map. This feature also lets users add drawings or layer multiple drawings on the map with a tap of a button.
According to Jake Bailosky, owner and transportation engineer for Projitech, OnStation users estimate the app saves them approximately two hours per week versus using traditional methods to reference stationing and look up plan sheets. The app is being used on The Point Project in Utah, which is the biggest active project in the state at began construction earlier this year. In just three months, the contractor has distributed out more than 70 copies of OnStation to its project management team. They also reference the app more than 70 times per day during the work week, Bailosky said.    
App features:
Instantly view and reference stationing on the job
Reference plan sheets by scrolling through plan sets or let OnStation pick out plan sheets based on user's location on a project
Take pictures on the job with stationing and timestamp
Create and share detailed field notes
Ability to mark-up plan sheets, design drawings and pictures then send them as text messages or email or save to photo album
Jump feature allows user to jump to a specific location on the map by choosing an alignment and entering a station number