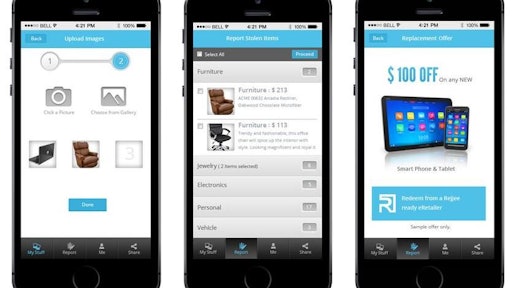 Mobile app: Rejjee
Developer: Rejjee
Cost: Free
Available on: Apple and Android devices
The Rejjee, cloud-based mobile app is a free way for contractors to protect their tools and equipment from loss or theft. The app includes a real-time theft reporting system that logs incidents in a nationwide property theft law enforcement portal. This formal, electronic report can also be used to file an insurance claim.
Video: How Rejjee Can Help Contractors Protect Their Valuables
Using the Rejjee mobile app, contractors can create a personal digital vault documenting their tools, equipment, electronics and other valuable items. The Rejjee app is free with unlimited capacity, so contractors can register an unlimited number of items without any charge.
Plus, if items registered with Rejjee are not recovered, Rejjee also delivers discount offers on replacement items based on location and item category. 
"In our research for this business we have learned that many a leaf blower or circular saw 'walk off the job,' and the issue isn't so much the item as the construction worker not able to finish the job and get paid because their equipment has been stolen," says Ken Smith with Rejjee Inc. "Registering is important so workmen can file reports from their phone in real time and then get discount replacement offers from local retailers so they can get back to work while the police look for who stole their stuff."
In addition to helping locate stolen goods, the Rejjee app also lowers the risk of having lost or stolen items resold online. Rejjee features an open access incident search with serial numbers. According to Smith, Rejjee is the only network that allows serial number and product category search.
App features:
Create an encrypted digital file including images, description and value
Report items lost or stolen for filing with police or insurance; also report if items are found
Receive discount offers to replace lost or stolen equipment