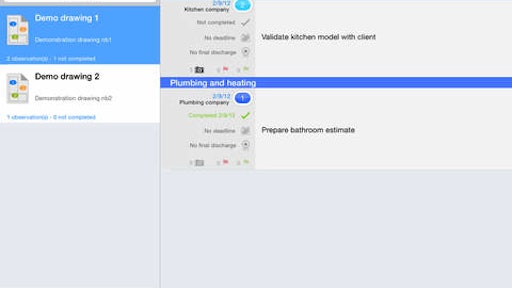 Mobile app: SiteWorks
Developer: Nutes
Cost: $39.99
Available on: Apple devices
Manage project site supervision and punch/snag lists with the SiteWorks mobile app. Punch/snag list items can be placed directly on PDF drawings right where you want them to be. Users can also define the building trade involved, stakeholders, detailed description, deadline, photos and more.
SiteWorks also helps simplify a contractor's site management by allow the contractor to organize sites, drawings and observations and instantly view site observation overviews and statistics. With SiteWorks, each site has its own original drawing library and customizable folders for all project building stages. These folders contain drawings and recorded observations sorted hierarchically
App features:
Follow work in progress and modify observations as required
Integrated stakeholders management and automatic contacts app synchronization
Quick overview of punch/snag list items by stakeholder
Import drawings from email, Dropbox, WebDAV, iTunes or any cloud services that provide an app compatible with documents providers
Share reports and punch/snag lists through PDF, Excel report, CSV, email, Dropbox, WebDAV, iTunes and cloud services
Open reports with any third party app
Print reports and punch/snag lists right from the app
Save and share all site files including drawings, observations, photos, contacts, etc.
Completely configurable: custom building trades, custom reports content and layout, and more
Fast import of ArchX projects informations
Available in eight languages: English, French, Chinese, Norwegian, Danish, German, Portuguese and Dutch