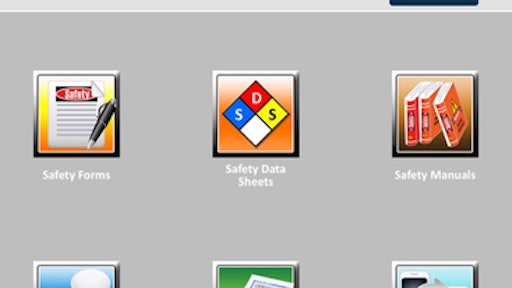 Mobile app: Construction Safety Compliance App
Developer: Safety First Data Systems
Cost: Subscription-based web service
Available on: Apple and Android tablets
The Safety Compliance App (SCA) helps construction contractors manage the documentation requirements of OSHA-compliant safety programs. Unlike other general industry safety apps, the SCA app was designed by a contractor primarily for the construction industry.
Workers in the field have immediate access to safety reports, job safety analysis forms, worksite and equipment inspections, safety data sheets, toolbox training talks, employee certifications, incident and injury reports, safety and training manuals, and more. Users in the field can also fill out all safety documentation and equipment inspections directly from their tablets.
App features:
Automatically sends reports to safety personnel
All reports permanently stored on a secure server
Simple access through any web browser
All reports for active jobs, as well as all other safety documents, are stored in the tablet and can be viewed at any time with no need for an Internet connection
Data can be synced to the SCA server when Internet connection is available
Daily and weekly user compliance reports
Schedule Toolbox Talk topics; large library of Toolbox Talk presentations
Submitted reports automatically distribute to all tablets within the company
View or download any submitted report at any time
Automatic screening for reports containing items requiring attention
Attach photos to any report
Weekly summary reports flag missing reports from subcontractors
Document and sign off on worker site safety orientations