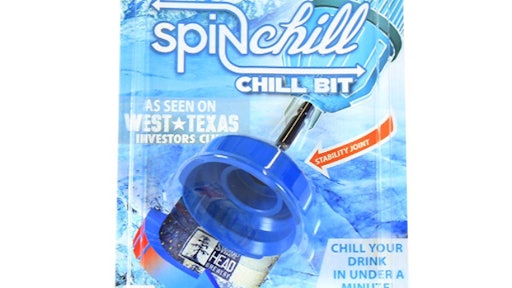 Amazon.com
Continuing the 12 Days of Construction Christmas 2019 gift ideas...
One the eleventh day of Construction Christmas my boss gave to me — SpinChill ChillBit Drink Chiller
Most of us probably think of alcoholic beverages when we hear "chilled beverages." And I'm not advocating for drinking alcohol on the jobsite. Nor do I advocate for using hand tools in unsafe ways. However, if you have crew workers who are soda drinkers who like to keep a case on hand but can't find a way to cool it (or you know a construction worker who want to do a fun party trick) this little device could make a fun holiday gift.
The SpinChill ChillBit attaches to a power drill, hooks to either a glass bottle or can, and spins the drink in ice until it's cold. The manufacturer claims it takes under two minutes for the ChillBit to help cool a drink.
Not sure how practical this gift may be. After all, if a drink is spinning on the end of a drill, it seems likely it's going to explode when you open it! But if you have employees who like to show off at parties, this might be an amusing gift. I would just specify it should not be used on the jobsite!
Looking for other construction-related gifts? Check out the rest of 2019's 12 Days of Construction Christmas gift ideas:

Day 1 – Makita Cordless Coffee Maker
Day 2 – Crescent Tool Storage Bags
Day 4 – Weather appropriate gear
Day 8 – Ergodyne tool tethering systems
Day 9 – Klein Tools Tradesman Pro Tough Box Work Cooler