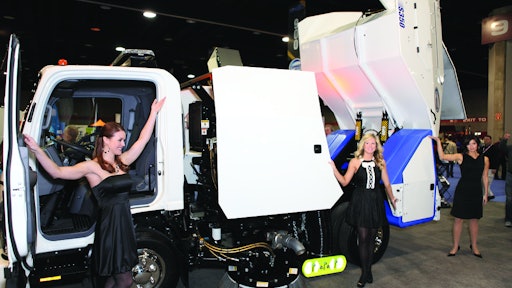 Despite an untimely blizzard that weather experts said affected more than 30 states including the Midwest and Northeast, National Pavement Expo posted its most solid event in the last few years Feb. 2-5 in Nashville.
All exhibitors made it through a belt of snow and ice, and more than 1500 contractors visited Nashville to take advantage of a robust conference program, expanded exhibit floor -- and Nashville night life.
Among the most buzzed-about of NPE's sessions were:
* "Twitter, Facebook, and Blogging." Jeff Korhan, True Nature, provided an introduction and overview of the changing media marketplace
* "Increasing Efficiency in the Field." Grow Consulting's Guy Gruenberg presented this much-requested session for the second year in a row, offering tips on how crews can save money each time they go into the field.
* "The Profitmaker's Toolchest." In this 3-hour workshop, co-sponsored by NAPSA and Tymco, Kraig Kramers, CEO Tools/Corporate Partners, outlined more than 100 "plu-and-play tools for rapid profit acceleration"
* "From Field General to Business Manager: Steps Busy Owners Need to Take." Vinny Engongoro, Roccie's Asphalt Paving, suggested steps and systems to put in place to help owners and supervise move from hands-on work to overall manager.
PCTC Draws Crowd to Sealcoating Regs Session
Years ago a seminar on sealcoating regulations could have been held in the cab of a pickup truck, but "Sealcoating: Regulatory Challenges and Industry Initiatives," presented by members of the Pavement Coatings Technology Council, drew almost 200 people.
Mike Juba, Koppers Industries; Bob DeMott, DABT Environ; Kirk O'Reilly, JD Exponenet; and PCTC Executive Director Anne LeHuray did a great job of distilling and simplifying the complex science and regulatory issues faced by the sealcoating industry and outlined steps PCTC is taking to fight unfair regulation.
To get the message out to as many contractors as possible PCTC subsidized the seminar -- and that effort really worked. Attendees as the seminar received a DVD of the importance of sealcaoting and sealcoating best practices. That video is available for viewing at www.pavementonline.com.
Stokes Offers Strategy for Successful Sales
Jeff Stokes, Next Level Contractor System, warned contractors that selling shouldn't just be an after thought. In his workshop, "Successful Sales for Pavement Maintenance Pros," Stokes encouraged contractors to create a sales system and train their sales team. "You wouldn't put your pavement maintenance crews out on a job without training them and giving them the right tools, and you should be doing the same for your sales team as well," he said.
Included in his session are these 11 tips:
* Communication is always important
* Develop a sales system or process – Without a process each sale is approached completely different and a contractor or sales associated can never know what works and what doesn't.
* A sales systems starts even before you meet with the client. The system helps "funnel" which clients you should pursue and which are better left for someone else. Qualifying your customers starts before the first meeting.
* Always be prepared for the first meeting. Have all the materials you may need to help educate the customer. Memorize questions to ask them and know how to follow up and which direction to go once you get an answer.
* The objective of the first sales call is to make a good impression, not necessarily to get the sale then and there.
* Building relationships takes time. It may take multiple "touches" before you reach a relationship status where the customer is ready to buy your services. Make sure you cover all the bases with the client. And it is important to be seen as an expert. Learn your trade before you sell your services. Also, writing articles or whitepapers for local publications is a great way for customers to see you as an expert.
* The faster a possible or current customer can see you as someone of value the better.
* Know the different buyers you might or will be selling to (user, buyer, technical, finance, etc.). Know the different questions each type of buyer will want to ask, and know how to answer those questions. Never neglect the degree of influence any of these buyers have.
* Good sales people ask open-ended questions not closed-ended leading questions. Open-ended questions allow you to get more information for the customer.
* Strategy is the single most neglected element in selling today. Strategy is key, and a good strategy can be learned. Take the time to develop the best, most successful strategy, and then take the time to teach it to your sales team.
Sweepers: Put Safety Training into Practice
Jim Green of the Alamo Group focused on sweeping safety in "Sweeper Safety and Operating Techniques that Protect Operators – And Your Business," one of three session available free to members of the North American Power Sweeping Association.
Green said that because sweeping contractors work in environments were safety is of great importance it's not just the equipment operators that need to know how to safely operate sweeping equipment. All members of a sweeping team should be aware of safety practices including maintenance and operation.
Green said there are three tiers of safety: Good, safe equipment; an operator's manual; and training. "All people are important to the success of the business," Green said, so all employees should be following safe business practices. "You have to trust and respect the people you work with so you can count on them."
Green suggests contractors follow the "tell, show, do, review" approach. Tell your employees what proper operation and safety practices are. Show them those methods. Ask them to do the methods themselves. And then review the entire process with them. Most people learn differently, some visual, some audio, and some hands-on. A combination of these teaching methods can help ensure everyone is learning in the way they prefer. Plus, it's not often you can just tell someone to do something new and they do it right the first time.
It is not easy to change someone's habits, but Green says behavior can be managed. The "tell, show, do, review" method can help to mold the desired behaviors in your employees, enforcing seat belt use, for example.
Safe operation starts with proper maintenance checks. Green suggests that a written check of the equipment should be completed every day. A pre-operation maintenance check is essential so no unsafe equipment is being sent on a job. It can be helpful to also do a post-operation maintenance check. These checks allow operators and the maintenance crew to compare how the equipment was working before the day started to how it is working after the work day is complete.
If you're sending your crews out on unsafe equipment, proper safety practices may not prevent accidents or unsafe conditions. Make sure equipment is in good, safe working condition and operators know and are practicing safe operation on the job.