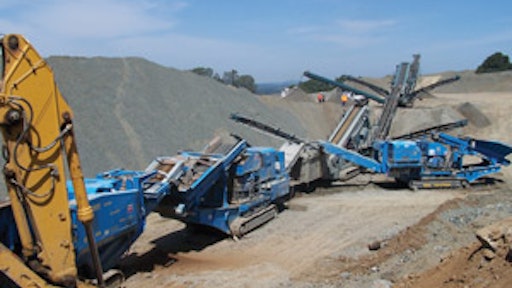 The new four-lane Highway 49 Bypass in Northern California begins a little south of historic Sutter Creek and ends just north of Amador City. The bypass is 4 miles long and involved the building of two major bridges.
Primary contractor on the project was Viking-Stimpel, a joint venture between road builder Stimpel-Wiebelhaus Associates, Redding, CA, and bridge builder Viking Construction, Rancho Cordova, CA.
The project site presented unexpected challenges for Stimpel-Wiebelhaus. Not only was it very hilly, it was full of greenstone, a dense, igneous rock. Much more of this rock was encountered during excavation than expected.
"We had bid the job very aggressively," says Bill Wiebelhaus, operations manager. "I believe we were about $2 million below the closest bidder. The job required about 700,000 tons of off-haul. We knew we could make quality road base from the rock excavation. But we were limited on stockpile room in the highway right-of-way - such that we could only make about half of the 120,000 tons required."
What to do with all that rock?
The question became what to do with the excess shot-rock excavation. Potential waste sites on properties adjacent to the job were in use for agricultural purposes.
"This meant we would have to haul the rock away as waste to a landfill or other remote site approved by the State of California," says Wiebelhaus. "All that is expensive, slows production and isn't great for the environment."
On top of that, the contractor hit roughly 185,000 tons of additional rock. Stimpel-Wiebelhaus was entitled to $10 per ton haulage from Caltrans, since that much rock had not been anticipated. "This would have cost the state more than $1.8 million and delayed the work," says Wiebelhaus.
The solution came via Eland Construction, Orangevale, CA. "We were looking for a short-term rental on a rock plant to crush the 60,000 tons of road base on site, and Eland could supply just what we needed," says Wiebelhaus. "We had no idea that Eland would end up crushing the off-haul rock. But fortunately that's how it worked out."
Eland Construction specializes in general engineering and construction, heavy equipment rentals, fire fighting services, erosion control, processing successful entitlement applications with government agencies and geosynthetic supplies.
"Up until the bypass project, my knowledge of aggregates was pretty much limited to getting what I needed for building roads when developing subdivisions and doing other construction projects," admits Mark Steiner, president and owner, Eland Construction. "But fortunately, I have two gentlemen in my employ who are experts in aggregates processing. When I learned of Stimpel-Wiebelhaus' excess rock situation, we got our heads together with Bill Wiebelhaus and went to work on solving their problem."
Steiner proposed the best way to get rid of the excess rock was to use it rather than discard it. "We saw crushing the off-haul as a way to save California a lot of money, help the environment, produce much-needed aggregate in various sizes and make some profit in the process," he explains. "That's a win-win situation for everybody."
Making the right equipment choices
To get started, Eland needed to assess the needs of the California aggregate market, then acquire the right combination of equipment to meet those needs at a cost that would be competitive, yet still allow an acceptable profit.
"My aggregate experts checked out the equipment situation very thoroughly," says Steiner. "They talked to a number of manufacturers and dealers, as well as users of the equipment we were considering."
Eland decided the obvious choice for its operation, and for the short-term rental to Stimpel-Wiebelhaus, was a system consisting of Terex Pegson tracked jaw and cone crushers and Powerscreen tracked screening plants.
"After our investigation, we felt the Pegson and Powerscreen equipment was better engineered and built than the other brands we had investigated," says Steiner. "It is more solid, more efficient and has a great reputation for efficiency and reliability in continuous, long-term use in tough applications like ours. What's more, the two brands are designed to work together in perfect unison."
In addition, with the Terex Pegson Automax tracked cone crusher, no screen plant is needed between the jaw and the cone. "The primary jaw feeds directly into the secondary cone," Wiebelhaus points out. "It saves you from buying or renting and maintaining an extra screening plant, and eliminates a step in the production process, which speeds up the whole operation."
Eland purchased two Pegson-Powerscreen crushing, screening and radial stacker systems. "The first system went on stream in July 2004 and the second some months later. Both have run exceedingly well ever since," says Steiner. "We work eight- to 10-hour days Monday through Friday. And everything runs smoothly."
Setting up shop
Stimpel-Wiebelhaus located its rented crushing/screening system within the bypass right-of-way to crush as much rock as possible (60,000 tons) for road base. It primarily produced Class 2 (3/4-in. minus) road base, plus structural backfill (SBF) material.
Its system consisted of a Pegson 26x44 Premiertrak jaw plant feeding a Powerscreen Warrior 1800, which produced SBF and also fed a Pegson 1300 Maxtrak cone. The 1300 cone fed a Powerscreen Chieftain 1800 dry screen that operated in closed circuit with a Pegson 1000 cone and fed Class 2 road base to two Powerscreen radial stacking conveyors.
Excess rock was then hauled to Eland's crushing and screening operation, located on leased land outside the bypass right-of-way adjacent to the highway.
Its basic system consisted of a Pegson 26x44 jaw feeding a 1300 cone, which fed a Chieftain 1800 screen. The Chieftain operated in closed circuit with a Pegson 1000 cone, and fed Class 2 base rock to two Powerscreen radial stackers, which stockpiled material. The stackers also fed a Chieftain 2400 screen plant capable of producing a number of different size products simultaneously, including SBF, 3/4-in. drain rock, 1/2-in. drain rock and Amador County Water Agency spec sand.
Eland has used some of the material for its own building and road construction purposes. The remainder is now available for sale.
"We've kept most of the crushed rock on site until the bypass was completed," Steiner says. "Now it can be sold to third parties and hauled away on the bypass instead of over the rural roads. We have more than 500,000 tons of processed rock material. When all the crushed rock is sold and gone, the land can be used again as the owner wishes."