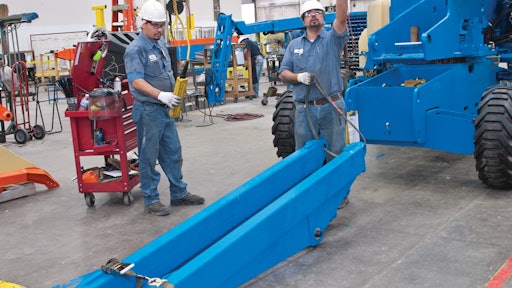 The expense associated with Tier 4 Final emissions compliance compounded with fluctuating economic conditions might have you scratching your head when it comes time to turn over your fleet. Many rental business owners today are giving serious consideration to the used equipment market. But there's also another viable option in addition to new or used — remanufactured.
Most major heavy equipment manufacturers offer some type of remanufacturing program. Some, like Bobcat and CNH, for example, center on the engine and related components primarily. Others, such as John Deere, broaden the scope to cover major power train parts. All programs aim to do the same thing: significantly extend the useful life of the machine at a cost that's typically less than half the price of buying new.
Remanufactured parts minimize the total cost of ownership, including minimizing repair time. "Rebuilding an engine or driveline can put larger equipment out of service for a week or more," says Jerry Hutkowski, product marketing manager for CNH REMAN, which provides remanufactured components and assemblies for Case Construction, New Holland Construction and Kobelco Construction machinery, as well as Case IH agriculture and New Holland agriculture. "CNH REMAN components come as drop-in assemblies, reducing the time it takes to remove, rebuild and reinstall major components. That's an important consideration, especialy during busy seasons.
"A recent study by CNH REMAN showed the average long-block rebuild overhaul takes 40 hours - while an average CNH REMAN drop-in block takes only 14 hours," Hutkowski says.
Jeffrey Lambeth, aftermarket remanufacturing manager at Bobcat agrees that remanufacturing is efficient, adding, "Remanufactured components will assist a rental business in keeping their cost down compared to replacing with new, and they have a reliable resource in the remanufactured product. Downtime is reduced when purchasing a remanufactured product and the value of the equipment is maintained when it's time to sell the equipment."
But is it as good?
Typically, remanufactured engines and components can offer a substantial cost advantage vs. new, while offering performance and reliability on par with new components. "CNH REMAN parts function as well as or better than an original part, yet cost 20 to 40 percent less than new parts - with a full warranty," says Hutkowski. "What's more, equipment owners get money back for the worn parts through the core return process of the CNH REMAN program."
Unlike regular "rebuilt" parts, each CNH REMAN part is disassembled, cleaned and inspected; all cores are updated to the latest specifications; and components are checked, refurbished and replaced where necessary. Finally, the CNH REMAN parts are tested to meet or exceed the original OEM specifications.
The cost factor
"The cost can obviously vary significantly, depending on what additional work a customer chooses to do to the machine," says  Mark Wagner, reman product marketing manager, John Deere Construction & Forestry. "Our customers feel the [Deere] Reman Reload program should cost less than 50 percent of the price of a new replacement machine. Most of the Reman Reload programs we sell are in the range of 35 to 45 percent of the cost of a new machine. Generally, the larger the machine, the more financially attractive the Reman Reload program becomes, compared to replacing the unit with a new machine."
It's true that for smaller equipment, such as skid steers and compact excavators, the cost of remanufactured parts is higher in comparison to the initial capital outlay for a new model. Bobcat, for instance, notes that its remanufactured parts are typically 70 percent the price of new, but with a warranty that's comparable to new or better than new.
"In the rental business, the two biggest factors that need to be managed with respect to the equipment costs are to minimize equipment purchase costs and maximize the utilization period of that equipment," says Wagner at Deere. "When the machine goes out, it needs to be reliable, and it needs to do the job the customers needs done, with minimal downtime. I think what can happen sometimes is the rental companies end up trading the machine in early just to avoid the risk of a major component failure. With the Reman Reload program, they can extend the useful life of that machine and maximize its amortization period, while having the peace of mind of the three-year/5,000-hour extended power train warranty."
Better than ever performance
Since any product improvements that have occurred since original production are included in the remanufacturing process, these components can not only extend the life of a machine, but in some cases actually improve power and durability. At CNH REMAN, specially trained technicians disassemble and inspect worn engines, so they know exactly which parts require replacement. Other parts such as crankshafts, connecting rods and cylinder heads are carefully evaluated.
"We have the technology to bring good components back up to spec," explains Hutkowski. "Every part is checked."
Plus, they come backed by warranties, parts availability and service. In addition to the obvious cost advantage, other benefits include the ability to get parts from the original factory at attractive prices with factory warranty and support. 
The same warranty available on new product is provided on most of the remanufactured items. Studies show that the failure rate of parts remanufactured to manufacturers' exacting standards is at least the same as that of a new part. Manufacturers are able to offer warranties and services comparable to new due to the stringent steps followed during the remanufacturing process.
With Tier 4 Final technology beginning to come into the market, the remanufacturing concept has special significance for equipment owners of machines so equipped. For CNH REMAN, a recent $1-million investment in its Springfield, MO facility helped engineers create a 1,200-square-foot "clean room" for testing the latest Tier 4-compliant fuel injection components. This includes the new family of high-pressure common rail injectors, which are now being built to micron-level tolerances. The new "Class 6" clean room supports standard measurements of one half of a micron. By comparison, a human hair is 70 microns. 
Clean rooms are rated by measuring the air particulate count per cubic meter. In the new clean room, eight huge HEPA filter modules work continuously to purify the air to less than .1 micron of particulate per cubic meter every two minutes, or 30 times per hour. 
In addition to saving capital investment, remanufacturing is also good for the environment. Energy savings and environmental benefits of remanufacturing are significant. Remanufacturing uses about 85% less energy than mining, refining, melting and machining of new material. Remanufactured engines and components help keep products from ending up in landfills, and can have a large impact on greenhouse gas reduction efforts. 
Gaining momentum
Remanufacturing is a growing industry, suggesting increasing availability of remanufactured parts in the future. The remanufacturing business has tended to do very well during tough economic times, and continues to do well in today's financially cautious atmosphere. Equipment owners want to derive extra value from their investment and using remanufactured products is one way to do that.
"The cost-efficiency of the CNH REMAN program has been a big draw - particularly during the last several years of economic turbulence," says Hutkowski. "Rental companies - and the construction industry in general - have become very sensitive to the overall cost of machine ownership. Finding ways to lower this overall cost is a huge priority, and CNH REMAN fits into the objective perfectly."
Many believe the remanufacturing business will continue to grow even past the recovery of the construction economy. The concept of remanufactured products is well understood in North America and is gaining acceptance in all markets. In addition to expansion of markets, there's likely to be expansion of product lines as more technology is being developed to deliver an increasing array of remanufactured products.
"Since CNH REMAN parts come with absolutely no quality sacrifices - in fact, CNH REMAN engines often exceed original performance - they're an easy decision for economically savvy rental companies," Hutkowski says. "CNH REMAN plans to grow sales 18 percent in 2013 through continued product development and increased dealer loyalty."
He continues, "The time savings associated with the program also help rental companies maintain a competitive edge - in a time when it matters most. Regardless of the state of the market, we expect the CNH REMAN business to continue to grow and be a draw for customers everywhere."
Remanufacturing programs felt the impact of the most recent economic downturn like most areas of the construction business did. Lower machine utilization led to fewer component failures and that translated into lower-than-normal demand for machine refurbishment programs. 
"When the economy hit bottom in '07/'08, all businesses were affected. Equipment owners were no different," says Lambeth at Bobcat. "But these times are when remanufacturing becomes a valuable option due to the length of time people hold onto their equipment. Repairing equipment vs. buying new at times makes more economic sense. We see remanufacturing as a great opportunity for growth and are investing in programs to continue to educate our dealers and our customers on these options."
Wagner at Deere says the Reman Reload business was less severly affected by the downturn than many other areas of the industry. "I think that shows  the high value that our customers place on remanufactured solutions. And when times are tough they continue to spend what little money is available on a solution they can count on minimizing their costs in the long run."
He continues, "It's no secret our customer base is changing rapidly and will embrace solutions that improve uptime and minimize their operating costs. Remanufacturing is an idea whose time has come, and I see our customers leveraging this concept more in the future to make the most of their machine purchases."