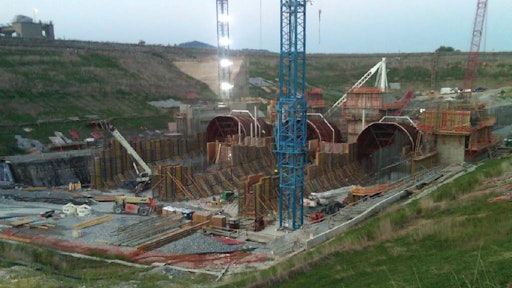 The Challenge:
Construction of a 105 megawatt hydroelectric plant on the Ohio River required approximately 40,000 square feet of Doka pre-assembled Top 50 gang formwork

The Players:
Baker Concrete Construction
Doka

The Process:

Featuring approximately 40,000 square feet of Doka's pre-assembled Top 50 gang formwork, the Meldahl Project is designed to provide a new source of clean, zero emission electric generation for the national grid. Located on the Ohio River, approximately 40 miles east of Cincinnati at Foster, Ky., the Meldahl Project includes a 105 megawatt "run-of-the-river" hydroelectric plant. The challenge was to deliver this monumental project efficiently on an aggressive three-month schedule. Baker Concrete Construction hired Doka to meet the challenge.

The project design called for three, horizontal draft tubes with a conical shape starting with an approximate diameter of 36 feet 6 inches and transitioning into a rectangle at 59 feet by 54 feet, with a total length of 91 feet 9 inches. Doka combined the efforts of its Chicago and Baltimore branches to meet the close tolerances and ensure the project was completed on time. Construction of the draft tubes began using Top 50 Formwork, a loose form system constructed from standard parts that can be assembled in any configuration for a wide range of applications. To allow for concrete to be placed faster, 522 pre-assembled, conical Top 50 gangs were delivered onsite and ready for immediate installation.

All Top 50 gang formwork that formed the interior conical shape of the draft tubes were built and preassembled at Doka's facility in Channahon, Ill. Since each gang had a specific shape and location within the tube, all were individually numbered and shipped according to its pour ID number to provide maximum efficiency at the jobsite.
A grill of walers and beams was first dimensioned and assembled for each gang. Then, the CNC machine shaping timbers were constructed to precise dimensions and attached to each grill along with a plywood form face. Next, the gang was labeled and the plywood face covered with plastic for storage in Doka's yard.

Prior to the roof formwork assembly Doka's Staxo 100 shoring was installed. One million pounds of Staxo 100 Shoring was delivered and allowed for onsite pre-assembly for each level and segment.
To meet the demanding construction schedule, nearly 80 truckloads of Top 50 and Staxo 100 were delivered in total.
The Meldahl Project represents a significant economic development investment for the local community. More than 400 construction jobs were created for a variety of trade workers. The project is slated for commercial operation in 2014.