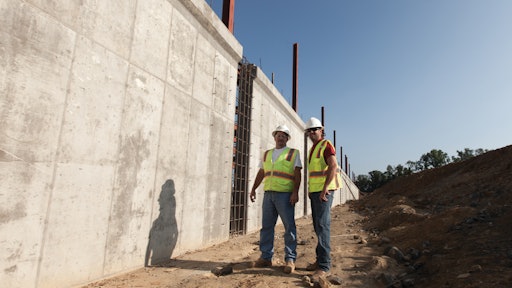 Jay Keller grew up in the construction business. He worked with his father and brother in the family's general contracting firm, Keller Brothers, Inc., for seven years, where he led the company's concrete efforts. Keller recalls feeling a "wave of excitement" when the concrete truck showed up on the jobsite, and he discovered early in his career the energy a concrete construction site generates.
In 2003, Keller pursued a lifelong dream to be a business owner and established Canyon Contracting, Mount Airy, Md.. Today the company is a full-service concrete subcontracting firm specializing in commercial construction projects in the government, private and public sectors.
Keller's experience as a GC gives him an insider perspective into what makes a good subcontractor. "I've been the customer — the GC. I know what a good sub looks and feels like," Keller says. "I tried to emulate that with my business."
By applying experiences from his general contracting days, Keller created a concrete subcontracting firm that caters to the needs and wants of its GC customers. That, along with his belief in encouraging creative thought from his employees and utilizing time-saving technology devices in the field, allowed Keller to take his company from a small start-up to an $18 million concrete construction company in just 10 years.
A fast start
Smart acquisitions and a business model that focuses on making construction easy for its customers helped Canyon realize strong growth in its early years. From its first year in business to its second, sales had already grown into the multi-millions of dollars.
The company more than doubled its revenue in 2005 when it bought out a small yet established concrete construction company that had been operating in the area since the 1960s. That acquisition brought with it new contacts and relationships, a backlog of work, market share, and name recognition. Canyon also retained the company's 20 employees and its former owner. "Having the former owner on staff was beneficial in the sense that he introduced us to his customers and helped us maintain those relationships, which we still have today," Keller says.
In 2006, Canyon made another acquisition with a small concrete pumping firm, which gave it scheduling flexibility on jobs. Since then the company has continued on its growth trend. "Our willingness and eagerness to grow and take measured risks was, and continues to be, our greatest strength," Keller adds.
During his years at Keller Brothers, Keller recognized that a good sub understands the needs of its customers; for a general contractor that means having a sub that can take care of everything. Keller built his company to do just that. "We do things other subs might not do — grading parking lots, mass backfill and change order work generally associated with other trades. When we can make the GC's life easier, it makes it a better job for them and for us," he explains. Canyon is also doing more work on the front end of projects, working with its GC partners to manage budgets and offering input on how to build. In the growing school construction market, Canyon will even take on the role of construction manager.
Canyon seeks out jobs with a large scope and an aggressive schedule. The company carved a niche in its geographical area through taking on these challenging jobs, and its employees have the knowledge and training to execute them. But Keller says the one thing that sets Canyon apart from its competition is its adaptability — its willingness to construct whatever the customer wants: "When a customer comes to us about building something, the answer is always 'Yes! Now what's the question?' It's never 'We don't do that.'"
Strengthening internal operations
When the D.C. area finally started to feel the pressure of the nationwide recession in 2010, Canyon was prepared. Keller says he and his management team saw margins tighten and the backload of its usual work shrink. The company switched its focus to federal building and military projects and as a result was minimally affected by the steep decline in private sector construction.
But Keller saw another opportunity in the economic ripple. He set out to streamline internal operations that would allow Canyon to emerge from the economic slide a stronger company. He started with his employees.
Keller envisioned a team approach to concrete construction. A few management changes gave employees more involvement in projects early in the construction process. "We wanted to get out of the 'this is how it has always been done' mindset. I wanted the 'Canyon Way' to be a team effort," he explains.
The results have fostered a freethinking culture at Canyon that is producing the new ideas and teamwork Keller wanted. "Whether it's a guy coming up to me in the field with an idea on how to form a haunch in a wall more efficiently or even our reimagined website, you need to remember when you just let people do their jobs, the amount of knowledge and creativity that comes out of them is incredible," Keller says.
Canyon also implemented an improved project management system that streamlined communications throughout the course of a project. The first step is a turnover meeting between the estimating department and project managers that includes a detailed job breakdown. A second turnover meeting happens when the project manager turns over the project to the field managers and superintendent. Project managers create a field package book, available both in hard copy and electronically, that contains a job's cubic yardage of concrete, area, hours, mix design, scope, specifications, negotiating contract, and any other information about the job workers might need to reference in the field. "That process minimized a lot of people having to come back to or call the office to gather information. It has essentially allowed the field to be self-sufficient," Keller says.
Another change at Canyon came with the transition to mobile offices and technology devices that allow for greater access to information and communication. Field managers have laptop computers with main server access that allow them to work from home, the jobsite or elsewhere.  And Canyon outfitted its employees with Apple iPhones and superintendents and project managers with iPads. "When the general population picks up on certain technologies, it's a good time to consider folding that into their work lives too," explains Jacob Butcher, estimator with Canyon and the company's technology point person. "We wanted to eliminate the proverbial technology tool belt equipped with personal phone, company phone, walkie-talkie, calculators and all the other things our current technology can replace so our guys keep the real tool belts lighter."
Those technology investments are paying off. Canyon crews spend less time mobilizing and more time working. Employees can "attend" meetings wherever they might be with FaceTime, an Apple device app for video conferencing (in fact, that's how we conducted the interview for this story). And the iPhones and iPads also expedite the RFI process. "If there is a question about something, we can take photos in the field and email them to people and get answers immediately," Keller says. "We still follow through with the paperwork, but we don't have to wait for it to continue working."
Canyon stores its job plans digitally on the online file sharing service Dropbox, which employees can access through a laptop or iPad. "I don't have to run to the trailer to fax documents anymore, and I love not having all those plans in my truck," Keller says.
The results of hard work
With the construction economy recovering in the D.C. area, Keller can see how the investments in employees and technology are increasing organization and productivity on jobsites. The benefits of those changes will become even clearer over the next year as Canyon embarks on its biggest project to date — a $130 million, 405,000-square-foot, LEED Platinum high school in Washington, D.C. The Ballou High School project exemplifies Canyon's strengths — it has an aggressive schedule and the company is taking on the entire scope of the concrete construction.
The project will require 20,000 cubic yards of concrete, the majority of which will be placed in the footings and foundations. Its massive concrete foundations, necessitated by poor soil conditions, require just about every type of formwork imaginable while its footings will include 1,000 tons of steel. One of the unique aspects of this project is an interior retaining wall that varies from 18 to 25 feet in height and 15 to 24 inches in thickness. The new school is being built on the site of the old school's football field, making this a very tight jobsite. The school is scheduled to open for the fall 2014 semester.
A lot of factors go into building a business — luck, the economy and the quality of your product are all important — but ultimately a leader's vision and actions trump all those things. Keller saw an opportunity to build a subcontracting firm modeled after the wants and needs of its customers. His vision for his employees, clients and concrete construction helped his company grow aggressively in its first 10 years and will be the backbone of his company's success for decades to come.