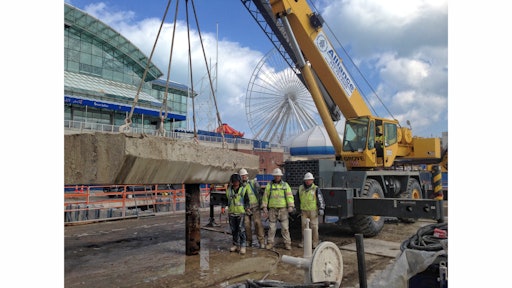 Information from this article was first published in Demolition Magazine and is being reused with permission from the National Demolition Association.              
The challenge:
Cut out and remove 56 sections of structural concrete slabs and beams on Chicago's Navy Pier
The players:
Alliance Concrete Sawing & Drilling
The process:
Navy Pier is considered one of Chicago's most historical and popular landmarks that the city has to offer. Currently the 98-year-old pier is being reimagined as it approaches its centennial anniversary in 2016. The goal: to convert it into a bolder, greener and more contemporary urban space.
The redevelopment project has one very intricate task of cutting out and removing 56 sections of massive structural concrete slabs and beams directly over Lake Michigan. These concrete openings are being created for the installation of new recessed steel and concrete tree pits that range in size between 17 feet by 16 feet and as large as 17 feet by 28 feet.
Alliance Concrete Sawing & Drilling, East Dundee, Ill., was called upon by Madison Evans Construction Group because of its 50-plus years of combined experience in demolition/concrete/sawing/robotic demolition.
The cutting and removal sequences had to be carefully thought out in order to not disrupt the integrity of the existing structure. Alliance approached this process by meticulously dissecting original drawings of the structure, calculating weights and developing a detailed, step-by-step process of cutting procedures and methods.
After pre-cuts had been made, drilling and setting 1-inch Hilti HIT-HY 200-R epoxy anchors for rigging points were completed. The company's 50-ton rough terrain crane was utilized to hoist up the large masses of concrete that weighed in excess of 35,000 pounds per piece. Four different custom-built wire saws and a Diamond Products CC110 deep cut slab saw with a 72-inch blade were used to cut through the 31-inch railroad track embedded slabs and 34-inch concrete beams.
Alliance took it upon themselves to fabricate and build three custom-made pontoons to catch any chips of concrete and slurry from getting into Lake Michigan. Getting the pontoons into place during the cold months was difficult because of the large amount of ice that formed on the lake. Six Kasco 3/4 horse de-icers were strategically placed in the water and ran 24 hours a day to keep ice from forming on the lake to insure mobility of the pontoons in the work areas.
Completing a concrete saw cutting project of this nature is complicated but when you factor in the 2013-2014 Chicago winter ranked the third snowiest on record and coldest winter in 30 years, then it becomes nearly impossible for most companies to complete the task. An electrically heated water hose was used to keep the water from freezing, leading up to the area where the saw cutting was being performed. Alliance fabricated and erected two of its own 32-foot by 24-foot heated work area enclosures to work inside during the snow, cold renin, etc. These enclosures were built out of heavy gauge metal studs and reinforced poly fabric. The enclosures were designed and erected with lifting points so that the crane could quickly pick up the entire enclosure and move it to the next opening.