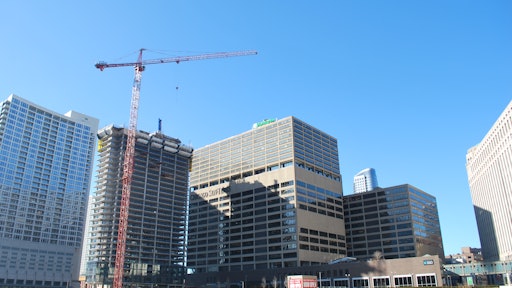 The challenge:
Construct a Chicago riverfront apartment tower that requires the building's framework be lifted and placed over the Chicago River
The players:
McHugh Construction Co.
Clark Construction Group - Chicago LLC
The process:
A Potain MD 485 B M20 tower crane is constructing new housing along the Chicago riverfront, building a 50-story apartment tower dubbed Wolf Point West. The job is unique, with much of the building's framework needing to be lifted and placed over the river's flowing waters where its north and south branches meet.
A joint venture that includes Chicago-based McHugh Construction Co. and Clark Construction Group – Chicago, LLC. – is in charge of the construction. The MD 485 B was needed for its reach and capacity, explained Patrick McGarvey, project manager for McHugh.
"This is a very difficult and extensive project that spans the Chicago River," he said. "The reach of the MD 485 B M20's 262.5-foot jib was needed for the challenging task of laying the formwork out over the water."
The tower crane is lifting a variety of materials, such as 50-foot steel columns, table forms, large air handlers, cooling towers, chillers, boilers and steel stairs — essentially if it needs to be lifted for the project, the MD 485 B M20 is handling the work. Some of the lifts weigh up to 13.5 tons, which are easily handled by the crane's 22-ton capacity.
The Wolf Point project is on a fast-track timetable, with a new floor being added every three days, so the MD 485 B M20's Optima controls, which provide smooth speed changes and high productivity, are essential to keep the project on pace.
"The MD 485's four-part line is also very helpful for the magnitude of this project," McGarvey explained. "We had heavy steel columns that needed to be moved from the truck to the laydown yard, and then placed on the river walk. The crane was critical to getting the steel structure into place."
McHugh Construction rented the MD485 from Central Contractors Service. Central is part of the ALL Family of Companies. John Martello, general manager for Central Contractors, with two branches in the Chicagoland area, touted the features of the crane.
"The MD 485 B M20 can hoist 22 tons at a time and move a load up to 735 feet per min — that's impressive and made this an ideal crane for the job."
The Potain MD 485 B M20 will be on site until June of 2015. The residential building will be completed in February 2016, providing 500 luxury rental apartments. The LEED certified tower will be accompanied by two other mixed-used buildings at the Wolf Point plaza.