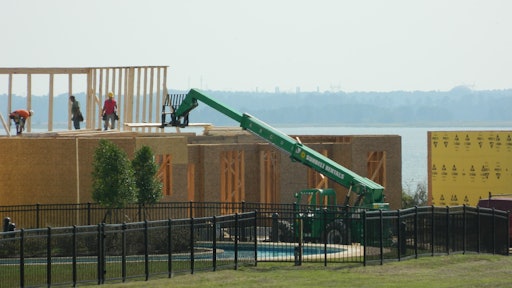 The construction industry saw plenty of opportunity and its share of challenges in 2015. In the first of a two-part series on the state of the construction industry, we asked leading industry economists to comment on the market potential for general construction, as well as ongoing trends in labor and material cost inputs likely to affect the cost of building in the months to come.
In Part 2 of the series, these and other industry authorities will hone in on the transportation construction sector, with a specific focus on the effects the industry may see from passage of the first long-term highway bill in nearly a decade.
Building Construction
ET: Construction in both commercial building and single-and multi-family housing continued to gain momentum in 2015. What were the biggest drivers in these markets and do you see the trend continuing in 2016?
Anirban Basu, chief economist, Associated Builders and Contractors (ABC): The economy continues to be led by consumer spending growth. That should translate into ongoing momentum in commercial construction, including fulfillment centers attached to online enterprises.
The multifamily boom should last another year given still low apartment vacancy rates in many markets. Condominium construction should also improve.
David Crowe, chief economist, Economics and Housing Policy, National Association of Home Builders (NAHB): The housing market is being driven by the improving labor market. Adding jobs is particularly important to young adults on the verge of forming their own household.
We have seen household formations pick up substantially beginning in the fourth quarter 2014 and extending into 2015. The uptick has been anticipated since household formations fell well below expected levels and stayed there for more than four years. The slow growth in newly formed, primarily millennial generation households required more apartments to accommodate their arrival. As the expected increase chooses rental over owning, multifamily production remains and will remain above historic trends.
Single-family construction, on the other hand, has moved slowly toward its former levels as most new household formations are renting and many existing homeowners are not moving. On the positive front, single-family construction has doubled from its nadir in Spring 2009, but is barely halfway back to a stable level of 1.3 million units per year, the level last achieved in the early 2000s...
Most of the trends and forces that have slowed the housing recovery are gradually disappearing. More households are being formed; more jobs are being created; home equity is increasing; and confidence is coming back. The next year looks particularly strong for all these reasons. The pent-up demand for a new home and the arrival of first-time home buyers should push us forward.
Housing starts are expected to increase by 136,000 to 1.26 million in 2016, the best year since 2007 and in line with the absolute increases we last experienced in 2012 and 2013.
Ed Sullivan, group vice president and chief economist, Portland Cement Association (PCA): We will continue to experience an increase in the multi-family construction market. The recent recession caused home values to crash, lost credit ratings and tighter lending policies. Now, there are more jobs but still not the credit many potential single-family home buyers need. Add to this college graduates with large debt loads and baby boomers looking to downsize and all signs point to a strong multi-family market.
I believe we will also see a continued uptick in commercial building construction. Office construction is linked directly to ROI. With employment and spending on the rise along with property values, look for last year's 10% increase in commercial construction to carry over this year.
Ken Simonson, chief economist, Associated General Contractors of America (AGC): As of early December, the Census Bureau has issued spending estimates through October. They show that in the first 10 months of 2015, multifamily construction jumped by 25% from the same period a year earlier, while homebuilding climbed 14%. Those growth rates are likely to slow down in 2016 but remain quite healthy, with multifamily increasing another 10% or more and single-family tacking on another 5% to 10%.
With 200,000 more workers bringing home paychecks each month, more people can afford to rent, if not own. Millennials still show a preference for living in cities, or their high student debt disqualifies them from taking out mortgages. These factors will continue to support faster growth of multifamily and rental housing than single-family homebuilding.
Jeannine Cataldi, IHS: In 2015, the residential market has largely been driven by spending on construction of multifamily units, although single-family construction has been gaining in strength.
Drivers of growth in the multifamily market continue to be related to pent-up demand from the recession, as well as a new generation of households that seems to be wary of actual home buying and content to rent. Growing levels of student debt continue to prevent many households from meeting stricter lending criteria, especially in terms of debt to income ratios, while others want to maintain a degree of mobility. These factors are increasing the demand for multi-family rental units.
Looking ahead, construction spending in 2016 will moderate in the multifamily segment as supply begins to align with demand. Single-family construction is expected to be stronger in 2016 as economic conditions continue to improve, allowing for more households to look into the possibility of buying homes. Housing starts are expected to grow at a stronger pace in 2016 than in 2015.
In the commercial segment, growth has been slowing in recent months. Growth for 2015 will be healthy but below that seen in 2014. The outlook for 2016 calls for spending on commercial construction to continue at a more moderate pace. There is some impact to business from the strong dollar and moderate global growth expectations.
In 2016, the strongest growth is expected in the office and warehouse segments, with both being driven by employment, income, and consumer confidence gains that benefit from improving economic conditions. Warehouse construction is also being driven by the increasing share of e-commerce retail sales creating a greater need for distribution centers.
Employment
ET: Segments of the construction market in 2015 experienced challenges finding both skilled and unskilled workers. Do you expect the labor shortage to continue in 2016? What can the industry do to alleviate any anticipated shortages?
AGC: In a survey the AGC released in September 2015, 86% of the 1,358 respondents said their firms were having trouble filling hourly craft and/or salaried positions. Those difficulties seem sure to continue as the backlog of projects remains high and the pool of unemployed, experienced construction workers shrivels to 10- or 15-year lows.
Contractors have been teaming more with school districts and community colleges. And the word is slowly spreading that construction pays well and involves working not just with shovels but cool tools like lasers, drones and 3D printers in some cases.
PCA: In 2016, there will be 2.5 to 3 million jobs created. The downturn put 2.3 million construction workers out of work and 500,000 of those, mostly Hispanics, never returned to the job market. There will be shortages, primarily in the single-family home construction market. In fact, we project that 75,000 startups won't occur because of the lack of skilled workers alone.
The labor shortages will be regional in nature and some will be offset by finding workers from nearby states where the economy may not be as strong. Still, lack of labor will continue to plague the industry for the next five years. There needs to be a change in sentiment about the value associated with getting an education in the trades, and that unfortunately will take a while.
ABC: Construction employment growth remains constrained by a lack of human capital availability. That situation will continue in 2016, which among other things will translate into faster wage growth. The dislocation of many workers in the U.S. energy production and distribution sectors helps free up talent, but only in certain parts of the country.
NAHB: Builders are reporting difficulty finding qualified workers and this problem is likely to continue into 2016. However, there are a number of efforts underway to address the issue.
NAHB research has found that the typical wage rate for residential workers is greater than general wage rates, but that the differential above the general wage rate has fallen. From a basic economic perspective, wages are and will have to continue to rise to attract new workers.
A census report found that only 40% of the construction workers laid off in the collapse returned to the industry. An almost equal share (35%) found a job in another sector. The remaining one-quarter are still unemployed. Attracting and perhaps retaining the unemployed is another source.
Homebuilding organizations are also working with local school districts to reestablish vocational training, as well as conducting classes on their own. NAHB's education arm, the Home Builders' Institute, is upping its focus on departing military veterans to address two issues at the same time.
Kristin Reynolds, IHS: The unemployment rate for the construction and extraction occupations in 2015 has averaged 8.5% through October, a dramatic improvement from a high of more than 20% during the comparable period in 2010. In fact, on a not seasonally adjusted basis, this rate has declined relative to a year ago for 64 straight months (since July 2010). This subsector of the workforce averaged 8.3% unemployment during 2001-2005.
In addition, the minimum average unemployment rate for any 12-month period between 2001 and 2015 (excluding the outlier of 2006) is 7.6%, suggesting that the construction and extraction labor market is heading toward full employment as 2016 approaches.
Average hourly earnings for employees of residential building establishments have been rising steadily compared to a year earlier since the beginning of 2012. The production and nonsupervisory subset represents about two-thirds of all employees at residential building establishments. Their average hourly earnings continued to expand in 2015, but at a slower pace than the prior two years. Year-to-date through October, supervisory employees saw wage gains more than 2.5 times as fast as nonsupervisory employees.
Specialty contractors that build the exterior of a building have seen average hourly wages increase across the board through October 2015 after no change in the year-earlier period. Building equipment contractors that do plumbing and electrical work and site preparation contractors have seen consistent hourly wage gains over the past two years. Average hourly wage growth for building finishing (drywall, paint, flooring) and finished carpentry workers has been less consistent.
Raw Material Costs
ET: How did the uptick in 2015 construction impact the cost of raw materials? Do you see this continuing in 2016?
NAHB: Construction material prices have generally remained calm during 2015, as compared to 2013 and 2014 when the supply industries were struggling to re-open and expand after so many years of near-historic low levels of housing production.
Material prices, especially those influenced by commodity prices, have benefited from the slowing international economy, particularly China. While reduced exports are a negative result of the weak international economy, the slow or no growth in foreign demand has helped keep most construction material prices from rising.
The relatively slow housing recovery pace has also allowed the supply chain to catch up and keep supply availability relatively stable. Europe, China, and developing countries are struggling to come back, so this influence should continue through at least the first half of 2016.
AGC: There were huge drops in the cost of petroleum and metals products in 2015. Even gypsum prices edged down after taking their traditional January jump. But concrete and glass had unaccustomed spikes.
In 2016, there may be further modest declines in the prices of steel, copper, aluminum and diesel fuel. Other materials that are more specific to construction may have small to medium price increases. But materials costs will again be far down the list of contractors' worries, unlike labor costs and availability.
Deni Koenhemsi, IHS: The construction uptick in the U.S. did not impact the cost of most building materials in 2015. Raw materials such as lumber and steel lost their value due to abundant supply and relatively weak global demand.
Although construction activity picked up in the United States, it slowed in emerging market economies such as China, which has been a big consumer of raw commodities. Rising cement prices was an exception to the general trend of lower inflation. This was partly due to production constraints following the Great Recession and varying regional demand for a commodity that is known to be costly to transport.
This year, building material prices will begin to slowly rise as demand in the U.S. continues to escalate. However, IHS does not expect a sharp reversal of this low price environment as supply remains healthy and global demand is not expected to rise significantly for most building materials.
ABC: Despite the fact that America is well into its seventh year of economic recovery and ongoing expansion of nonresidential and residential construction spending, materials prices have fallen over the past year. Whether in the form of copper, oil, natural gas or steel prices, inputs into construction have become cheaper.
Much of this has to do with the fact that key emerging nations are in recession (e.g., Brazil, Russia) and that Chinese growth rates are at multi-decade lows. A number of these emerging nations will continue to struggle economically in 2016. Moreover, a strengthening dollar is helping to keep a firm lid on materials prices.
Overall Economic Outlook
ET: What level of economic growth do you see for 2016? What are some of the key drivers that will impact this growth either positively or negatively?
AGC: Inflation-adjusted gross domestic product, or real GDP, should grow 2.5% to 3% for the year but with substantial quarterly fluctuations. Businesses that depend on exports, oil or gas drilling, mining or agriculture are likely to have a rough time, but consumer-focused industries should do well. As always, a slump in foreign economies or catastrophic weather events could derail the forecast. But it is equally possible that growth will accelerate abroad and there will finally be a year without extreme weather, in which case growth could exceed 3%. In that case, construction demand would be even higher.
ABC: Consumer spending growth will remain solid. Wage growth is accelerating, which will empower consumers to continue to move the economy ahead. Growing state and local government expenditures, rebounding construction markets and the U.S. auto sector will also help to support growth. But the U.S. economy is likely to fall short of 3% growth once again in 2016 largely due to a weak global economy and a strong dollar. The net exports category of GDP has already become a major drag on the economy and will remain one next year.
NAHB: The outlook for 2016 remains positive. The ills that infected the economy and kept the recovery modest are slowly curing. Job growth has improved and is expected to continue that trend. More and better jobs provide added confidence and income to consumers. Homeowners have seen an improvement in their home equity. Mortgage rates will remain relatively low even if they do tick up as the economy improves. Some of the dark clouds of worry that pervaded the economy and consumers have dissipated. These trends are likely to continue and the yet to be fulfilled expansion will continue into 2016. NAHB expects the economy to grow 2.8% in 2016 and add 3 million jobs.
PCA: We have downgraded our growth projections from around 3% growth to 2.6% based on two trends. The impact the oil industry has on the overall economy has been underrated. Every new job in the oil industry adds another 10 jobs somewhere else. Currently, the downturn in the oil industry has a negative pull on growth. So does the strong dollar that impacts how much business industries and manufacturers here do overseas. Still, the economic fundamentals are in place for positive growth, just not at the 2.8% to 3% level we once thought was likely.