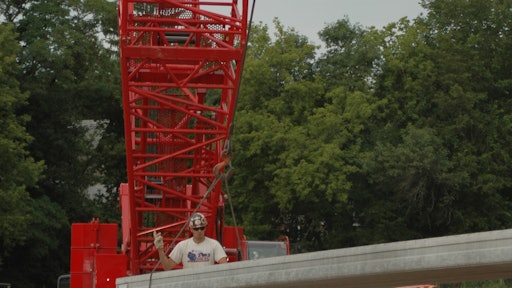 The year 2016 will be remembered for many things. But for those in construction, it will likely be recalled for its mix of opportunities and challenges, as the market gained momentum in the first half only to falter in the second half in the face of labor shortages, the slow-growth general economy and an increasingly tumultuous presidential election cycle.
At the close of the year, we asked leading construction economists to share their views on the progress made and what the industry may encounter in the months ahead. Following is their outlook for general construction. Next issue, we'll look specifically at what lies ahead for the transportation construction sector.
Building Construction
Did building construction in both the commercial market and single- and multifamily homes continue to gain momentum in 2016 as expected? What is your estimate of starts for 2017?
Ken Simonson, chief economist, Associated General Contractors of America (AGC): Office construction, which started to take off in 2015, grew even faster in 2016. Based on the huge projects that have been announced for numerous cities, 2017 will be another strong year for office work. Most of that is happening in center cities and entails mixed-use projects, unlike the stand-alone, low-rise, suburban office parks that predominated before the recession.
Data centers, warehouses and hotels have been hot segments for several years. That continued in 2016. For 2017, the data center niche appears to remain strong although, ironically, there is no data on data centers as a separate category. Warehouse work is likely to post slower growth, and hotel work could turn negative in 2017 or early in 2018. Retail construction, aside from the ground floor of mixed-use buildings, is headed for another weak year.
Among institutional categories, school construction is benefiting from passage of more school district bond issues. But growth is likely to be modest. Meanwhile, state university and community college construction is being hurt by declines in enrollments and in state revenues in many places. Healthcare construction will probably grow, but not dramatically.
Multifamily construction put in place again grew faster than single-family in 2016. But starts for multifamily have declined recently. There is no longer an overhang of permits, and apartment rents have ticked down in some previously fast-rising metro areas. These indicators all point to a downturn in multifamily construction spending once current projects finish up. That could occur in late 2017 and is very likely by 2018. Single-family spending growth has been inconsistent but should accelerate slightly in 2017.
Robert Dietz, chief economist, National Association of Home Builders (NAHB): NAHB expected to see gathering strength for single-family construction and a slowing of growth for multifamily development in 2016. For the most part, this has proved true.
Multifamily development has slowed as that market seeks a balance between supply and demand. Multifamily starts for 2015 likely represented a cycle high. We expect multifamily starts for 2017 to be just over 380,000.
Single-family construction continues to recover. We expect single-family starts to be up 8% for 2016, and more gains in 2017 and 2018 as additional labor and lots are added to the industry's production pipeline. NAHB is forecasting single-family starts to total a little more than 870,000 in 2017.
Anirban Basu*, chief economist, Associated Builders and Contractors (ABC): Low interest rates are a distinctive characteristic in much of the world, causing investors to go on a global hunt for yield on investment. This has helped to push global capital into riskier investments like stocks and real estate.
Moreover, America's relatively better economic performance than much of the advanced world, including Japan and much of Europe, as well as the trials and tribulations of emerging economies like China, Brazil, Russia, South Africa and Turkey, has resulted in a disproportionate share of global capital heading to America. This has helped to push up asset prices, generating positive wealth effects and leading to rising levels of investment, including in apartment, office and hotel construction.
Investment of these types may flatten in 2017. Commercial real estate lending standards have begun to tighten due to a combination of growing concerns among regulators and bankers regarding excessive valuations and construction. Expected increases in interest rates also serve to suppress the construction forecast.
Jeannine Cataldi, IHS: In 2016, the residential market has been largely driven by spending on construction of multifamily units, as single-family construction took a step back. Drivers of growth in the multifamily market continue to be related to pent-up demand from the recession, as well as a new generation of households that seems to be wary of actual home buying and content to rent. Single-family construction faltered as labor and financing constraints held back activity.
Looking ahead, construction spending in 2017 will moderate in the multifamily segment as supply begins to align with demand. Single-family construction is expected to remain weak as pent-up demand is releasing slowly into the market. Housing starts are expected to grow at a stronger pace in 2017 than in 2016.
In the commercial segment, growth has been relatively strong in 2016. Growth for 2016 will be stronger than that seen in 2015 as both the office and lodging components have remained robust through the first nine months of the year.
The outlook for 2017 calls for spending on commercial construction to continue but at a more moderate pace. There is some impact to business from the strong dollar and moderate global growth expectations.
The strongest growth is expected in the office segment, which is being driven by employment, income and consumer confidence gains that benefit from improving economic conditions. Warehouse construction will also be healthy in 2017 as the increasing share of e-commerce retail sales creates a greater need for distribution centers.
Employment
Please discuss the labor shortage in the construction industry. Do you see this trend continuing in 2017? What can the industry do to help alleviate future labor challenges?
AGC: AGC of America surveys members each summer about workforce issues. Of the 1,459 respondents to the 2016 survey, two-thirds said they were having trouble filling at least one craft position, and half were having trouble finding supervisors or project managers. These fractions were actually down a bit from 2015 but still indicate a major, ongoing challenge for many contractors.
Bureau of Labor Statistics data show that construction industry employment is rising at about double the growth rate for the overall economy, but contractors are listing open positions for longer, and spending more on training and overtime. These measures all suggest that companies are finding workers but not ones with the level of construction experience they would prefer. That story is likely to continue in 2017.
Contractors are trying many ways of coping with this. They are getting involved with high schools, community colleges and workforce development agencies to get out the word that the industry is hiring and has well-paying, long-term employment opportunities. They are turning somewhat more to labor-saving equipment, methods such as BIM and tools such as drones, 3D printers and robots. In some cases, prefabrication allows substitution of factory for field workers. But there's no one size fits all solution.
NAHB: Lack of labor is the No. 1 factor holding back residential construction in a period of tight inventory. Over the last year, according to estimates from the Bureau of Labor Statistics and NAHB analysis, the job openings rate (unfilled jobs) has averaged just under 2.5% — the highest rate since before the recession. The workforce is aging, and a declining U.S. labor force participation rate means adding jobs to the sector will continue to be a challenge. These trends will continue in the years ahead.
The industry must work collectively to recruit the next generation of construction workers. This will require a team effort between local building associations, worker training groups like the Home Builders Institute, national trade groups like NAHB and businesses large and small. It will involve partnering with high schools, trade schools and community colleges to communicate the demand for workers and the potential for career growth.
ABC: While many express significant skepticism regarding the interpretation of unemployment rate measures, the fact of the matter is that most construction firms report intense difficulty securing electricians, heating/cooling professionals, welders and carpenters among others. The construction worker unemployment rate stood at 5.2% as of September 2016. That's a far cry from the 13.3% unemployment rate that prevailed precisely five years earlier.
Data from the Bureau of Labor Statistics' (BLS) Job Openings and Labor Turnover Survey indicate that construction job openings stand at a 10-year high. The Christian Science Monitor indicated in a recent article that demand for construction workers is so strong in Portland, ME, that the Southern Maine Community College has had to suspend its construction technology program because too many students were leaving the program to accept employment offers.
Over the course of the past year, average hourly earnings for construction workers rose above $28/hour. This is a natural reflection of an increasingly scarce supply of human capital.
The lack of skilled construction workers will remain the No. 1 industry challenge in 2017. A stimulus package would further exacerbate the issues and help drive construction worker compensation even higher.
Raw Material Costs
What impact did U.S. and global construction demand have on the cost of raw materials (e.g., asphalt, cement, steel and lumber) in 2016? Do you see prices going up or staying about the same for 2017?
AGC: Sluggish global growth and a strong dollar have held down materials costs for several years. But those conditions are slowly reversing. Materials costs will probably rise modestly.
NAHB: OSB prices have increased over the course of 2016, and this is an area worth watching in 2017. Demand for construction should continue, placing additional upward pressure on building material prices. Concrete and gypsum prices have also posted gains over the last few years.
Builders should be aware of possible price increases in 2017, particularly if infrastructure projects are debated or approved in Congress after the election.
ABC: Construction input prices remained unchanged in October 2016 and were just 0.5% above where they were a year ago. Despite the modest increase in the aggregate input price level, October figures represented the largest year-over-year price increase since November 2014.
Generally, construction input prices, particularly natural gas and crude petroleum, have headed lower since the summer of 2014. However, that pattern of falling prices no longer holds. Crude petroleum prices were up 10.5% on a year-over-year basis in October, while natural gas prices were up 12.2%.
These data are part of a larger inflation story, with inflationary pressures largely tempered by the decline in fuel prices during the past two years. Circumstances are shifting. Healthcare costs are spiking, wage pressures are building and fuel prices are no longer falling rapidly. Inflation has become more apparent in other categories, including housing.
Promised infrastructure-led stimulus and tax cuts could create additional price pressures as worker compensation rises further and consumer spending helps bid up the price of goods and services more rapidly. At the same time, fewer restrictions on oil and natural gas production may limit fuel price increases. The result is a complicated picture in which the price of certain inputs — such as iron, steel, copper, plumbing fixtures and nonferrous wire and cable — begin to rise more rapidly during the coming months while fuel price increases remain stable.
Broader inflation in the U.S. has become more likely, an expectation that has been reflected in the form of higher interest rates since the election. However, a still sputtering global economy will help put a lid on construction input price inflation, suggesting that contractors should not be deeply concerned by prospects for rapid input price increases — at least not yet.
Deni Koehhemsi, IHS: Demand in the U.S., especially from housing construction, helped lift up lumber prices in 2016. Absence of a U.S.-Canada softwood lumber agreement as well as rising construction activity will keep prices elevated, especially during the first half of 2017.
Cement, ready-mix and construction aggregates also recorded higher inflation levels in 2016, not only driven by demand but also by companies' push to recapture some of the margins lost during the recession. Prices for these commodities are forecast to rise in 2017, but not to the levels we've recorded in 2016.
Steel prices are at a turning point and are starting to rise once again. They will continue to rise over the first quarter of next year.
Finally, asphalt prices fell in 2016, in line with a large drop in energy prices. With rising oil prices, there will be an upward pressure on asphalt prices in 2017.
Overall Economic Outlook
What level of economic growth do you see for 2017? What are some of the key drivers that will impact this growth either positively or negatively?
AGC: After more than seven years of economic growth, some folks worry that the U.S. economy is "overdue" for contraction. But economic expansions don't die of old age. The economy should keep growing in 2017, albeit unevenly by segment, region and quarter.
Similarly, construction will increase overall, with notable contributions from office, power and single-family construction. But public construction will be sluggish, and multifamily, manufacturing and hotel construction are at risk of turning negative.
NAHB: NAHB continues to expect modest growth for the economy in the years ahead. The long-term average for GDP growth over the last five decades was 3.4%. For 2017, we expect a growth rate of 2.3%.
Growth in single-family construction activity should lift housing's share of GDP in the year ahead. A low unemployment rate and a declining labor force participation rate emphasize the importance of improving labor productivity so that the gains in the employment market can also lead to growth in business income and GDP.
Improving household formation should help sustain demand for multifamily rental housing and continue to grow for-sale demand of single-family housing.
Nonetheless, this recovery/growth cycle is aging and business planners should be aware that this is currently the fourth longest expansion period since the Civil War. Imbalances increase over time, so while most economists are currently not forecasting a recession in the years ahead, the probability of one is rising.
That said, areas of the economy that are currently operating below historic norms, such as single-family construction, offer upside growth potential, particularly given favorable demographics.
ABC: Given expectations for tax cuts and promises of additional federal spending in infrastructure and defense categories, the economic outlook for 2017 has firmed.
The economy still remains vulnerable to adjustments in asset prices as interest rates head higher. For several years, the U.S. economy has benefited from large positive wealth effects generated by equity and real estate markets. What can rise can fall, and declining asset prices represent one of the leading threats to the U.S. outlook in 2017.
The U.S. economy should manage to expand around 2% next year. To the extent that stimulus spending occurs and begins sooner than expected, that outlook could improve.
US Economics commentary, IHS, November 2016: The election of Donald Trump as the 45th president of the United States will likely mean some major policy changes, including sizeable tax cuts, rollbacks of regulations and a much tougher stance on free trade and immigration.
The good news is that in the run-up to the presidential election, the data showed the U.S. economy in reasonably good shape and on track to grow 2.0% to 2.5% over the coming year. Assuming President-elect Trump follows through with his campaign promise of more fiscal stimulus, near-term growth could be boosted, but likely not until late 2017 or early 2018.
With 10 months in the books, the U.S. economy will add about 2.25 million jobs between the fourth quarter of last year (2015) and fourth quarter of this year (2016), down from roughly 2.8 million in each of the prior two years and 2.4 million in 2014. The slowdown is being triggered by the first decent gains in productivity in two years, along with the first positive contribution from inventories since early 2015. Further productivity gains should cool employment growth even more, with gains of only about 1.4 million in 2017.
Inventory investment and net exports, which boosted overall growth in the third quarter, are likely to restrain growth in late 2016 and early 2017. The U.S. expansion will become more balanced as 2016 ends, with consumer spending, residential construction, business fixed investment and government spending all contributing to economic growth.
*Anirban Basu is now chairman & CEO of Sage Policy Group Inc., an economic and policy consulting firm in Baltimore, MD.