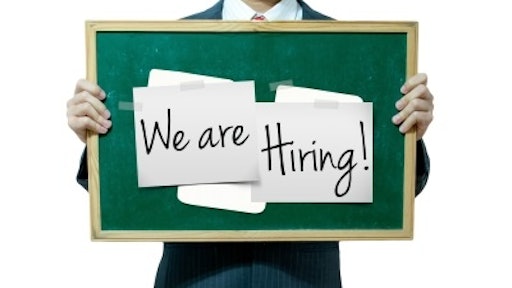 freedigitalphotos.net
To fill open positions with the best available people is not an easy task. You first must have a company attractive to prospective employees. And then you must have a recruiting program that keeps your pipeline full of available top talent. Contractors who need field workers have a tough job attracting great people. Working outdoors is cold, hot, wet, dirty and dangerous. Employees start work at 6:00 am and then work all day on their feet doing heavy lifting. As they get older, employees become less valuable and must be replaced by a younger and cheaper people. The position has no job security or guaranty of ongoing work. If there is no work, the employee goes home without pay. Check out this construction want-ad I saw in the newspaper.
WANTED - Construction field worker. Be ready to work real hard in hot, dirty and unsafe conditions. Bring your own tools and truck. No training program included. No room for advancement. Pay is not guaranteed. Apply at jobsite.
Would you work for you?
For high school seniors, construction ranked number 248 out of 250 career choices. Workers today want more than hard work and good pay. They want a comfortable job that fits their lifestyle, is high tech and fulfilling. There are enough good workers available, they just don't want to work for your company doing what you want them to do. This requires a new attitude about attracting the best employees to work for your company. Employees must be your #2 priority, right behind finding new work and acquiring customers.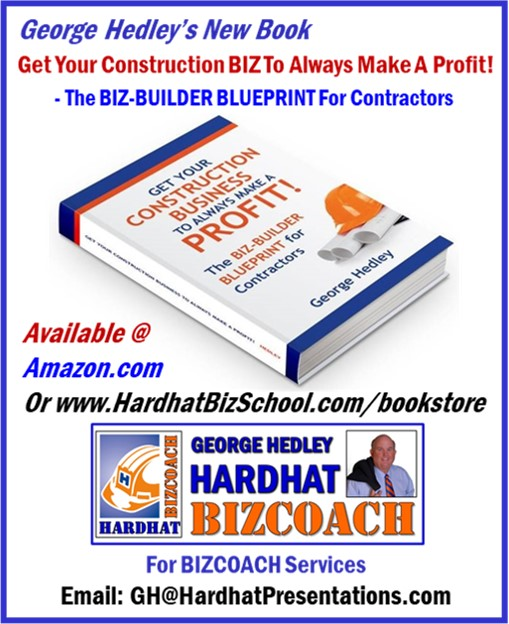 Take a look at how you treat employees. Is your pay fair? Do you have a written training program in place where employees can see their progress and move up the ladder? Can your people get ahead if they meet their goals (if they have any)? Can your employees build a career with your company and eventually retire comfortably?
Only 1 in 3 will be
Why do employees look so good at the interview? You try your best to hire the right people, but some just don't work out. I have a rule of thumb: one in three will be the right ones! Yes, you can improve your odds with good questions, screening and testing. So remember, as with professional sports teams, your job will be to continually improve and upgrade your staff on an ongoing basis. Some employees are not built to work for your company and should be replaced. And I know it is not your favorite thing to constantly find good or eliminate bad employees. You really just want to hire them, leave them alone or tell them what to do, and then hope they do a good job. But, employees take time, nurturing, coaching, training and retraining.
You can't hire people who don't apply
Back to professional sports. Why do team owners spend millions of dollars on finding and retaining the best coach? So players will perform their best and the team will win. You can't win a game without players and coaching being the top priority. Most business owners and managers want people issues to go away. Hiring is a pain, so it's done hastily without proper care. Hiring the right people starts with a good recruiting program. The old method of hiring employees was to take out a classified ad in your local newspaper, wait for the phone to ring, review the resumes, interview the applicants, and then hire the one you liked the best who costs the least. Hiring the right people today is totally different. People looking for work have many options and choices as the economy improves. They won't work for companies who don't respect employees or give them an opportunity to grow. To attract good people now takes an outreach and marketing campaign. Ads must be attention grabbers that attract potential employees to "please work for us' because we are a great company to work for. You must work personal referrals, use assessment tests, offer flexible pay programs, have an excellent total compensation and benefit package, and allow employees a quality of life.
Hire winners
The tendency is for top players to be attracted to other top players who want to excel. The best hiring decision makers are your top performers. Let them decide who gets hired. Second and third tier players settle for lesser players who won't compete hard for their jobs. Never let poor performers pick any players for your team. When reviewing resumes and during interviews, the natural tendency is to look for experience and "trained help." These are easy hires and not necessarily the right ones. To pick the right people, look for TALENT, ATTITUDE, APPTITUDE and DETERMINATION! Remember, if you've got the right person, you can train the skills. (This assumes you have an ongoing training program!)
Hire people who are consistent, have potential, have their personal act together and life in order, are responsible and willing to perform, are self motivated, have a good attitude and are team players, and are competitive and know how to win. I like people who played sports in high school. They know discipline, teamwork and how to get along with all types of people. Plus, they are competitive. Look for what you want, not what people tell you. Ask the right questions and you'll get the right answers. Use open ended questions like: "Tell me about your accomplishments in high school sports." Don't ask obvious questions like: Can you finish projects on-time?"
How to attract the right people
Put someone in your company in charge of attracting people to apply.

Decide recruiting is a part of everyone's job, including yours!

Make recruiting a company-wide program.

Pay for referrals to employees for new hires they referred.

Offer a signing bonus to new employees.

Have company recruiting flyers or brochure.

Give everyone recruiting business cards.

Make it easy for potential recruits:

Have a recruiting phone line

; Interview on the phone first

; Have a weekly time to call in

; Use a simple employee application

; Always take a picture of applicant

Offer applicant referral fee to suppliers and subcontractors.

Continually recruit and place want-ads in the right places.
It time to put in some new players
Now the challenge is to make finding great employees a priority for you and your company. Coaches won't keep their jobs very long without the right players in the game. Take a look at what you've got versus what you want. Make those tough decisions, bench a few players, start a few new players, and hire a few new players on an ongoing basis to build the best team you possibly can. You can win.
George Hedley CSP CPBC is a certified professional construction BIZCOACH and popular industry speaker. He helps contractors grow, make more profit, build management teams, improve field production, and get their businesses to work for them.  He is the best-selling author of "Get Your Construction Business To Always Make A Profit!" available on Amazon.com.  E-mail GH@HardhatPresentations.com to sign-up for his free e-newsletter, start a personalized BIZCOACH program, attend a 2 day BIZ-BUILDER Boot Camp, or get a discount at www.HardhatBIZSCHOOL.com online university for contractors.