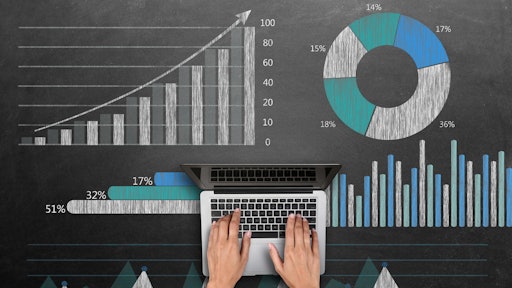 ISTOCK/GETTY IMAGES
Construction-related spending is a critical part of the global economy, accounting for 13% of the world's Gross Domestic Product1. Unfortunately, the industry continues to be challenged by business realities that contribute to cost over-runs and construction delays. On average, large infrastructure projects cost 80% more than budgeted and run 20 months late to completion2. Companies that thrive will face these realities head on and overcome them by leveraging technology, data and analytics to win.
Here are three key business challenges facing construction pros operating in today's environment and how some organizations are overcoming them:
1.

Stagnant productivity levels
Productivity improvement in our industry has been stagnant for two decades now. In fact, annual productivity growth has only increased by 1% over the past 20 years. This stagnation has served as a limiting factor to business development and profit margins.
When we think about productivity improvements in construction, we visualize drones, robots and tools that transform manual labor. We don't usually think of productivity improvements in the pre-construction phase. That said, one of the biggest challenges we hear from the market is the amount of time wasted in planning and design. Siloed groups of planners, architects and engineers go back and forth using outdated tools and data to get to an agreed upon budget and design prior to construction start. The winners in the field are turning these timelines on their head by leveraging state-of-the-art software, data and analytics to break down organizational communication barriers. We see this exemplified by construction companies that are leveraging and integrating BIM, estimating and project management software, and data.
2.

Rising material costs
Significant price fluctuations in construction materials have made it difficult for companies to accurately project future costs and profitably win and execute projects. Gordian's RSMeans data reveals that 84% of construction materials prices changed by more than +/- 5% in 2018. Construction companies that will win in this environment treat their data as a critical business asset. They are investing in Data Engineering and Data Science teams and using third-party data and analytics to get an edge over the competition when bidding projects. At Gordian we have seen predictive data deliver accurate, location-specific costs for more than 100 different types of construction projects up to three years into the future.
3.

Technology adoptions hindered by data challenges
After decades of under-utilization, construction firms are now increasingly embracing technology solutions, with investment in construction technology doubling in the last decade. However, many companies are discovering that it's not enough to just buy new software tools. It's also important to be extremely adept at what we call "data fluency," being good at managing data and integrating data across the enterprise. Key pains are siloed software stacks in planning, design, procurement and project management departments that can't talk to each other. Tremendous amount of time is wasted cleaning up and standardizing data in spreadsheets that get imported and exported from one software program to another. Winners have a data strategy that cleans, standardizes and maintains critical cost and project data with the same rigor that financial data is handled. This level of focus on data helps ensure that investments in BIM and project management software have a positive ROI.
These three challenges are formidable, but the good news is there are solutions enabling us to win in a more volatile and unpredictable world. The combination of software, data and analytics can be leveraged for competitive advantage, and we will see successful construction companies look more like data driven technology companies in the near future.
*1. McKinsey Global Institute, Reinventing Construction: A Route to Higher Productivity, February 2017
*2. Source: IHS Herald Global Projects Database, November 2013
Noam Reininger is chief data officer at Gordian, the leading provider of facility and construction cost data, software and expertise. Content for this article was aggregated from various third-party industry sources and Gordian's RSMeans, North America's leading construction cost database.