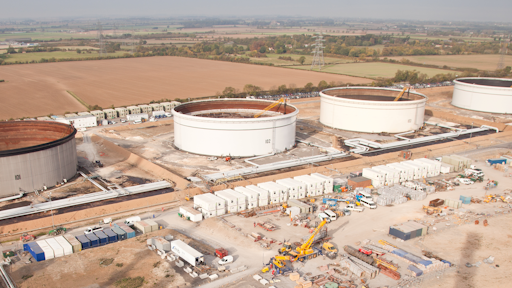 Editor's Note: The following article is brought to you by Elliott UK in partnership with ForConstructionPros.com.
Petrochemical production and processing is one of the most dangerous industries in the world; it is therefore one of the most regulated. However, accidents do happen, and in places where safety requirements are less stringent than in the UK, they occur far too frequently, almost always resulting in multiple deaths and casualties among on-site workers, severe damage to surrounding homes, and potential contamination of air and water supplies.
In the UK, worker safety on petrochemical sites is a top priority. Regulations exist primarily to prevent accidents but also to safeguard personnel in the event of a blast. Safety methodologies aim to bring the risk of accidents and explosions as close to zero as possible, but petrochemical companies are also required to ensure on-site worker accommodation and office space can withstand a blast and provide protection for employees seeking emergency shelter. 
Providing a Bulwark in the Event of a Blast
The portable accommodation industry provides the perfect answer to the challenge faced by the petrochemical industry, and indeed all COMAH-site operators. Blast-resistant and toxic refuge facilities are constructed to rigorous standards and can provide a target level of protection of 1% vulnerability. Some 300-Mbar anti-blast cabins with toxic refuge capabilities cabins can safely harbour up to 14 people for a period of up to one hour. Enough time for emergency services to arrive and extract sheltering workers. 
Letting Sites Do Business with Minimal Disruption
Assembled off site, portable temporary accommodation - which can include office spaces, canteens, changing rooms, shower blocks and toilets - also has the advantage of creating minimum disturbance on site. This limits both costly disruption to operations and the potential danger of heavy vehicles, drilling and hammering within a facility handling hazardous and often volatile chemicals.
Responsive, Flexible and Cost-efficient
In addition to fitting the bill in terms of all-important safety requirements and COMAH compliance, portable buildings also offer cost and time savings. By producing and assembling buildings in a controlled factory environment, weather- and injury-related delays are greatly reduced. Portable buildings can be constructed quickly and on-time delivery is almost guaranteed. The off-site assembly process also allows for greater control of purchased materials, and relies on fewer highly skilled on-site workers, both of which lower costs.
Plus, since portable buildings are customizable, every petrochemical or COMAH site can enjoy accommodation that meets its unique needs and fits its specific space and layout. On a recent oil refinery project, modular building leader Elliott produced over 500 anti-blast portable cabins specifically manufactured to withstand 100 Mbar free field overpressure with 200 Mbar reflective over pressure on any face.
With such structures in place, facility builders and operators can trust that if an accident does occur, they have the finest modular materials in place to protect their staff.