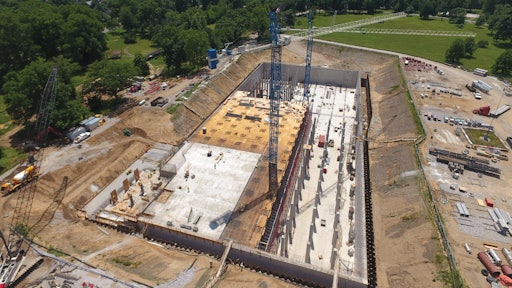 Brown and Caldwell
Hensel Phelps and SmithGroup teamed up to design and build the seven-story, inpatient hospital tower, the Sharp Chula Vista Ocean View Tower. Not only was the project completed ahead of schedule and under budget, it also won the Design-Build Institute of America (DBIA) Project of the Year in the 2019 Project/Team Awards.
The awards program honors and celebrates innovative and collaborative teams producing design-build projects that inspire.
Project of the Year
—
Chula Vista Ocean View Tower
The Chula Vista Ocean View Tower is a 106-bed tower with a two-story lobby, separate surgery and ICU waiting rooms and a central core that houses physician and nursing functions. Adjacent to the tower are courtyards and healing gardens. There is also a dining room on the top floor of the tower, proving 270-degree views of the ocean and chaparral-covered hills.
The design-build team worked very well together. Early collaboration helped eliminate deferred approvals which in turn reduced the project review schedule by six months. That meant construction was able to start one year ahead of schedule. Total construction took 29 months.


Best in Design
—
Engineering
Taking home the top spot in this category was the Southwestern Parkway Combined Sewer Overflow (CSO) Basin project in Kentucky. Part of Louisville and Jeffereson County Metropolitan Sewer District's Federal Consent Decree to mitigate CSO's that discharge into local waterways, this design-build project required a 20-million-gal. concrete storage tank, associated washdown systems, odor control and a 30 MGD effluent pump station.
The basin was constructed below the surface of the Great Lawn in Shawnee Park. The project incorporated community enhances including:
Partial restoration of a historic structure for youth learning opportunities

Renovation of a lily pond

Improvements to basketball, baseball and spray ground facilities

Pavement resurfacing

Landscaping

Correction of drainage issues with the creation of multi-purpose fiels

Addition of an open-air pavilion and restroom structure
Total construction lasted 24 months.
Best in Design
—
Architecture
International Software Developer Buildings in Redmond, WA, involved two concurrent 180,000-square-foot tenant improvements in adjacent buildings. EAch building got a new atrium, building collaborative spaces, large conference rooms, open kitchenettes and neighborhoods containing between 10 to 16 workspaces, among other additions.
Exterior building improvements included repainting, underground waterproofing and reseaming roofs.
Design-build allowed this project to meet the fast-tracked six-month schedule and be completed in phases for minimal impact on the people currently working in the buildings.

Best in Process
The Yerba Buena High School Student Union in San Jose, CA, is a 37,150-square-foot building that provides human-centered environments for academic, social and community inspiration. This was one of the first K-12 design-build projects in California.
The design-build team worked with the District to collaboratively find ways to leverage the existing facility assets and new construction to create flexible spaces that will bring students, staff and administration together.
Total construction took 22 months. This project also won the Chairman's Award.

Best in Teaming
UC San Diego Mesa Nueva Graduate and Professional Student Housing project consisted of five housing buildings and a parking garage. How was the design-build project successful? Early specialty contractor involvement, monthly team meetings and planned focus teams were just a few of the strategies.
A major setback was quickly righted with this team work when the final walk through and sign-off with the Campus Fire Marshal discovered four floors flooded due to the malfunction of a single faucet. Despite the setback, total construction took only 24 months.
Special Recognition
—
Best in small projects
The Courtland Street Bridge Replacement Project in Atlanta combined design-build and Accelerated Bridge Construction to limit road closures to five months. The original bridge was built in 1906, and one goal of the project was to preserve the historical aspects of the original bridge. The team embraced alternative methods that helped accelerate the schedule to minimize impact on the local community and preserve the historic aspects of the bridge.
Total construction of the project ran 15 months.
Additional DBIA Project/Team awards

In addition to the categories above, there were other awards given out for excellence and merit.
The National Award — Excellence winners included:
Aviation: Seatac Concourse D Annex

Civic/assembly: El Cajon Animal Shelter

Commercial/office: Google at 1212 Bordeaux

Educational facilities: Yerba Buena High School Student Union

Federal/state/county/municipal: Mud Mountain Dam

Healthcare facilities: Sharp Chula Vista Ocean View Tower

Industrial/process/research facilities: University of California, Reiverside Multidisciplinary Research Building

Rehabilitation/renovation/restoration: Woodward Drake Renovation

Transportation: Northwest Corridor Express Lanes

Water/wastewater: Southwestern Parkway CSO Basin
The National Award — Merit winners included:
Aviation: San Diego International Airport Federal Inspection Station

Aviation: San Diego International Airport Terminal 2 Parking Plaza

Aviation: Seatac Concourse D Annex

Civic/assembly: El Cajon Animal Shelter

Civic/assembly: North Coastal Live Well Health Center

Civic/assembly: St. Bede Catholic Church Expansion

Commercial/office: Google at 1212 Bordeaux

Commercial/office: International Software Developer Buildings

Commercial/office: Major General George White Headquarters

Education facilities: Duke University Wallace Wade Stadium

Education facilities: Palomar College Maintenance and Operations Complex

Education facilities: UC San Diego Mesa Nueva Graduate and Professional Student Housing

Education facilities: Yerba Buena High School Student Union

Federal/state/county/municipal: San Diego County Fire Station 44

Federal/state/county/municipal:

Helen Sommers Building

Federal/state/county/municipal:

Mud Mountain Dam

Healthcare facilities: Cook County Central Campus Health Center

Healthcare facilities: Sharp Chula Vista Ocean View Tower

Industrial/process/research facilities: ALDI Inc. East Coast Regional Headquarters and Distribution Center

Industrial/process/research facilities: In-N-Out

Industrial/process/research facilities: University of California, Riverside Multidisciplinary Research Building

Rehabilitation/renovation/restoration: Clark County Detention Center Renovations Phase 2

Rehabilitation/renovation/restoration: Harrah's Ak-Chin Hotel and Casino Expansion

Rehabilitation/renovation/restoration: Woodward Drake Renovation

Transportation: CSX Virginia Avenue Tunnel Reconstruction

Transportation: Nortwest Corridor Express Lanes

Transportation: State Road 9B Phase III

Transportation: The Pulse Bus Rapid Transit System

Water/wastewater: Montevina Water Treatment Plant Improvements

Water/wastewater: Southwestern Parkway CSO Basin

Water/wastewater:  Sustainable Water Phase 3

—

Demonstration Facility