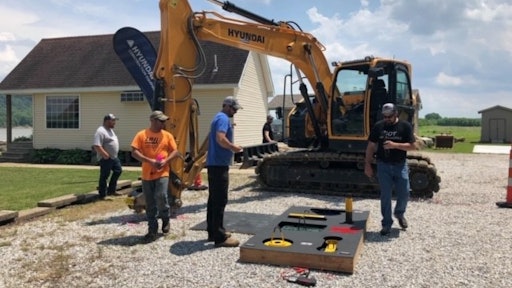 Mike Simon
People subject themselves to an amazing range of excavator challenges to demonstrate expertise and draw some social-media notoriety, but when a group of excavating contractors recently put their minds to it, they devised a game of excavator Operation.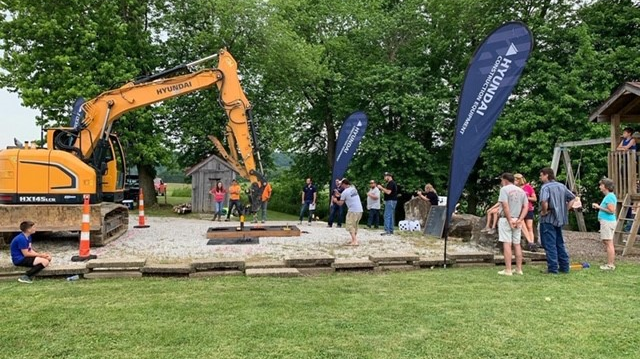 'Showcase the Hyundai controls, have a little fun and give us an excuse to get a bunch of YouTube guys together.'"We've done several different variations of excavator contests," says Mike Simon, owner of the southern-Indiana excavating company Dirt Perfect, and creator of its social media channels. "We've got a deal going with Hyundai to let us have this machine (they're demoing a 14.5-tonne Hyundai HX145LCR excavator), and this will let us showcase the controls, have a little fun and give us an excuse to get a bunch of YouTube guys together."
Simon and the guy he calls "The Man Behind the Scenes," co-worker Aaron Bumm fabricated "a grown-man sized Operation game" much like the Hasbro board game. Laser-cut metal logos by S.O.T. Metalworks were lifted out of wells in the game board by a hook attached to the HX145LCR boom arm. Touch any of the sides of the well, and power runs to a buzzer and light. 
A timed event, the rules assign a 10-second penalty to a "chirp," or momentary touch that just brings a short squeak from the buzzer, and a 20-second penalty for a solid buzz and light. Players must place extracted pieces upright next to the board; any pieces laying on their sides incur a 30-second penalty.
Simon and a group of like-minded contractors from across the Midwest have developed a kind of earthmovers' social-media squad – owner-operators who like to keep active social media profiles. The loose group of friends converged from as far away as Pennsylvania and Kansas on Simon's property on the banks of the Ohio River to try their hands at Operation. Not only for bragging rights, but also for a Yeti cooler donated by Hyundai and a parts-bin trophy suitable for proud display.
"I kinda [got into social media] as a hobby," Simon says. "I'm a little bit of a workaholic, so this gives me an excuse to have some fun while I'm working.
"It's been an awesome experience. I've met some incredible people and had some incredible opportunities in the short time I've been doing it, and probably should have listened to him a long time ago. It's completely different than I expected."
The neighbor who'd been urging Simon to get into social media is none other than Logger Wade, from the History Channel reality show Axe Men. (Logger Wade had some work he couldn't get away from to compete for the Yeti, but he's appeared on Dirt Perfect in the past.)
"We all are a little guilty of working in our own little circle, used to doing things the way we do it," Simon says of his social media hobby. "People do the same tasks in different parts of the country and different parts of the world completely differently. There's a lot of intelligent people on social media, and if you go into it with an open mind there's a lot of things you can learn.
"A 16-yr old taught me a 40-year-old-trick on how to load forks in a bucket that I never knew," Simon points out, as an example. "Sometimes it's just simple little tricks like that you find in the most random place. That sticks out for me because this guy has hardly any experience. I've got quite a bit of experience, but there's still something to be learned from him. Every day's a learning experience. You've got to approach life that way."
Simon started his company 13 years ago with a mini excavator and his company has grown to 25 pieces of equipment mostly on residential work with some farm and commercial work, digging basements, cleaning ditches, putting in utilities, doing demolition and just about anything else people need.
Braggin' Rights: Dirt Perfect Excavator Challenge
1st Place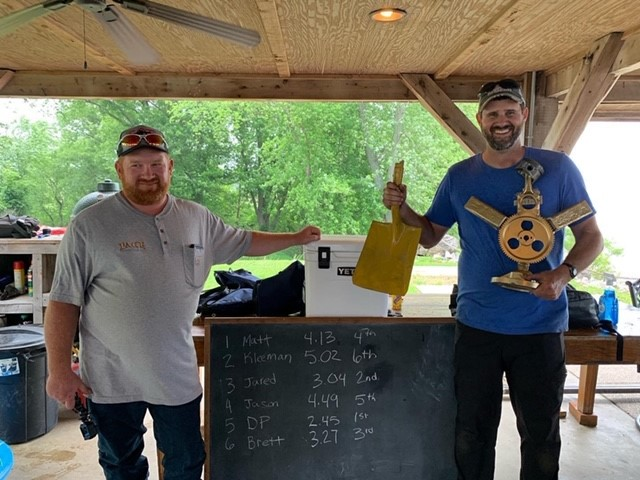 Dirt E Diggin's Jared Ellis (left) and Mike Simon of Dirt Perfect
Mike Simon
Owner
Dirt Perfect
2nd Place
Jared Ellis
Operator/Foreman
Page Enterprise LLC
YouTube: Dirt E Diggin
3rd Place
Brett Lutgring
Co Owner
Lutgring Brothers Inc.
4th place
Matt Finley
Owner
M&R Excavation
5th Place
Jason Appleton
Self Employed
YouTube: Jason Works A Lot
6th place
Michael Kleeman
Career: firefighter and  part time operator at Dirt Perfect