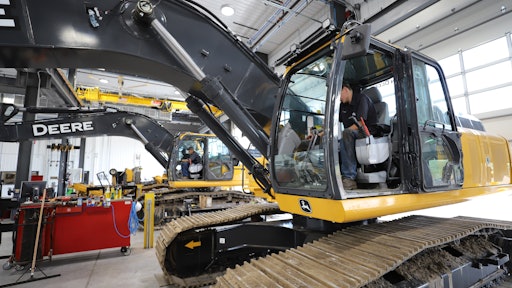 RDO Equipment
The earth is flat. Gin can cure gout. Microwaves cause cancer.
There are a lot of previously-held beliefs and notions that we know are no longer true. While these examples illustrate those that have been debunked for decades or centuries now, there's one in the construction industry that has only recently been changing.
It wasn't that long ago renting equipment wasn't viewed positively by most companies. But that's no longer the case. Especially within the past 10 to 15 years, rental has steadily grown in popularity and become an accepted piece of the fleet management puzzle. In fact, rental has become more than accepted; it's often viewed as the best option for companies to stay flexible, productive and profitable.
The Rise of Rental
There are now more avenues available for contractors to rent equipment. No longer just big rental houses, renters have the option of working with smaller independent rental companies or their trusted equipment dealership. With more choices and many of these rental businesses growing their fleets, contractors have better opportunity to find what they're looking for and have a good experience.
And especially right now, the time has never been better to rent. Election years typically bring hesitation to buy, an infrastructure bill continues to be only talked about and COVID-19 – well, I think we all agree that COVID-19 has brought nothing but uncertainty.
Uncertain times have boosted rental in the past and likewise is the reason rental is hot now, with its popularity greater than expected this year. (Find out more about why rental is surging this year in this episode of RDO's video series, The Track).
Even with practical reasons to rent, there are still hesitations for many companies. Why? Myths still exist about renting equipment.
It's time to shed some truth on the topic and debunk three of the most common myths about renting equipment.
Myth #1: Renting Equipment is Basically Throwing Away Money
Eventually buying the machine is a common goal when renting. However, many companies falsely believe that the money they spent renting is wasted, with none of that equity going into the machine.
Just about every rental house is willing to sell a rental machine to the customer, yet not all rental agreements put the customer in the best position to come out positive. Long before it's time to buy, contractors should think about the likelihood of purchasing a machine and then build the rent-to-purchase option into the rental agreement. Going this route means price and purchase option terms can be set from the beginning, ensuring the customer doesn't lose out on valuable equity.
The real truth is: Rental equipment can provide a cost advantage if the agreement is well considered.
Myth #2: Rental Equipment is Crap
Yes, that myth puts it very bluntly – but it's exactly what rental skeptics believe. A commonly held rental myth is customers don't have the option to get quality, dependable machines. However, there are plenty of later-model, low-hour, reliable machines available to rent.
Furthermore, rental machines don't have to be held back or reserved only for easy tasks. Many machines are capable of putting in the same long hours and hard work as their new counterparts.
Some companies even offer specialty equipment to rent beyond the standard backhoe and excavator, further expanding options and giving customers choices to find exactly what they need.
The real truth is: Rental equipment can be productive workhorses and just as dependable as new.
Myth #3 – Rental Equipment is Bare Bones with No Technology Features
Similar to the belief that only throw-away machines are offered to rent, many contractors believe they can't get the latest technology on rental equipment. But there are options to find a machine with the technology solution desired.
One avenue is renting machines with technology already integrated into the machine, like a John Deere Smartgrade dozer or motor grader, which comes with Topcon technology fully integrated into the machine.
[VIDEO] What Mathiowetz Construction Has to Say About John Deere's 700K SmartGrade Dozer
The second option is renting the technology and adding it to an existing rental machine. Depending on factors such as the age and model of the machine, some equipment dealerships and other rental outlets are able to integrate new technology onto rental machines. Customers get exactly what they're looking for – not having to make a choice between the right machine or the desired technology.
The real truth is: Technology can likely be added to a rental machine or may even exist on the machine already.
Out with the Old – Mindset That Is
There are plenty of reasons for contractors to consider renting as an alternative to purchase or perhaps a way to make a future purchase work better on the balance sheet. And of course, rental options are highly advantageous for those who have specialty projects, don't have available cash or are uncertain about the nature of future work.
While we don't know what the future holds and what factors will still be affecting the construction industry into next year, one thing is for sure - renting equipment remains one of the best ways to stay flexible, productive and profitable amidst uncertainty.
Dennis Howard has spent more than a decade with RDO Equipment Co.'s construction equipment division, working with teams in the company's Texas and the Desert Southwest regions. As a vice president, he focuses on fleet management, with used construction equipment values and heavy equipment sales two of his key areas of expertise.