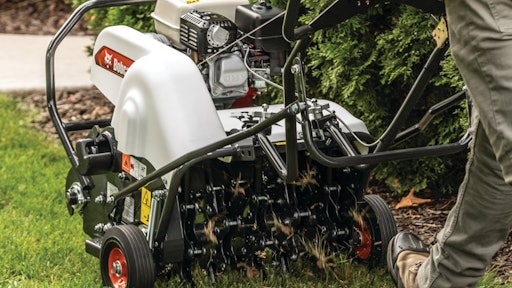 Bobcat Co.
Doosan Bobcat, a company within Doosan Group, has expanded its global branding strategy as it announces its Ryan turf renovation equipment will rebrand under the Bobcat trade dress in 2024.
Ryan equipment joined the Doosan Bobcat portfolio in 2020, following the acquisition of BOB-CAT Mowers and the Steiner and Ryan brands of grounds maintenance equipment from Schiller Grounds Care. Ryan has produced trusted turf renovation equipment for more than 75 years and features a unique product lineup including aerators, sod cutters, dethatchers, power rakes, overseeders and other specialty products that serve landscaping and grounds care professionals across a variety of industries including golf, sports turf, landscaping and rental.
Additional information about Ryan and Bobcat's unification includes:
The Bobcat-branded turf renovation products will be displayed in the

Bobcat

indoor booth (3052) at Equip Exposition in Louisville, Ky., from Oct. 17-20.
Following the company's success in new product industries such as mowers, compact tractors and grounds maintenance equipment,

Bobcat

has streamlined its branding approach to strengthen overall brand equity, market recognition and consumer recall of all product offerings. The transition aims to create a cohesive customer experience and grow the organization's footprint, making the brand more accessible to more customers in more places.
Earlier this year,

Doosan Bobcat

announced

its

Doosan Portable Power

,

Doosan

Industrial Air

and

Doosan

Industrial Vehicle brands would transition into the

Bobcat

product portfolio in North America and applicable markets worldwide in 2024.
With this refreshed identity, Ryan products will undergo design and aesthetic changes in alignment with current

Bobcat

branding. The turf renovation equipment is produced at the

Doosan Bobcat

manufacturing facility in Johnson Creek, Wis., and will continue to be manufactured there following the brand transition.
Bobcat-branded Ryan equipment, along with its newly rebranded portable power, industrial air and material handling, is expected to be available for customer purchase through

Doosan Bobcat's

extensive, global dealer network in 2024.

Bobcat

and these rebranded product lines will proudly remain part of the broader

Doosan

Group portfolio.
"The Bobcat brand has grown tremendously over the past years, and we recognize the opportunity to further unleash the brand in bold, new ways by extending it into new product categories as we grow our brand portfolio," said Laura Ness Owens, Doosan Bobcat vice president of global brand and North American marketing.
Companies in this article