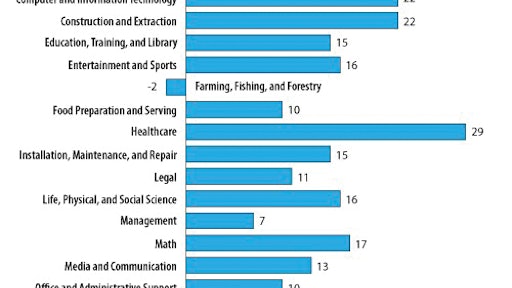 For those working in the construction industry, we're all well aware of the effect the economy has had on the industry and on business. We see the monthly spending and employment reports.
An employment projection report from the U.S. Bureau of Labor Statistics published in March of 2012 says that construction is projected to be one of the fastest growing job sectors through 2020. Construction may also be one of the best paying jobs through 2020 as well.
According to the report, goods producing industries (including construction, mining, agriculture and manufacturing) is projected to increase by 1.7 million new jobs in the ten year period of 2010 to 2020.  This increase is expected to be largely driven by rapid growth in the construction industry.
The report says: "Employment in construction is expected to rise 33 percent by 2020, adding about 1.8 million jobs. All areas of construction are projected to contribute to the rapid job growth. Despite the fast projected growth rate, employment in the industry is not expected to recover to its prerecession level by 2020."
The report goes on: "Construction and extraction workers build new residential and commercial buildings, roads, bridges, and other structures, and work in mines, quarries, and oil and gas fields. Employment of these workers is expected to grow 22 percent, adding about 1.4 million new jobs over the 2010–20 period. Construction trades and related workers, such as carpenters, painters, and plumbers, will account for about 1.1 million of these jobs. Gains will be widespread throughout this group, with construction laborers, carpenters, and electricians experiencing significant increases in employment. Job growth will result from increased construction of homes and office buildings, as well as from remodeling projects and the repair and replacement of the nation's infrastructure."
So well the construction industry may only be seeing the start of positive gains, the U.S. Bureau of Labor Statistics is projecting better construction employment opportunities over the next eight years.
What are your thoughts on these projections?