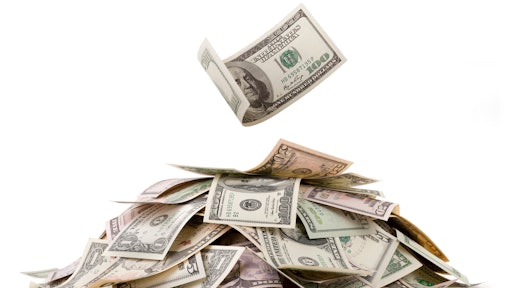 iStock/Getty Images
Are you making what you believe to be "top dollar" with customers? Are you doing just what the other contractors do…or are you doing more? Read on for tips to earn top dollar for your services.
1. Establish A+ customer relationships
Few customers will pay you anything over a bare minimum without having a great relationship forming or established. Bottom line is, people like to do business with people that they like. What does it take to establish an A+ relationship with customers? 
Consider just a few of the following items for starters.
Call customers back within one to two hours of their call to you.
Treat customers with respect; allow questions and objections to bring out your consulting best!
Bring something "new" to the customer's attention that they may not know about their own situation, company or industry.
Follow-up with your customer after each interactive contact.
Ask the customer what their needs and expectations are…and then listen!
Demonstrate an interest in the customer's situation, family, hobbies, etc.
Take your time to provide an accurate representation of your proposal and how each element of the proposal directly benefits the customer.

2. Pre-plan and educate the customer
Too many contractors still do very little pre-planning. Whoever sold the job may spend a little time with the crew foreman and give him some heads-up items and talk a little strategy on how to get in and out the safest and fastest, but that's about it.
To pre-plan is to line out a process of the steps that will be followed to execute the project. This may or may not be time-sequenced, but I would always recommend putting a timeline to the process steps.
Then, the contractor needs to sit down with the customer and walk through the pre-plan list. Educate the customer on how "we do things" and how this is superior to the approach made by competitors. Sell YOU!
Additionally, a complete organizational effort needs to be created that identifies where crews will enter and leave, parking areas, staging areas for materials and equipment, proof of coordination with other subcontractors, and instructions for the continual cleaning of the project site.
3. Price work that is competitive but with good margin
Many contractors have grown a bit timid about pricing work. What mark-up values they may have placed on work has shrunk in order not to lose work. It's time that contractors confidently price work to win good work rather than price to simply keep from losing work.
Most of the timid estimating is often completed by contractors who either are assuming that all customers want are lower prices or who are not confident to defend their own confidence in their company's strengths, quality, skills, etc. Pricing is more than merely putting the costs together and applying some mark-up percentage to at least cover our overhead of expenses. It's about believing in what we do and being able to articulate why we are worth our proposed pricing.
4. "Quarterly" customer updates
Look at your project and conceptually see the job in four fairly equal periods of time or levels of progress. After each "quarter" provide the customer with an update on the progress, any concerns, changes in time expectations, etc.
Many contractors on large jobs provide all of this on a regular basis through a website that their customer can access 24-7 and comes with either live video feed or periodic digital pictures of improvements.
5. Prepare your customer for finale
Just before finishing your project, alert the customer as this will help to build up a little anticipation and even excitement. Think about the fans of a race when they see the leaders getting ready to break through the finish line tape. Get your customers excited about the job's completion, maybe even dressing it up a little with ribbons and balloons.
6. Follow-up with thanks
Upon completion of any project, begin giving your customers a gift that signifies the level of the project. I've seen contractors give away ball tickets, cater barbecue to the customer's home or business with invited friends, and even a contractor who sponsored a mini-carnival for the family's kids to enjoy their new expanded drive way with basketball and tennis courts. 
Following up also requires the contractor to make personal calls, some by phone and some in person to the customer. Such follow-up resells the feeling that a contractor backs up their work, is proud of their workers, and believes in their level of professionalism. 
Now, if you could employ each of the elements listed, consistently, do you think your customers would pay you what you think you are worth? OK, maybe not every dollar that you think you are worth…but pretty darn close, right?
*This article was originally published in 2014 and republished in 2019.