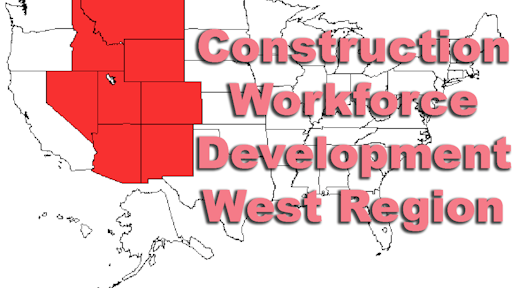 Associations, contractors, schools, unions, governments and everyone in between are making efforts in every state to develop the construction workforce and fill the shortage in the construction industry's labor pipeline.
Construction Craft Professional Demand through June 2018
Here is a sampling of programs, schools and initiatives in the West region with the goal of developing the construction workforce.
Arizona
Arizona DOT Pre-Apprenticeship Construction Academy
The Arizona Department of Transportation (ADOT) pre-apprenticeship training program is designed for minorities, women, disadvantaged individuals and veterans. Those enrolled in the program will gain experience in the trades available in the construction industry.
ADOT has two programs: the ADOT three-week program, which does not earn college credit, and the ADOT/GateWay Community College seven-week program where students earn 12 college credits.
Courses provide hands-on training and are taught both in the classroom and in the field.
Video: ADOT Construction Academy Prepares Participants for the Workforce
Arizona DOT On-the-Job Training Program
The ADOT On-the-Job- Training program (OJT) was created to help fill the need for qualified workers in the construction industry, specifically to target under-represented demographics such as minorities and women.
The ADOT OJT program trains for positions including:
Heavy equipment operators
Ironworkers
Commercial drivers
Welders
Highway surveyors
Highway inspection/testing
Traffic controller/flagger
Highway-related carpentry
Block masons
Concrete finishers
Pipe layers/pipe fitters
Electricians
Highway-related painters
Colorado
BuildColorado.com
The Build Colorado Workforce Initiative and BuildColorado.com are designed to put potential construction workers in touch with construction contractors looking to hire.
The website provides those interested in working in the industry with an overview of what opportunities are available including an overview of many of the state's skilled trades in need of workers.
In addition, BuildColorado.com also provides information about apprenticeships, higher education programs and job listings.
Colorado construction contractors can create an employer account to post open construction jobs. Employees seeking jobs are able to connect and communicate directly with contractors who post job openings.
Idaho
Workforce Development at College of Western Idaho
The Workforce Development program at the College of Western Idaho provides short-term training that teaches students necessary career skills and helps them earn certifications needed for careers in the trades.
The Heavy Equipment Simulation class teaches current and future heavy equipment operators the necessary motor skills to operate heavy machinery including hydraulic excavators, motor graders, wheel loaders, off-highway trucks and wheel tractor-scrapers.
The course teaches operational safety, heavy equipment controls, control patterns and operational techniques all in a virtual learning environment.
Carpentry and Construction Technology Program - North Idaho College
The 10-month Carpentry and Construction Technology program is designed to provide the training needed for entry into construction as a carpenter.
Program participants are trained in site preparation, forming and placing concrete, trade math, framing, rafter and truss installation, stair layout, insulation, and exterior and interior finish. Students also learn how to safely use the tools of the trade. 
Montana
Let's Build Montana
The Montana Contractors Association has crafted its Let's Build Montana media campaign to reach young adults ages 17 to 29. The campaign, which includes a website and videos, aims to inform potential construction industry workers about the opportunities available to them as part of the industry.
The website provides visitors with a list of the state's construction training programs including apprenticeships as well as one-, two- and four-year college programs.
For those not interested in the college path, the website has a list of Montana construction job openings from members of the Montana Contractor's Association.
Nevada
ACE High School – Reno
Opened in 2002, ACE (Academy for Career Education) High School is the first academy in the Reno, Nev., area dedicated to full-time instruction for careers in building trades, machining, diesel technology, energy technologies and CADD.
In addition to the hands-on, career-focused learning, students focus on three or four subjects every nine weeks and may also earn college credits while attending the high school.
Like other ACE academies around the country, ACE High School is a tuition-free charter and trade school.
The building trades program class takes place on an actual jobsite and teaches students all aspects of residential construction. Students enrolled in the building trades program have the opportunity to build a custom, single-family home from the ground up. The students perform all aspects of the construction process. Students in this program also earn their 10-hour OSHA certification.
The diesel equipment technology program teaches students how to repair and maintain equipment used in construction and transportation. Students enrolled in the diesel program learn and practice shop and work safety; how to locate and interpret repair specifications and processes; how to remove and replace components; how to operate tools and equipment; and how to service, repair and diagnose the condition of defective components or systems.
Students in the CADD program learn accredited computer aided drafting. Students are trained in residential drafting, mechanical drawing, light commercial drafting, structural and commercial detailing, and structural steel drawings.
New Mexico
ACE Leadership High School – New Mexico
At New Mexico's ACE Leadership High School, students explore architecture, construction and engineering through collaborative work and hands-on, project-based learning. The curriculum is designed to prepare students to enter an apprenticeship program or college after graduation.
ACE Leadership High School is a free, public high school founded in 2009. Classes are organized around projects related to architecture, construction and engineering. Each trimester students complete necessary coursework through two multidisciplinary, hands-on student projects.
Utah
AGC of Utah Apprenticeship Program
The AGC of Utah Apprenticeship Program consists of on-the-job training and related technical instruction through classroom instruction based on NCCER curriculum. These apprenticeship programs are categorized as either time-based or hybrid.
Time-based programs require a minimum of 2,000 hours that includes an "outline of the specific work processes and the approximate time requirement for each individual work process under that occupation." These programs have a fixed set of time for completion.
Hybrid programs are a combination of time and performance-based programs where "work processes are developed with a minimum-maximum time/hours for each task or job requirement.
Overseen by an apprenticeship committee that represents both the highway and the vertical building sectors, AGC of Utah currently offers apprenticeship training for:
Form builder/rough carpenter
Heavy equipment operator
Construction craft skilled laborer
Cement mason/concrete finisher
Heavy truck driver
These programs range from one to three years for completion. Upon completion, craft workers receive a Journeyworker certificate from the Department of Labor/Office of Apprenticeship, which is a nationally recognized certification.
Wyoming
McMurry Training Center
The Wyoming Contractors Association's McMurry Training Center is a technical training facility for heavy industry trades. The Center provides short-term, high intensity training programs allowing students to develop knowledge and skills for a career in the industry.
The McMurry Training Center construction program offers training for:
Heavy equipment operators
CDL truck drivers
Excavating and backfilling
Skid steer skills and safety
Welding
Carpentry
OSHA
NCCER Core Curriculum
Nationwide Initiatives Work to Recruit Construction Laborers
Education is Key to Recruit, Develop the New Construction Workforce
Hands-on Training Opportunities Create Interest in Construction Jobs
Apprenticeships are Still a Viable Source of Construction Workforce Development
What is Your State Doing to Develop the Construction Workforce?