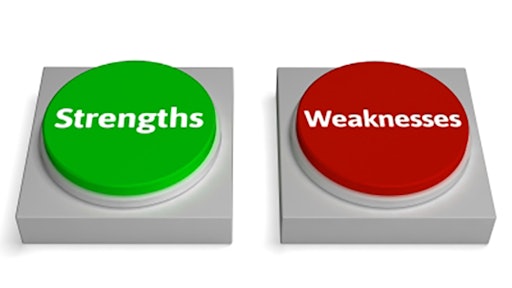 The concept of strengthening a person's weaknesses is folly. It simply doesn't work. The current accepted practice is to identify each employee's strengths and position the employee to be spending as much time as possible performing tasks that play to those strengths.
Don't let a peer, friend or book tell you what role you should be playing in your business (I would be remiss not to encourage you to listen to your business coach as he or she should know what role fits you best). Most people have this idea that a small business owner must be skilled at all parts of the business: sales, operations, administration, finance and staffing. Sure, that would be ideal however I've only met about half a dozen contractors whose skills were that well rounded. Don't try to follow that path.
There are two traits I consistently find in highly successful construction companies. The first is their job costing systems are well refined. The second is that a team or two or more extremely talented individuals are sharing the load of running the business. I've rarely seen a one-man shop excel over a long period of time.
Strengthen Your Construction Company's Strengths to Gain Competitive Advantage
Stick to a much more proven approach: create a well balanced team of employees who have a passion for their roles and are willing, even eager, to pull together on the rope that is your business. Positioning for strengths and leveraging each other's strengths is the reason why well balanced teams always out-perform groups of individuals. You need to apply these truths to your business.
First and foremost, play to your personal strengths. Do you know what your strengths are? If not, the following questions should lead you right to them.
What tasks come easy to you? Which tasks hold the most interest? Which tasks do you get the most pleasure out of doing? You answer is probably the same for all three questions. It is natural to draw the greatest pleasure from doing the things you do well and easiest.
So what does my message mean in practice? First off, it means that if you are really good at operations focus on that.
Second, by knowing and acknowledging your strengths you are also confirming your weaknesses. Instead of trying to fake your way through them bring someone onto the team who is strong in the areas you struggle with. If you are great at operations hire someone to handle the sales and administration work. If you are a numbers guy, find someone who possesses superior people skills to manage your team.
Admitting that you aren't great at everything is probably not going to be an easy pill to swallow. Convincing yourself that tasks which are distasteful to you are unnecessary is fool's gold. All tasks are important as they all come together to form your systems. Respect all the parts of your business and the people who are wired to perform them well. A little humility is a good thing. A lack of humility is a very dangerous thing.
I have seen this mistake repeated dozens of times in construction companies. An operations focused owner hates sales and salesmen so he either refuses to hire one or he sets such unrealistic expectations that he is constantly firing them. The same thing happens on the other side of the coin. A sales focused owner has zero tolerance for the headaches and challenges of the operations staff and is constantly looking to replace his operations manager or subcontract the work out. Better to embrace all critical parts of the business and staff them with the right people than to continue embracing unrealistic expectations of a side of the business you neither like nor fully understand.
Play to your strengths. And strengthen your strengths.
Instead of spending time on development activities that will strength your weaknesses, spend your available development time on becoming even better at the things you already do well. Take webinars. Attend conferences. Read a new book on the subject. Create a PEER group where you all can share best practices. Become the best at what you do well. Encourage the same for the members of your management team.
Another issue to consider is the opportunity that may be facing you by adjusting your business strategy to your strengths. By putting enough thought into customer needs and competitor abilities you should be able to find a niche to take advantage of that leverages your strengths without demanding much from the areas of your business that you don't excel in. Strategy is just another way of playing to your strengths.