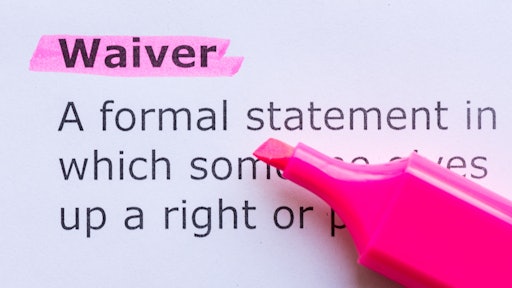 Lien waivers are tied to almost every payment in construction. Because lien waivers are exchanged so routinely on construction projects and are so closely tied to payment, it is important to understand how they work. What are the different types of lien waiver and best practices for all construction parties to minimize financial risk?
What is a lien waiver?
A lien waiver is a document commonly exchanged among parties in the construction industry as part of the payment process. The party receiving payment signs a lien waiver (often at the request of the party making payment) in exchange for payment. By signing the waiver, the party receiving payment waives their right to file a mechanics lien.
How Mechanics Liens Help Secure Payment on Construction Projects

Unlike most other documents that are part of the construction payment process, lien waivers can be exchanged in both directions: they can be created by the party making payment and sent with a request for signature to the party receiving payment, or they can be created by the party awaiting payment and sent up the payment chain to speed up the payment process.
Depending on the project, contractors might both send and receive lien waivers.
Why send a lien waiver?
Sending lien waivers builds better relationships. These documents are mutually beneficial, so exchanging lien waivers can build trust between construction companies.
Lien waivers benefit the party making payment by ensuring they don't have to pay twice. Without a lien waiver, they might pay the hired party and also face a mechanics lien. A properly executed lien waiver acts like a receipt of funds, exchanging lien rights for payment.
Waivers benefit the party receiving payment by speeding up the payment process. Parties making payment often don't want to send a check unless a lien waiver has been signed. By sending a prepared, signed lien waiver with an invoice, the party awaiting payment saves time. Also, if the party awaiting payment creates their own waiver, they can be certain they are not signing away more than lien rights.
The different types of lien waiver
There are two categories of lien waiver: conditional waivers and unconditional waivers. As the names imply, conditional waivers are conditioned upon something (typically the receipt of payment) whereas unconditional waivers go into effect as soon as they are signed, regardless of whether payment has actually been received.
Within each of these two categories, there are two subcategories: waivers on final payment and waivers on progress payment. A waiver on final payment is used if the entire contract value is being paid at one time or when the payment in question is final payment being made for a project.
Progress payment waivers (sometimes known as partial progress waivers) are used when more payments are to come in the future; for example, if a contractor is being paid in monthly installments.
Best practices
For parties on both sides of lien waiver exchanges, it is best practice to always exchange conditional waivers. Because conditional waivers only go into effect when the transaction has occurred, both the payer and payee are protected. The party receiving payment maintains its right to file a lien until the check is actually cashed; the party making payment will never face double payment (paying the party they hired and also being faced with a lien).
Since unconditional waivers are enforceable as soon as they are signed, they can be dangerous when signed before payment is actually in the bank. If a contractor receives a check and signs an unconditional waiver but the check bounces, the contractor is stuck in a bind. He has no lien rights and no payment.
Using conditional waivers is much safer because when conditioned upon the actual receipt of payment, a situation like this one could not occur.
Keep in mind that 12 states require specific lien waiver forms. In these states, any waiver that does not use one of these statutorily required forms is invalid, so it is essential for those making and receiving payment in these states to always use the correct form.
Conversely, it is important in the other 38 states to read lien waivers carefully to make sure the waiver doesn't contain any extra concessions. Those signing waivers should be sure they're not signing away more than lien rights!
How to create lien waivers
It is fairly easy to download lien waiver forms from the Internet or to create your own by reading the lien statute and building a template. It is especially important to make sure the form is correct if your project is located in one of the 12 states with statutory requirements.
Levelset (formerly zlien) allows anyone to easily create and exchange lien waivers for free.

If you are the party making payment, send it unsigned. If you are receiving payment, you can sign the waiver electronically.
Scott Wolfe Jr, is the CEO of Levelset (formely zlien), a construction software platform that makes managing lien rights and securing payment easy. Scott is a thought leader in the construction industry, combining his construction background, tech experience, entrepreneurial spirit and legal education to bring an unique perspective to a big problem in the industry — getting paid.