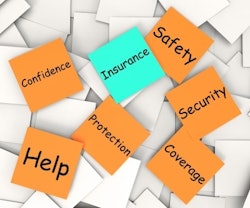 freedigitalphotos.net
Are Contractor Insurance and General Liability Insurance different? The short answer is yes. Contractor Insurance refers to a bundle of policies that are specifically relevant to contractors and should include a General Liability Insurance policy. Of course, this isn't all there is to it.
If you're confused by the difference between Contractor Insurance and General Liability insurance, you are not alone. Let's take a look at five of the most common questions regarding these insurance terms.
1. What is Contractor Insurance?
Contractor Insurance is an umbrella term for various insurance policies that cover contractors against liability, property damage, bodily injury and other unforeseen damages that can happen at the worksite. The reason for calling this program "Contractor Insurance" is because there are business risks that are common to construction businesses as opposed to, say, the hospitality industry.

The policies most commonly included in Contractor Insurance are:
Workers Compensation
Builder's Risk
Inland Marine and, of course
General Liability Insurance
Even though each contractor's insurance policy must be tailored to provide the coverage that the business needs most, General Liability Insurance is the most important. It covers if you are sued for negligence that causes bodily injury to someone else or damages someone's property. This also covers your legal defense.
The standard coverage in this line of business is $1,000,000/$2,000,000. This means you have $1,000,000 in coverage for any incident and $2,000,000 in total for the policy period. The insurance company will not pay more than $2,000,000 total during the policy period.
2. What is General Liability Insurance?
General Liability Insurance is the most important because contractors are unlikely to be awarded commercial contracts without this coverage. In fact, this coverage is mandatory in most states. So you can see why it is the cornerstone policy in Contractor Insurance coverage.
General Liability Insurance covers third party damages. This includes:
Bodily injuries
General Liability Insurance protects your business when you or your employees injure a third party on the project site. The insurance coverage settles the medical bills of the injured third party. General Liability Insurance will also help you pay legal fees if the injured party engages you in a court battle.
Property damage
If your contractor accidentally damages your client's property during the work, General Liability Insurance will help you settle the cost of repairing the damage. Furthermore, the insurance cover will take care of administrative expenses for property damage claims.
Reputational harm
At times, you or your employees may slander your competitors' reputation unintentionally. In such an event, General Liability Insurance will help you pay for legal fees if the competitors accuse your contractor business of libel or slander.
Advertising
If your advertisements infringe on other businesses' copyrights, the insurance coverage will help you settle legal defense fees, as well as make settlements. Moreover, the contractor's insurance scheme will cater for witness fees.
Damage to rented property

General Liability Insurance protects you against claims of damage to rented property. For example, if your business's rented warehouse catches on fire, the insurance will cover any fire damage and legal fees.
3. Why do insurance companies use Contractor Insurance and General Liability Insurance interchangeably?
Is it just designed to confuse you? No. It is meant to make it easier. Often construction companies shopping for insurance don't know what coverage they should get. Nor do they have the time to investigate the different policies out there.
A name like Contractors Liability Insurance filters out the noise. You may come across similar umbrella names specifically for your trade, like Plumbers Insurance or Roofers Insurance, but Contractors Insurance is designed for all construction companies.
4. Do you need more than General Liability Insurance?
General Liability Insurance only protects your business against third party damages. This insurance does not cover theft, for example. You are likely to require additional coverage including:
Builder's Risk generally covers theft, fire and natural disasters on the site. It also covers the building itself during the project time.
Inland marine insurance covers equipment, materials, supplies and tools; however, only when they are in transit to another location.
5. Why would you buy a Contractor Policy instead of individual policies?
The bottom line is that you choose an insurance company that gives you the right insurance for your particular business's needs — not too much coverage and not too little. Linked to this is the issue of rates. Why should you pay for coverage you don't need? Why should you pay expensive rates when you can get the right insurance at a (very) good rate?
As with most bundles of products or services, buying policies together is generally cheaper than buying them separately.
More questions?
We hope that this quick guide has given you a better idea of the differences between Contractor Insurance and General Liability Insurance.
If you've still got questions about Contractor Insurance, contact agents specifically in this industry who will offer specialized advice.
John Brown is CEO and founder of Chicago based Farmer Brown Insurance Agency / Contractors Liability Insurance. Primarily focused on commercial insurance policies, Farmer Brown offers competitive quotes for a variety of insurance plans tailored to contractors. Brown has more than 23 years of experience working in this field of specialized insurance. He has multiple offices around the world, sharing his expert knowledge with professional agents who offer same-day certificated and instant quotes.