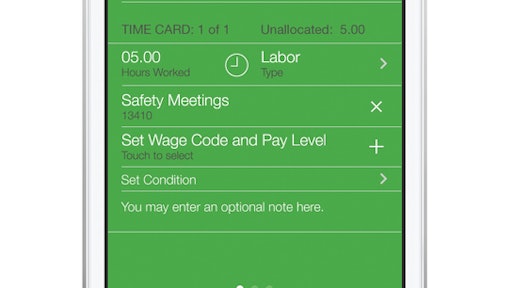 Mobile app: Payroll Time Entry
Developer: Dexter + Chaney
Cost: Free
Available on: Apple and Android devices
Dexter + Chaney's Payroll Time Entry mobile app allows supervisors and project managers to enter labor and equipment hours directly from the jobsite on their mobile devices.  Users select the appropriate job then enter time for all employees and equipment assigned to that job.
Designed to work seamlessly with Dexter + Chaney's business management software Spectrum, the app is free to download. Plus, if a company has purchased the site license for the app then everyone the user gives permission to can use it free of charge.
The ease of use is one of the best features, according to Wayne Newitts, Dexter + Chaney's marketing director. "We worked with clients to understand the how, where and why of time tracking at the jobsite for both people and equipment. Then we designed the app to match these needs in the most straightforward way possible," Newitts says. "With a few taps, a user can complete just about any field time entry task."
In addition, the app can help companies identify areas of improvement or waste by typing labor and equipment hours to specific phases of work, Newitts says. "If equipment is sitting idle or certain types of work are consistently consuming more hours than projected, companies can take corrective action and can create better estimates for future bids."
App features:
Assign and reassign people and equipment as needed
Provides tracking for supervisors to employ when monitoring the labor and equipment costs associated with their jobs
Update the production quantities of all phases of your jobs
Security and Access Control: Limit views and data entry to only the jobs that users should be able to see
No need for duplication or reentry of job cost tracking information
Summary reporting lets user see if the project is running above or below labor projections and if equipment is being properly charged to projects
Data is synchronized automatically with Spectrum software
Companies in this article