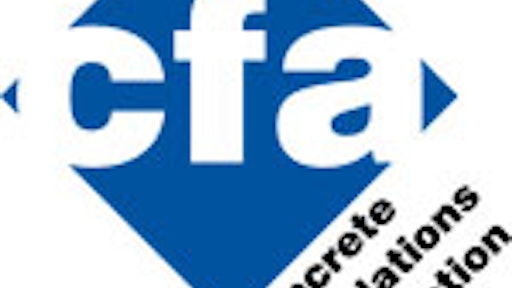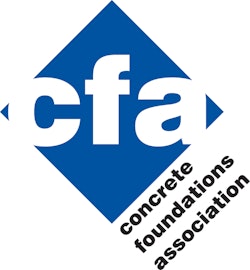 The Concrete Foundations Association (CFA), the voice and recognized authority for the cast-in-place contractor, has named Arthur J. Gallagher & Co. as its exclusive group insurance broker to implement an insurance program that will help members reduce their total cost of risk, CFA officials announced.
"The CFA board of directors is pleased to approve Gallagher as their endorsed broker," says Jim Baty, executive director of the association. "This is an effort that has spanned more than twenty years and four separate attempts. The result is a robust program that all members can now take advantage of as a true solution for not just their insurance needs but developing a stronger safety and risk management culture."
The program includes all lines of insurance coverage, including (residential) and will offer its members the following services:
Enhanced insurance coverage packages
Monthly loss control webinars
Weekly toolbox talks
Claims experts regional service teams
Policy review and comparison analysis
Experience modifier analysis
Benchmarking of rates and coverage against both the CFA and the industry
Online claims and loss runs available
Tracking "soft costs" internally and externally
Standardized best practices safety procedures
Standardized best practices employee handbook
Standardized contract review
"The success of the overall program will come from offering services typically reserved for the larger select contractors, to the many," offered Gallagher Midwest Region Construction Practice Director Kristen Long. "For too long insurance agents' jobs has been oversimplified to just the placement of insurance, premium and issuing certificates of insurance. We are not looking to just place your insurance coverage, we want to partner with you to create a long term, practical and beneficial broker-client-carrier relationships that impact all areas of risk management; safety, legal, contract, sub-contractor management, indemnification, claims management, succession planning and training to name a few. Gallagher is committed to the CFA, and we're committed to the construction industry as a whole."
As the architect of this program, Long worked extensively with carriers and the CFA's leadership to assemble an insurance package with the maximum amount of benefits for members.
CFA members have already reported benefits from the program.
"By turning to the CFA insurance program, we have upgraded our coverage, lowered our risk and immediately saved on premiums," says Andy Bartley, vice president of The Bartley Corp., a CFA member. "The team we are working with has been fantastic. They made what can be a difficult transition simple, clear and comfortable. We look forward to being part of the continuous safety improvements and risk mitigation measures that make this program so powerful to CFA contractors."
The program is designed with the goal of reducing each member's total cost of risk, which include:
Hard costs or the actual costs associated with premium and losses within a deductible layer (if any) which add up to about 50 percent of your total insurance spending.
Soft costs, or the costs associated with return to work programs, safety control, internal management costs, experience modification rating, medical, replacement workers. These add up to the other 50 percent of members' total insurance spending. Often, contractors do not factor these costs into their cost of risk.