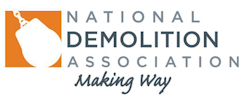 National Demolition Association will present Part I of a two-part webinar program focused on recognizing and managing contractual risk shifting devices in a recovery market. "Covering Your Assets: Managing Contractual Expectations" takes place June 26, from 2:00 to 3:00 p.m. EDT on the NDA website. 
 
Presented as part of the NDA Virtual Classroom Series, the webinar will focus on steps to take to manage contract risk to ensure good cash flow at this time of the construction industry's revival. It will be lead by Scott Fradin, principal in the Chicago law firm Much Shelist P.C.
 
The attorney will share his significant experience as both an attorney and a licensed architect, responsible for drafting and negotiating complex design and construction agreements on behalf of owners, architects, engineers, contractors and subcontractors.
 
"During the recession, the use of financial risk shifting devices became more popular than ever," said Kim Wieland, NDA Director of Member Services. "The current recovery can be tough on contractors and subcontractors as growth demands more and more capital. Managing contract risk to ensure good cash flow will be paramount to capitalize on this revival.
"Contractors are working very hard to shift financial risk down the contracting chain. It's essential that subcontractors don't get lost in the volume of work and agree to things without utilizing the devices available to them to equalize coverage," she noted.
NDA Releases Educational Videos from Annual Convention 
 
Part II of the NDA webinar program presented by Scott Fradin is entitled "Managing Contractual Risks," slated for July 24, 2:00 to 3:00 p.m. EDT. Both webinars will be available for purchase at a later time. Registration fee for each webinar is $35 for NDA Members and $50 for the public.
 
To register go to the NDA website and click the Education tab, followed by the Webinar button.