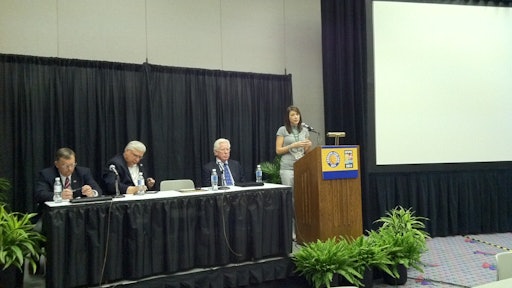 During a press conference the morning of March 22 at the CONEXPO-CON/AGG show in Las Vegas, the Concrete Industry Management (CIM) Program announced it will add a Master of Business Administration (MBA) degree in Concrete Industry Management through Middle Tennessee State University (MTSU) in Murfreesboro, Tenn. An initial recruiting class of 25 will start the 18-month-long program in August 2012. The program will consist of nine traditional MBA courses and three concrete electives for an "industry-infused curriculum."
According to Dr. Heather Brown, director and associate professor of the CIM program at MTSU, "The executive model for specific industries has been developed at other institutions for banking, healthcare, education and technical fields. It is our intention to make this a top-notch program that serves the entire country with a concrete and construction-infused MBA."
The MBA program will be presented by the Jennings A. Jones College of Business on the MTSU campus through a distance-learning format, allowing students from all over the country to participate while remaining in their current positions. Industry professionals participating in the proposed CIM MBA program will hold a bachelor's degree, have a minimum of five years of experience in the industry and hold at least supervisory positions or above in their respective organizations. Tuition for the 18-month program will be $39,000 per participant.
The CIM program was developed in 1996 and has programs in place at five universities — MTSU, Arizona State University, the New Jersey Institute of Technology, California State University at Chico and Texas State University. To learn more about the CIM program, visit www.concretedegree.com.