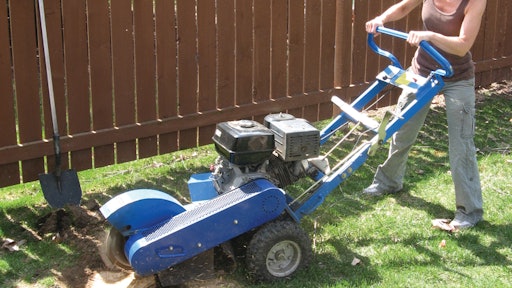 Editor's Note: Each year in our June/July issue we feature our Renters' Review, where members of our staff rent equipment for personal projects and report back on their experiences. The goal is to get a real-life picture of the rental transaction -- the good, the bad and the ugly. Following is what happened when we recently set out looking for rental experiences.
Editor Jenny Lescohier: Know When to Say No
This year, I wanted to tackle something very different from anything I'd done before, so I decided to rent a concrete grinder to remove the worn-out sealant I'd used on our patio several years ago. I looked forward to a unique rental experience, as I've never rented or used anything quite so powerful as a concrete grinder before.
I chose a nearby branch of a large rental chain as my rental source and began by calling to ask a few questions. I spoke to a very pleasant individual, who was happy to listen to my ideas. I told him I wanted to rent a concrete grinder to remove the sealant from my patio, that I'd never used this type of equipment before and that I'd be working alone on the project. 
The employee noted that some concrete grinders can weigh 300 pounds or more. He didn't exactly say it might be too much machine for a lightweight novice like myself, but he did suggest I consider going about my project in a non-mechanical way. He recommended investigating a chemical release agent as a means of removing the concrete sealant. When I balked at that possibility, out of concern for the environment in my yard and what I guessed would be a very arduous cleanup process, the rental employee admitted he had concerns that using a concrete grinder to remove certain sealants could potentially gum up and ultimately damage the diamond bits on his equipment. For this reason, he told me they could not rent the concrete grinder to me. 
Not yet discouraged, I called a local branch from a different chain. This time I had visited their website ahead of time and knew exactly what model I wanted to rent. It was a smaller concrete grinder which weighs only 120 pounds. On this occasion, the employee who took my call referred me to a sales person to discuss my project, as he was unsure of exactly which machine would be best for the job I had in mind. Later that same day, the sale person called me and after listening to my ideas, I was once again discouraged from renting a concrete grinder on the grounds that I might do harm to their equipment and my own property if I were to proceed.
At this point, I decided the risk of severe property damage and possibly personal injury was too great to go through with this project by myself. I needed to switch gears, so I considered the areas around my home and yard that need improving. Once again, my patio came to mind. The surrounding shrubs had been showing real signs of age and decrepitude for the past few years. I had intended to tackle a patio landscaping redesign this year anyway, so I came up with the idea that I should rent something to assist with removing the old shrubs. 
Why hasn't a machine been invented for this?
If you've ever removed stumps of any kind from the ground, you know there's hardly a more unpleasant task. After hacking away the above-ground portion of your shrub, you're still left with the root ball, and the roots themselves, which can be quite extensive and stubborn. I figured I could rent a mini skid steer with some sort of attachment, but that might be overkill for my little shrub stumps. I searched online and ultimately came to the conclusion that a compact stump grinder is what I needed. I figured I could cut down my shrubs and then use the stump grinder to disintegrate the root ball to make it easier to extract. 
I then proceeded to call the same company I'd last spoken to about the concrete grinder. I told them what I planned to do and once again, I was discouraged from renting equipment for the job. The person I spoke to was very eager to help, but said my best bet would be to attach a chain to my car, lasso the chain around the shrub and put my foot on the gas. I've seen people use this method before, but I have real reservations about what it might do to my car's suspension, not to mention my lawn. Plus, this method wouldn't make a very good story for this feature. So, I persisted in my quest to rent the stump grinder. After hearing more about my plans for the machine, the rental employee came to the conclusion there was a distinct possibility I would damage the blade of his stump grinder if I used it for destroying the root balls of my shrubs. Bottom line, he said he wouldn't rent the machine to me for this purpose. 
I called another rental business, and got the same answer. I tried one more place, an independent hardware store with a rental department. I called and spoke to the rental manager, who was more than happy to rent me their stump grinder for digging out my shrub stumps. I was frankly surprised, given that two other places had told me it wasn't the tool for the job. But this individual said it would work, so I tentatively reserved the unit for the weekend.
Reservations about my reservation
I began to have some qualms about my shrub removal project. I wondered why this last rental business was willing to rent me a stump grinder when two others would not. I also began to fear that what I was about to rent was not the handy compact model I'd seen on the other company's website. To assuage my fears, I decided to stop by the hardware/rental store where I'd made my reservation. I spoke to the same employee, who remembered our conversation and was happy to show me the stump grinder he had in fleet. We walked out to the yard and my heart sank when what I saw what was an older model, traditional-size stump grinder. I knew right away from the size of the unit that it would be overkill for my project, so I told the employee thanks, but no thanks.
I began to wonder if anyone would help me get this job done. I knew of one more place, another hardware/rental store which I'd rented from before. When I visited the store, right in the middle of the showroom was exactly the stump grinder I had in mind. I told the employee helping me what I wanted to do and he was happy to reserve the unit for me for the following day.
When I arrived the next morning to pick up the stump grinder, I casually mentioned to a different employee what I planned to do with the machine. No one seemed to bat an eye at my ideas, or my diminutive stature and lack of brawn. They didn't ask me if I had help on hand, or if I had experience with heavy equipment. The answer to both of those questions would have been no.
It turns out I did get help rolling the unit off the truck (thankfully!) but I was determined to do the rest of the project myself. My ambition was quickly sapped, however, when it came time to push the machine out to where I needed to use it. I simply could not move it more than a couple of feet at a time. The thing easily weighed a couple hundred pounds. Still, I managed to get it in the general area of the work, but try as I might, there was no way I could push it up the slight incline to the stumps that needed to be removed. At that point, I knew there was no way this machine and I were going to get this job done together.
It turns out the rental would not be a waste, however, as my neighbor had a tree stump he needed to grind down, so we rolled the machine over to his yard and went to work. The machine worked beautifully, as long as my neighbor was operating it. I did make one attempt at operation, which was successful for a couple of minutes until I had to move the machine for even grinding. I just could not make that bad boy go anywhere. 
Likewise, my neighbor took one turn at one of my shrub stumps, but the pokey branches stopped up the blade immediately. Evidently, this machine was not designed to handle the purpose I had in mind for it, as I had orginally been told by two rental businesses. 
I managed to get the stump grinder back to the rental business in one piece. The owner asked me how it performed and I had to be honest, it worked great for my neighbor's tree stump, but did nothing for my shrub stumps. I should note I spent $60 for a four-hour rental of the stump grinder, and another $30 to rent a truck to transport it. At the end of the day, this didn't feel like money well spent.
You can't always be your customer's hero 
I spent some time pondering the moral of this story and I think it is this: Sometimes you need to say no to your customer. Early in this rental odyssey, I was a little irritated, and maybe even a tad offended, when I was continually turned down for rentals. Looking back, I realize these rental professionals were quite astute. For all of my ambition and enthusiasm, they knew I was inexperienced with heavy equipment and could probably tell I wasn't really built for its operation. 
On the other hand, the hardware/rental stores, where the homeowner is a significant chunk of their customer base, were more than happy to rent a big piece of equipment to me with few questions asked. While I appreciate their willingness to help and their apparent faith in my abilities, when all was said and done, it was an unsatisfying rental because I didn't complete my job. In hindsight, instead of spending $90 on equipment and a truck, I would have preferred if someone would have asked me pointed questions about what I planned to do, and then advised me against it! Stump grinders are not designed for breaking up shrub root balls - as I was told by two professionals early on - and more importantly, ambition can't make up for ability. I'm simply not capable of muscling around a couple hundred pounds of machinery with any sort of finesse or effect. 
All rental businesses, particularly those whose customer base is largely homeowners, must ask questions to qualify the rental. Protect your customer - and your equipment - by finding out exactly what the intended use is, who will actually be operating the equipment, and what their experience and capabilities are. They'll thank you for it in the long run.
Publisher Eric Servais: Chainsaw
December in the Midwest can be unforgiving, so it was when heavy snows toppled one of my cedars – with little regard for the fence in the way. After the eventual thaw I needed a chainsaw, and it seemed the perfect project to use for Renters' Review. My target: a national rental chain.
The experience started online where I was prompted to set up an account and reserve my saw of choice. It was quite quick and simple, the only problem being that I was never contacted. As the weekend like so many this spring was shaping up to be all rain, I didn't pursue it, though the following Monday I tried again with the same result. Late in the week I called to follow up and was helped by a very professional and very apologetic employee. She had no record of my reservation but was quick to explain pricing and offer pick up and drop off times for my weekend use.
The location was like so many that I've visited – very much geared toward the contractor with no real mind to cleanliness or organization. The same gal I had spoken with on the phone was behind the counter and my transaction was fast and accurate. She led me over to the saw to verify that it was what I had in mind and insisted on carrying it to the car. I was expecting a quick rundown of how to operate the saw but seeing none was coming, I volunteered that I wasn't very familiar with chainsaws. Now I grew up rural and have felled my share of trees, so I was definitely exaggerating my inexperience and really didn't feel I needed a primer on saw operation, but I was careful to play the role of a slightly clueless homeowner. It turned out that she didn't know how to operate it, and we headed back inside for some help. 
Conveniently, one of the yard personnel was walking in and he was happy to help. He led me outside and asked if I had ever run a chainsaw before with what I perceived as a slight amount of politely masked alarm. Confident in my own knowledge, I downplayed my experience and watched attentively as he expertly ran through the basics of operation. That was when I realized this saw was a fair bit different than any I had used previously, so when I tried it on my own under his watchful eye, I was genuinely ensuring I knew how to use it properly. Sufficiently humbled, I loaded it into the back of the SUV with the fuel can they provided and headed off.  Saturday proved to be dry and sunny, the saw performed flawlessly, and I'd be lying if I were to pretend that taking the tree down was anything but fun.
My takeaway from the experience is one I've had before and something I have discussed with rental businesses and equipment manufacturers in the past as a challenge in the industry: The contractor market is being well catered to at the expense of the DIY renter. I recognize that the vast majority of contractors renting a chainsaw are going to know how to use it and would probably raise an eyebrow at being asked if they needed a lesson, but it still seems a fair question to ask if they are familiar with the model they are renting – doubly so if it is a weekend warrior. Even after the rundown I received, there was no real discussion of safe operation or technique, no offer of ear or eye protection.
Homeowners are a big chunk of the equipment rental market, certainly too big to be denied consideration. The last thing you want is to lose future rentals to the big box or have an injured renter on your hands. While friendly service and quality equipment are certainly integral components to a successful rental, it's also your responsibility to ensure DIY renters are comfortable walking into your business and leave competent in their ability to operate the equipment. Remember, we're not all as smart as we think we are.