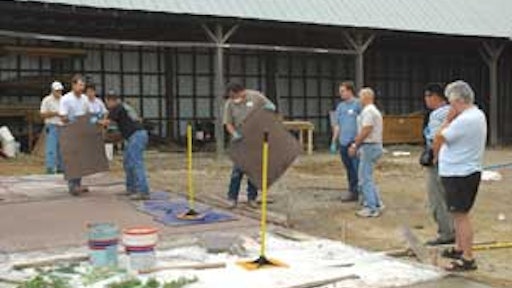 Editor's note: Training and education are an important part of making your business run better. In each issue we'll focus on different educational opportunities available for concrete contractors. This month, we take a look at the Decorative Concrete Institute in Temple, Ga., where editor Jonathan Sweet has attended several workshops.
TRAINING FOCUS: DCI
For years, manufacturers have been offering training in their specific line of decorative concrete products. Recently, however, a new group of learning opportunities has arrived — centered around the training itself and not as much on the products.
One of these is the Decorative Concrete Institute, founded in 2003 by Bob Harris. (Although DCI is not a manufacturer, it is a distributor for several decorative concrete suppliers, incuding Brickform, Colormaker and Fritz-Pak.)
Courses are taught by Harris and other industry leaders. DCI offers a number of classes on individual topics such as stamped concrete, polished concrete, skim coats, countertops and staining, But it's flagship course is a comprehensive four-day seminar, "Getting Started in the Field of Decorative Concrete."
This seminar covers everything you would want to know about decorative concrete, both from the technical and business sides. There is extensive information on marketing and pricing to help you get a business off the ground.
Most of the four days, though, offers an opportunity to see demonstrations of techniques for countertops, epoxies, stamped concrete, vertical applications, staining, skim coats, overlays and polished concrete. There is also ample time for hands-on experience with the materials, and students are given a chance to create samples of some applications to take home.
An experienced decorative contractor would be better off taking one of DCI's more focused courses, but for somebody just getting started, there's probably no better way to so quickly get a comprehensive look.
DCI courses are two to four days and range from $850 to $1,750 depending on topic. Most classes are offered at DCI's facility in Temple, Ga., near Atlanta. For more information, call (877) DCI-8080 or visit www.decorativeconcreteinstitute.com.