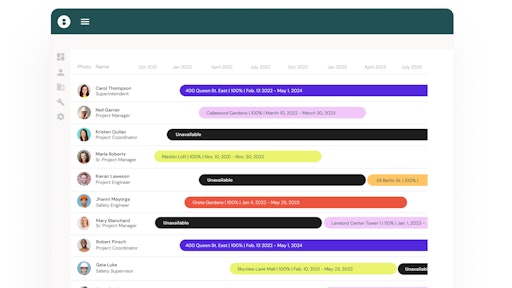 Bridgit
Getting certified can be one of the best options to develop yourself as a construction manager and your construction career. Certifications can help you become more knowledgeable in areas of need, or become an expert in areas of strength.
They demonstrate to your employer that you have expertise relating to specific subjects and practices, and that you are committed to personal development and to your craft. They can help open the door to new opportunities or fast-track your career progression, and they are crucial to helping construction teams and projects function more smoothly and effectively.
This article contains a list of some of the best construction certifications to advance your career. To get the most value out of acquiring certifications, spend some time thinking about your career goals and where you want to go in construction management. Use these goals to identify the right certifications that will help you achieve them.
Whatever your role may be, there are certifications available right now that could help you progress your construction career, and we've provided this list to help you get started.
Watch Mallorie Brodie from Bridgit talk about intelligent workforces:
Here are the 6 best certifications for construction career development.
Best certifications for construction managers
PMP
CCM
CPC
Safety
Environmental
Technical
1. Project Management Professional (PMP)
The Project Management Professional (PMP) certification is one of the best certifications you can get if you are interested in construction project management, and carries significant prestige, with the certification being respected across many industries. The PMP is an online exam designed for project professionals that helps you improve skills in three individual areas: people, process, and the business environment.
Possessing the PMP proves you have the fundamental skills needed to produce results and lead teams, making it one of the best certifications for construction managers. In addition to the respect earned with the certification, the median salary for professionals with the PMP is 25% higher than those without it, according to the Project Management Institute, who administers the certification.
You can find the page to apply for the PMP and more information here.
2. Certified Construction Manager

(CCM)

The Construction Management Association of America (CMAA), in conjunction with the Construction Management Certification Institute offer two valuable certifications for individuals at different stages of their career. For recent graduates, they offer the CMIT (Construction Manager-in-Training), and for those with more experience managing construction projects or being responsible on job sites they offer the CCM (Certified Construction Manager).

The CCM is referred to as the gold standard of certifications for the construction industry and is accredited by the American National Standards Institute (ANSI). This certification shows executives and potential clients your expertise in a variety of areas relating to construction management, and can help you further advance your career as a project manager or project executive. It will also help you become more familiar with the most effective management techniques relating to construction projects.

To find more information and if you are eligible check the CMAA's website.
3. Certified Professional Constructor

(CPC)

The American Institute of Constructors (AIC) offers two levels of certification, the Associate Constructor (AC) certification and the Certified Professional Constructor certification. The AC certification is for recent graduates or those entering the construction industry, while the CPC is for those with experience in the field.

The CPC helps those with oversight experience on construction projects take their career to the next level by providing them an avenue through which to verify and certify their effective and efficient approach to construction management. This certification requires you to abide by the AIC Code of Ethics, so also serves as an indication you are an ethical project manager.
4. Safety Certifications
A safety certification demonstrates your commitment to ensuring a safe workplace and your knowledge relating to safety regulations and requirements. There are a wide variety of options available, but the ones you choose to pursue will depend on the safety requirements in your region and which certifications you acquired earlier in your career. One popular certification is administered through the Occupational Safety and Health Administration (OSHA), as this is required by most employers for roles dealing with potentially hazardous job sites.
The National Association of Safety Professionals (NASP) certification further advances the knowledge gained throughout OSHA training. They offer many different programs, but one of particular interest is the Certified Safety Manager Construction (CSMC) program, which certifies that you are capable of safely managing project teams and job sites without supervision. It specifically focuses on the ability to lead construction projects while ensuring safety procedures are being followed, a crucial skill for construction management.
5. Environmental Certifications
Many clients and executives care deeply about the environmental sustainability of their practices and projects, and choose their construction professionals and staff accordingly. Your awareness of environmental trends in construction will be important to them when considering their construction management team. Possessing an environmental certification shows expertise relating to those topics and can make you much more attractive to clients or projects where the environmental impacts play a considerable role in the decision-making process.
The U.S. Green Building Council (USGBC) offers multiple certificates relating to environmental building and construction standards and practices, with the most popular being the Leadership in Energy and Environmental Design (LEED) certifications. They offer both the LEED Green Associate certification for those newer to the world of sustainability, and the LEED AP with Specialty certification for those with prior exposure to LEED or similar projects.
To register for an exam or find more information go to the USGBC/LEED information page.
6. Role Specific Certifications
As construction roles can often be highly specialized, consider role-specific certifications to help advance your career. The National Council of Examiners for Engineering and Surveying (NCEES) offers two certifications which provide exposure and knowledge on the fields of engineering and surveying, two valuable skills which can open the door to new opportunities.
The American Concrete Institute (ACI) offers certifications relating to concrete use, which can position you as an expert on the job sites with a high amount of concrete work. The National Association of Corrosion Engineers (NACE) offers 23 certifications relating to corrosion, which will make you a more attractive and capable employee on projects where corrosion and structure lifespan are concerns.
Ultimately, there will be certifications for practically every technical role, and even for many which aren't overly technical. Most certifications will be beneficial for individuals interested or already working in construction management. The responsibility is on you to find the ones that best fit your current situation and desired career path, and use them to access new opportunities and build yourself into an even stronger and more knowledgeable employee.
Michel Richer is the content marketing manager at Bridgit. He got his start in the construction industry at an early age with a local restoration company. He is driven to propel the construction industry forward by helping to eliminate outdated, ineffective processes.