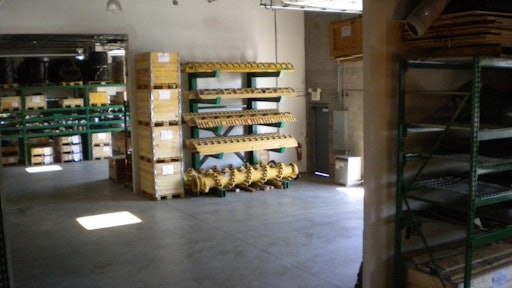 Komptech USA has grown rapidly since its founding less than a decade ago, and there are more and more machines out there working. That in turn means the company needs to keep more and more parts ready to service those machines. Komptech is proactively addressing this in two ways – by further boosting its own parts stock, and by helping its dealers with their parts operations.
The goal, according to Komptech Parts Manager, Tony Pierce, is to "make sure everybody is well stocked, so dealers can support customers smoothly." To do that, Tony will be visiting dealers over the course of the year, training their specialists on the ins and outs of Komptech parts service and finding out from them what Komptech can do to make their jobs easier. Tony breaks parts out into high-turnover A-list items like oil filters and wear parts, which are stocked centrally as well as by dealers for direct service to customers, and less frequently-needed B-list parts which are kept centrally in Denver.
The company is also undertaking a massive expansion of its central parts warehouse in Denver, doubling the space. The existing space was getting crowded, especially since, last year, Komptech had already doubled its parts stock and will be adding more this year. Now with more room to maneuver, as Tony put it, "I can order two parts instead of one when I call in orders, and build up more reserves"
Komptech is dedicated to uptime. The company is well aware that, for its customers, time is money and downtime equals lost revenue. By further increasing its parts warehouse space, and training its dealer parts specialists, the company is making sure its customers have the parts they need, when they need them.
Companies in this article