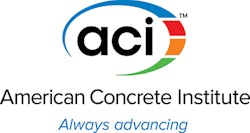 The American Concrete Institute is calling for papers for a session titled "Getting the Most Out of Decorative Concrete" to be presented at the Spring 2016 convention in Milwaukee, Wisconsin.
This session will bring together expert speakers on the finishing topics covered in ACI 310 Guide to Decorative Concrete. Decorative concrete professionals and members of ACI 310 are asked to submit 50 to 100 word abstracts for 30-minute presentations to be part of this session. Aesthetic and decorative finishes discussed in the Guide to Decorative Concrete will be given preference.
Anticipated topics include:
Best practices for stamped concrete finishes
Dos and Don'ts in polished concrete systems
The art of using multilayer stencils
Key lessons to be learned from ACI 310 Guide to Decorative Concrete
Sealing and curing decorative concrete
The deadline for absracts is November 1, 2015.
Abstracts of 100-words or less describing presentation topics are requested by November 1, 2015. Abstracts should tell prospective attendees what they will learn during the program and how the topic relates to concrete aesthetics or the materials and methods covered by ACI 310 Guide to Decorative Concrete. Presentations are limited to 30-minutes. While submitting an abstract prospective speakers should outline their qualifications and work experience with the subject finishing technique. Prospective speakers to supply complete contact information to the primary contact Anne Werner.
Submission Checklist:
Presentation Title:
Abstract: (Approximately 100 words)
Presenter Full Name:
Presenter Nickname:
Address:
City:
State/Province:
Zip/Postal Code:
Country:
Telephone:
Fax:
E‐mail:
Submissions should be sent to:
Professor Anne Werner
Southern Illinois University Edwardsville – Dept. of Construction
5041 Springfield Dr.
Edwardsville, Ill. 62025-5829
Phone: (618) 650-5191
E-mail: awerner@siue.edu


Sponsoring Committees: ACI 310 Decorative Concrete & ACI 124 Concrete Aesthetics.
Companies in this article