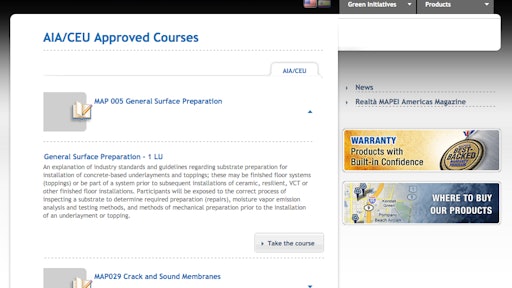 As part of its commitment to educating architects about the role that its products play in the construction industry, MAPEI Americas has opened a free online educational program for architects in the United States and Canada. This program enables architects to gain continuing-education units that are recognized by their associations – the American Institute of Architects (AIA) and the Architectural Institute of British Columbia (AIBC).
The Architectural Educational Program is easily accessible from the Architectural Solutions page of the MAPEI Americas Websites. Courses are available in English and Spanish on the U.S. Website (www.mapei.us), and in English and French on the Canadian Website (www.mapei.ca). Once they have entered the portal, architects can select and view the online presentation that meets their interests. Presentations are crafted for architects' requirements.
After completing the accompanying multiple-choice questions, the architect receives an email confirming completion of the course. In the United States, the required information is sent directly to the AIA, while architects in Canada self-report their information to the AIBC.
New courses are continuously being added to MAPEI's Architectural Educational Program, so architects can return to the portal for further continuing-education units. This program also makes it possible for architects in remote areas to maintain their continuing-education units without extensive travel. MAPEI supports the portal with in-person lunch-and-learn sessions that can be arranged through its staff of architectural representatives.
"MAPEI has developed an architectural support program that strives to develop a relationship with architects and designers through educational presentations that keep them up to date on the changes and new technology in the flooring industry," said Mike Granatowski, National Manager for Architectural and Commercial Projects at MAPEI. "These on-line courses allow us to reach out to many more firms with education. MAPEI has the goal of being our market's chief resource in designing installation systems."
Companies in this article