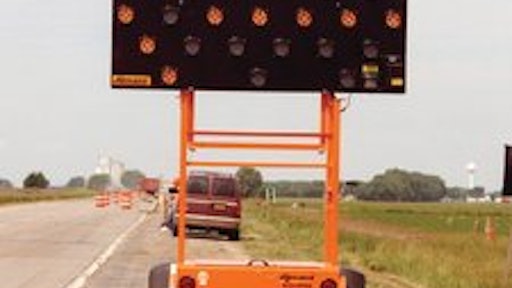 Arrowboard
Can run unattended for months
50-, 75-, or 100-watt high-performance, self-regulating solar panels
Solar panels charge heavy-duty, commercial marine deep-cycle power batteries
Available with trailer mount or retrofit configurations in standard 15- or 25-lamp models
Allmand Bros Inc.
DisposaCones
Highly visible, compact, temporary traffic barricade system
14 in. tall and adhere to any clean, dry, hard surface; wet metal; glass; and painted surfaces
Made from biodegradable paper and environmentally friendly
Allow contractors to ask the client to dispose of the cones rather than spend time to come back to the site and pick them up themselves
Vanguard ADA Systems of Am.Inc
Easy Rider Speed Bump
Made from 100% recycled rubber tires
Molded reflective tape and cats eye reflectors
Channeled bottom covers cabling
End caps available
Lightweight
Installs with rebar spikes or lag bolts and shields
GNR Technologies, Inc.
Manhole Safety Ramp
The Manhole Safety Ramp protects motorists from exposed utilities on mill and fill road projects.
Made of durable 100% recycled rubber
Various sizes available
Grip tight design
Fast simple installation
Stackable for storage
Booth #1883
American Highway Products
Meteorlite SY22050
The Meteorlite SY22505 is a Class I heavy-duty potted vehicle safety strobe with a high-intensity LED source.
Consists of a durable, polycarbonate lens and aluminum base with amber, blue or red replaceable LED lamp
Available in high or low profiles with permanent or magnetic mounts
Includes 24 LEDs per head with up to 11 built-in selectable flash patterns
Superior Signals, Inc.
MPS-350 Truck-Mounted Attenuator
MPS-350 Truck-Mounted Attenuator
NCHRP 350 Test Level 3 approved
?Open, all-steel design
?No moisture concerns
Power hoist raises frame for traveling
Trinity Industries, Inc.
Trinity Industries, Inc.
Recycled Plastic Lumber Speed Bump
Available in 9, 6, and 4 ft. lengths
Manufactured out of recycled HDPE plastic
Easy ot install with lag bolt anchoring and specialty butyl tape
The Plastic Lumber Company, Inc.
Reflective highway safety materials
Reflective highway safety materials
Temporary marking tapes
Permanent marking tapes
Reflective glass beads
Thermoplastic marking compounds
Reflective sheeting
Swarco Industries
Swarco Industries
Roadguard/2
The Roadguard/2 water-ballasted, energy-absorbing barrier is constructed from high-density polyethylene plastic for added strength.
Weighs 1,600 lbs. when filled
Measures 6 ft. long, 3.5 ft. high and 2 ft. wide at the bottom and 10 in. wide at the top
Double chamber provides two vertical walls in the center for added strength and stability
Includes a self-locking device, hand grips and slots and channels for lights, flashers, panels, screens and signs
Traffic Safety Devices, Inc.
Scotchlite Reflective Material
This broad line of reflective products incorporates patented retroreflective technology.
Recognized as the leading high performance retroreflective material for enhancing worker visibility in low-light and nighttime conditions
Can be easily incorporated it into various kinds of footwear, garments and accessories, including safety vests
Helps meet ANSI/ISEA 107-2004 Performance Class 2 or 3 requirements
3M Visibility and Insulation Solutions
Solar Message Centers
PSC Solar Message Centers
Users of Precision Solar Controls (PSC) Solar Message Centers are available in three models with various options and accessories available.
Powered by solar energy and using LED technology allows the message to be more cleaerly legible from greater distances
500 messages can be stored in unit, while 250 of them can be programmed by users
Various accessories available, including a NTCIP base station, radar antenna and pintle hitch
Precision Solar Controls
SonoBlaster
The SonoBlaster dual alert work zone intrusion alarm warns road crews and drivers simultaneously to help prevent crashes and injuries in work zones.
Mounts to barricades, cones, drums, delineators, A-frames and other barriers
Horn instantly blasts a 125-dB alarm for 15 seconds upon impact to signal that the work zone has been violated
Transpo Industries, Inc.
Traficop Traffic Calming Devices
Modular design for easy installation without excavation or road closures
Solid modules made of recycled rubber
Emergency vehicle friendly
Galvanized steel reinforcing bars
58 anchor points for secure and durable installation
Safer Roads, LLC
Vorteq TMA
The Vorteq trailer-mounted attenuator is designed primarily for users in need of an easy to own and operate, lightweight, repairable TMA that passes all mandatory and optional NCHRP 350 TL-3 requirements.
Single-point attachment allows for setup in less than a minute
Open frame design for quick, easy inspection and maintenance
Standard fully galvanized model mounted on a torsional axle with an LED lighting/electrical package
Can be used on most vehicles with a standard pintle hook
Energy Absorption Systems Inc.