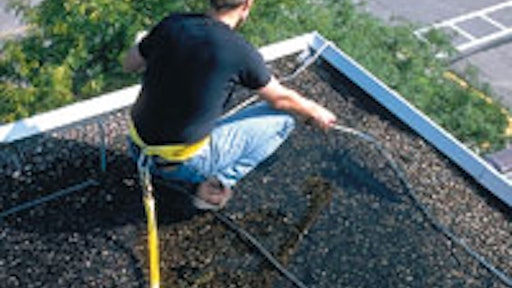 Falls are the No. 1 cause of worker deaths on U.S. construction sites. On average, 150 to 200 construction workers are killed and more than 100,000 workers are injured in falls annually.
OSHA mandates that an employer provide workers with a safe work environment. When it comes to the risk of falls in the construction industry, OSHA's 1926.501 standard requires employers to provide fall protection systems to employees when they are working around unprotected sides or edges which are 6 ft. or more above a lower level. The standard calls for the use of guardrail systems, safety nets or personal fall arrest systems.
OSHA 1926.502 examines fall protection system criteria and practices and provides equipment requirements. This is a starting point on which many companies base their fall protection plans.
Preventing falls
"The first rule of safety is eliminating the fall hazard," says Dave Puleo, Miller Fall Protection. "When working at heights, if there is a chance of a fall, you first need to address if the fall hazard can be eliminated."
Some passive systems are designed to prevent free-fall hazards. These include guardrails, warning line systems and positioning device systems, also known as a travel restriction or restraint system.
Restraint systems prevent workers from reaching a point where a fall could occur. The system includes a body belt or full-body harness, tether line or restraint lanyard, anchorage connector and anchorage point. They are not intended to protect a worker in a fall, but prevent a fall hazard.
"A worker would use a restraint system to restrict their range of travel by limiting their access to a leading edge and a possible fall hazard," says Puleo.
OSHA regulates that a restraint system must restrict a worker's free fall to no more than 2 ft. Its anchorage point must have 3,000 lbs. of tensile strength or the ability to support at least twice the potential impact load of an employee's fall, whichever is greater.
Personal fall protection
Personal fall protection equipment can protect your employees in the event of a fall. It consists of a full-body harness, a shock-absorbing lanyard or self-retracting life line and an anchorage point.
When working at heights where you're dependent on fall protection equipment to save your life, you must carefully calculate the total fall distance to ensure you have enough room for the fall protection to work properly. You need to factor in 6 ft. for the length of the lanyard, 3.5 ft. for the deceleration distance of the shock absorber, 6 ft. for the height of the average worker and a safety factor of 3 ft.
"Typically, for fall clearance you need about 18.5 ft. from the anchor point to the level below for a fall arrest system using a 6-ft. shock-absorbing lanyard to properly engage and arrest a fall," Puleo says. "If the fall clearance is less than 18.5 ft., a retractable life line that limits a free-fall to 2 ft. or less should be considered in lieu of a shock-absorbing lanyard."
Retractable lifelines work somewhat like a seat belt. A worker can walk around a jobsite attached to a retractable life line, and the line will follow the worker. Once the braking mechanism inside senses resistance, the unit locks and arrests a possible fall.
In addition to the basic harness systems, manufacturers have specialized equipment for certain situations. For instance, fire-resistant harnesses made up of Nomex and Kevlar are available for the welding industry. DBI/SALA offers a special harness designed to withstand the forces of an arc light flash for utility workers, and its Delta II harness has Resist Technology, which incorporates a polyurethane-coated webbing.
"It's relatively chemical resistant and good on jobsites that expose a harness to dirt, grime and other contaminants that can hurt the life of the webbing. This Resist webbing can be wiped clean in seconds," says Kim Meyer, product manager, DBI/SALA.
Worker comfort
One of the most challenging issues in the fall protection industry is creating a comfortable harness that a worker wants to wear, and wear correctly. Manufacturers have engineered a host of characteristics that emphasize worker comfort. Flexible webbing, stand-up D-rings and a harness structure that helps a worker put on a piece of equipment easily and correctly are just a few of the features being added to make fall safety equipment easier and more comfortable to use.
Miller Fall Protection conducted extensive research when designing its latest harness to learn what improvements workers wanted in their fall safety equipment. The company introduced the Revolution Harness with 11 key features based on user-identified needs.
"The new Miller Revolution Harness features a unique, rotary design that provides greater comfort in bending and mobility," says Puleo. "With a better ergonomic fit, the PivotLink Connection provides a natural hip rotation point, as well as the capability to independently adjust the upper and lower torso of the harness for greater comfort."
Miller also incorporated a more pliable webbing, easier to use adjustment buckles and a semi-flexible back shield. According to Meyer, DBI/SALA's ExoFit XP harness has removable padding in an x-design on the shoulders and back, leg padding, quick-connect buckles and other comfort features so workers can wear the harness for an extended period of time.
"Workers will wear it, thus increasing productivity because workers won't take it off and put it back on so many times in a work day - it's that comfortable," he states.
MSA recently introduced its TechnaCurve harness system to the market. The curvilinear comfort system, secure-fit buckles and shoulder and sub-pelvic pads add to wearer comfort.
The company's self-retracting life lines also have a unique feature in the industry. "Our self-retracting lanyards come with a field-replaceable life line," explains Apel. "The customer can replace the line in the field without sending the equipment back to the manufacturer."
The bottom line is that fall protection is an important element in keeping your workers safe and alive. Educate them through training, teach them how to calculate total fall distance and demonstrate the proper fit for fall safety equipment.
Also allow worker input when it comes to choosing fall safety equipment. They're more likely to wear the equipment if they know it will be comfortable and easy to use throughout their work day.
--------------------------------------
Anchorage Points
Without the proper anchorage point, your fall protection system won't be much help during a falling incident.
"You can't hook up an anchorage connector to a water pipe or a stairway railing because that won't hold 5,000 lbs.," says Kim Meyer of DBI/SALA. "You need to have an engineer okay the structural integrity of the anchorage point."
OSHA requires that anchorage points be selected and evaluated by a qualified person, usually a structural engineer. In new construction, the engineer on site could also provide that information.
Bob Apel of MSA points out a few quality features of an anchorage point. "A good anchorage point will be higher than the back D-ring of the harness on the wearer. This limits your total fall distance. Also, it should be located directly overhead, which limits your potential for a swing fall," he states. "It should have a minimum breaking strength of 5,000 lbs., and should be easily accessible by the user."