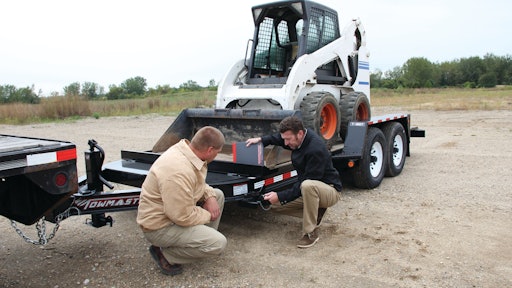 Aside from natural disasters, accidents can always be prevented. Follow this simple guide and you'll help prevent accidents that can be avoided, or at least you will be doing your part. It's as simple as A, B, C.
(A)ttention
When it comes to accident prevention, the biggest impact comes from paying attention. In this case, it means pay attention to the trailer. Make sure the lights are working. Keep the tires maintained and at optimal tire pressure. Grease the suspension and wheel bearings per the maintenance manual. Attach the coupler properly and make sure the break-away safety switch is attached. As you walk around the trailer, you need to check that the lights are working properly and make sure there are no stress cracks in the frame.
Taking a little extra time and paying attention to the maintenance of the trailer itself can help prevent an accident.
(B)e Aware
Placing equipment on your trailer is just as important as the trailer itself. Be aware of how much the equipment weighs, including any attachments, and make sure your trailer is designed to haul that load. Also, be aware of how the equipment is placed on the trailer. You want to make sure that the weight is evenly distributed between the axles front to back and side to side, with the correct amount of tongue weight so that the trailer doesn't sway.
Securing the load is important as well. Use the correct chains or straps that will be able to hold the load in place. Be aware of the condition of the tie-downs and make sure there are no tears or cracks in the straps or chains.
(C)oncentrate
You might think concentration is the same as attention, but it's more than that. Concentration is continuous. When you've paid attention to the details of the trailer, you see something has been properly done and you move on. When it comes to concentration, you put continuous thought into what you are doing. You are hauling thousands of extra pounds of weight on a trailer. This means you'll need to brake sooner, you'll need to have more room pulling out of an intersection, and you'll need to pay more attention to the traffic around you.
Concentration also means continuous monitoring of the trailer and the load. Has the load shifted? Do you notice a difference in how the trailer pulls? Your concentration on the task you are doing will keep you out of harm's way.
Follow the ABCs
As you can see in this simple guide, we've covered the trailer (Attention), the load you are hauling (Be Aware), and transporting the load (Concentration). Accident prevention is a top priority for any business. Not only will it save money, but more importantly it will save lives. Follow the "ABCs" of accident prevention and you'll haul safely to your destinations.