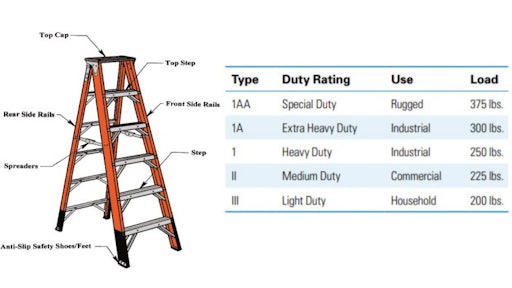 OSHA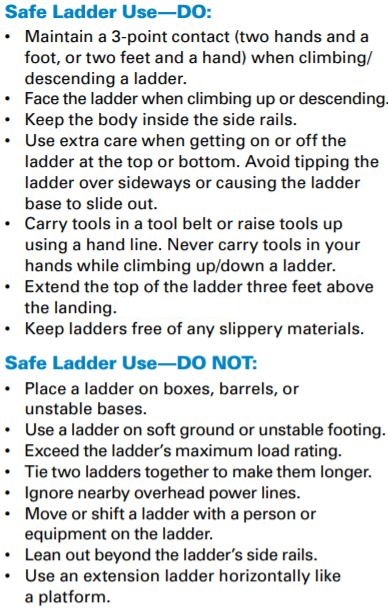 Center for Disease Control statistics show that 43% of fatal falls in the last decade involved a ladder, and among construction workers, an estimated 81% of fall injuries treated in U.S. emergency departments involve a ladder. Because falls are the leading cause of work-related injuries and deaths in construction, NIOSH, the Occupational Safety and Health Administration, and the Center for Construction Research and Training are promoting a national campaign to prevent workplace falls. March 2021 marks the Fifth Annual National Ladder Safety Month.
Consensus among safety professionals is that the primary cause of ladder injuries is lack of training on their use.
OSHA has issued fact sheets that cover: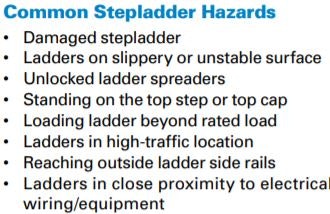 The American Ladder Institute (ALI) boils down most important guidance of these topics into flyers available here :
Choosing the Right Ladder

Safety Before the First Step

Why Ladder Safety and How it Affects Everyone

Ladder Safety at Work

Ladder Safety at Home

Ladder Inspection and Disposal

Ladder Safety Moment

Why Ladder Safety Training Should Be Mandatory For Your Employees
The ALI also offers free ladder-safety training and offers a ladder-safety certification.
Some key safety points for extension ladders:
Set an extension ladder at the proper angle. When a

ladder is leaned against a wall, the bottom

of the ladder should be one-quarter of the

ladder's working length away from the wall.

For access to an elevated work surface, extend

the top of the ladder three feet above that

surface or secure the ladder at its top.

Before starting work, survey the area

for potential hazards, such as energized overhead power lines. Ladders shall have nonconductive side rails if they are used where the worker or the ladder could contact exposed energized electrical equipment. Keep all ladders and other tools at least 10 feet away from any power lines.
Set the base of the ladder so that the bottom sits securely and so both side rails are evenly supported. The ladder rails should be square to the structure against which it is leaning with both footpads placed securely on a stable and level surface.
"Helping people get home safely is why we come to work each day," said Ryan Moss, CEO of Little Giant Ladders. "Ladder Safety Month is a time we can focus more on sharing the message of preventing injuries and saving lives. We hope that by sharing how to work at height safely, we can help people return home safely to their families."
Dave Francis, national safety director for Little Giant Ladders, and Little Giant sales reps will provide complimentary ladder safety training with a certificate of completion. To register for a training, reach out to your Little Giant representative.
Additionally, Dave Francis will be featured as a guest speaker as a part of the Ladder Safety Symposium held by the OSHA Education Center at the University of Texas at Arlington on March 16th at 11:55 am CST. He will train health and safety officers on how to choose, inspect and safely use their ladders on the job. The training will be broadcast via Zoom from the Little Giant Live studios. To join the training on the March 16, visit this link.