CM Labs
When it comes to training, today's complex equipment requires an equally sophisticated learning environment. And while younger tech-savvy workers are generally quick to embrace simulation-based training as an effective tool, many established operators remain convinced that nothing can replace on-the-job field training.
As a construction worker with more than two decades of experience under his belt, Gary James' view of training simulators was tainted with a skepticism not uncommon among veteran equipment operators. He saw simulators as overly simplistic and unrealistic, only useful for novices, and in no way a reflection of actual jobsite conditions.
Throughout his career, James has operated a range of construction equipment and has trained others to do the same. Like many in the industry, his career literally began from the ground up. While slinging dirt with a shovel, an unexpected opportunity provided quick entry into the world of heavy equipment operation.
"One day an equipment operator showed up in let's just call it a 'less than ideal' condition," he commented. Long story short, the company was suddenly in need of an operator and James seized the chance.
Unfortunately, the training he received was less than ideal. "It was a classic example of baptism under fire," he noted. "I was handed a shirt with a pocket and a receiver to keep in it. As I sat behind the controls, my supervisor walked me through the process shouting step-by-step loading instructions in my ear. This went on every day for weeks until I was able to operate the equipment on my own."
This experience directly influenced James and his approach to training. "I learned in the exact wrong way. It was nerve-racking, intimidating and excessively long," he said. "When I began instructing equipment operators, I knew that there had to be a better way."
An Eye-opening Encounter
Despite this realization, James had never considered heavy equipment simulators to be a viable training option. Things changed almost immediately when he encountered CM Labs' line of Vortex simulators. With advanced graphics and algorithms, the simulators provide trainees with the look, feel and machine feedback of the real thing.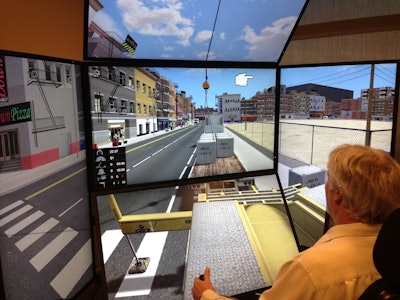 For James, and many who first experience these simulators, the difference is eye-opening. "If I were blindfolded, I wouldn't know if I were on an actual piece of equipment or a CM Labs simulator," he stated. "It blew my mind the first time I tried it. When engaging the hydraulics, swinging the arm or lifting the bucket filled with dirt, you can feel the reaction of the machine in the controls and in the seat. What's more, the feedback is real time and accurate, not scripted. I couldn't believe how close it was to the real thing."
Training simulators are a cost-effective way to bridge the gap between the classroom and field training while allowing novice operators to learn in a safe and stress-free environment.
"Air digging with actual equipment wastes fuel and isn't practical or useful. Students must have a feel for what is really happening and today's advanced simulators provide just that," said James.
"I want them to experience the machine's reaction when filling or emptying the bucket," he continued. "I want them to feel the jolt of crashing the bucket into the side of the truck or feel the tension that runs through the body just before the equipment reaches its tipping point. Simulators provide this real-world experience without the consequences."
Still, despite many advantages, convincing experienced operators to give simulators a try can be a whole new challenge. "Believe me, when an experienced operator scoffs at the idea of learning anything from a simulator, I know exactly what they are feeling. I've been there," said James. "The only response I can offer is – Have you tried it?"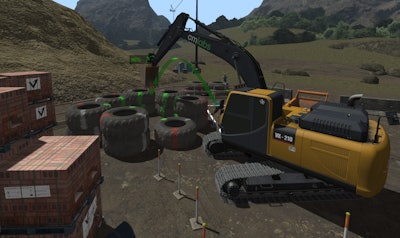 Simulators allow even the most expert operators to maximize machine efficiency and squeeze a little more productivity out of each day. Construction original equipment manufacturers (OEMs) are constantly introducing new features – and simulators can ensure faster productivity by familiarizing operators with innovation before the equipment is delivered to the site. And with literally thousands of variations for terrain, jobsite obstacles, tasks and weather conditions, instructors can challenge trainees of all skill levels with a wide variety of scenarios.
Overcoming the Skills Gap
Simulators are playing a part in helping the industry overcome a dwindling workforce. Through simulation-based training, companies are showcasing new technology while investing in the future of their employees. This not only attracts young tech-minded workers, it is also providing a solid career path for current staff.
"Like other companies, we struggled to fill positions," said James. "So, we began using social media to demonstrate the technology the industry had to offer and showcase our simulators. Within 48 hours, we had a million views and countless inquiries. And within days we no longer had a hiring problem."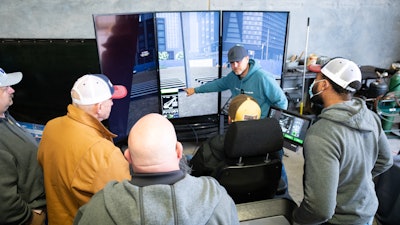 In addition to recruitment, simulators are helping construction companies to retain a higher percentage of their workforce. Many companies with simulators are investing in their staff by paying them to attend virtual training when not on the job due to adverse weather conditions, a delay in material delivery or related downtime.
James describes spending a snow day on the simulator with a couple of workers from the labor pool who were interested in advancing their careers. Within half a day, the two were trained to operate off-road trucks. The following week, they were reassigned as drivers. Demonstrating a commitment to employee career advancement is shown to go a long way toward retaining workers.
Objective Operator Assessments
Beyond training, simulators are also a tool to objectively assess an operator's competence, value, productivity and impact on the bottom line.
"As a construction owner, do you know who your next million-dollar operator is?" James asked. "Simulators can help identify such people and move them along more quickly. This translates into a substantial increase in revenue.
"What's more, the information I get from my simulator tells me how much I can afford to pay this operator and make money," he added. "I have the tangible data to quantify the productivity of each operator and adjust billable and compensation rates accordingly. Before, this was a highly subjective process that took months to determine."
From a productivity perspective, simulators can pinpoint areas where measurable improvements can be made to operator performance. And, as James noted, even a few seconds saved can translate directly to the bottom line over the course of a day, week, month or year.
"Simulators can identify even subtle inefficiencies," he said. "For example, say an operator is supposed to swing the loader's arm 90° and collect dirt. Let's say that the simulator reports that the student is consistently swinging the arm 95°. The difference seems minuscule, but if we can focus on improving that specific area and shave off a couple of seconds each time the bucket is loaded, we'll move more dirt throughout the day and improve productivity."
Making the Choice
Today, this self-described cynic has come to see the light and is a leading advocate for simulation-based training. In addition to measurable improvements with operator productivity and safety, James cites savings related to fuel consumption, equipment maintenance and employee screening.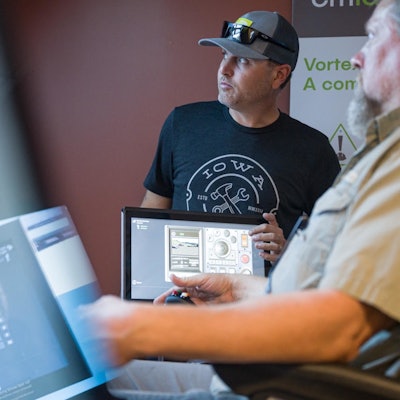 "Companies I've worked with have saved as much as $20,000 on the employee screening process alone. Simulators can quickly and accurately quantify the competency of an operator helping companies to understand exactly who it is they are hiring," said James. "I don't care if you've got a resume from here to Texas. You're not getting on a machine until your skills have been validated on a simulator."
What's more, contractors can save $60,000 to $80,000 or more each year in accident avoidance. As James can personally attest, it's better to learn lessons virtually than on the jobsite. "I've personally been responsible for thousands of dollars in equipment losses," he admitted. "Simulators allow students to make mistakes without associated dangers or costly consequences."
For James and others like him, there's no going back. So, what will it take for skeptical companies to embrace simulation-based training?
According to James, it boils down to two options: "You can wait for something bad to happen before implementing a simulation-based training program, or you can prepare your operators and avoid it. The choice is yours."