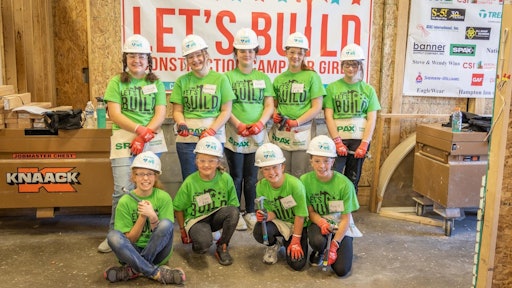 Taken from Let's Build's homepage https://www.letsbuild.camp/home
To say that Shelly Higgins is passionate about the trades is an understatement. Beyond being the mastermind behind "Let's Build" northeast Ohio construction camp for girls, she's spent her entire life working in various corners of the construction industry. Her love for it goes back to an early age.
"I grew up just wanting to spend time with my dad," Higgins said. "The best way for me to do that was doing whatever he did." Her dad was a house "flipper" before there really was much general awareness for that concept or that term. Higgins describes doing whatever she could do to help when she was there working with him. " I would go help him, and being a young little girl, I would end up threading pipe or doing whatever else I could. I really enjoyed that. I've always loved working with my hands"
The sense of satisfaction and accomplishment that doing this type of work would be something she carried with her into adulthood and career. She ended up spending a lot of time designing kitchens professionally, then exterior building products, and eventually, architectural sales. All the while, however, trying to stay connected to the job sites, where that familiar and rewarding work happened.
But where did the idea for the construction summer bootcamp come from?
Being Inspired
"I was one of the few women in the industry at the time, because it's a male dominated industry," Higgins remembered she was often met with initial resistance or difficulty at first, and this became a sort of early seed for what would become Let's Build. "We teach girls that these aren't roles for them, and we don't even realize that we do it. I've always been one of those people that I will step out of my comfort zone, and I want to encourage these girls to do that."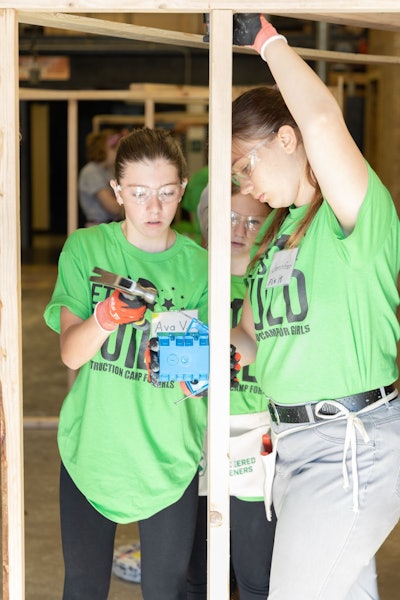 What finally materialized these thoughts into a plan of action was the COVID-19 Pandemic. The vulnerability of the trades was exposed, and the labor fallout from that continues to be felt. While almost every industry has seen difficult hiring enough workers for their open positions, the construction industry has been hit worse than most. This has caused project delays, cancellations, and increases to overall costs for many reasons. Countless experts, journalists, and pundits have spent endless hours into what to do about it.
"If we don't train our kids to do this, then the trades might die out," said Higgins. "But if we make them aware, if we plant the seeds early, they will know this is something there for them."
Getting Off The Ground
As a function of Higgin's job, she belongs to a number of national construction organizations. While attending a women's leadership meeting, she was challenged to develop a handful of small projects, each project had certain individual criteria, but she recognized that, perhaps, the best way to achieve all them was to combine all the criteria into a single project.
"I want to do a camp and encompass all of them, and I wanted it to be about construction," Higgins recalled.
Before she started her own, however, she decided to get advice from another similar camp in eastern Pennsylvania, where a man named John Latin already had a camp she could learn from. As she started to build support for her own camp project, different trade unions were some of the earliest supporters of the vision, including the local plumbers, electrician, and carpenters unions.
"I did, however, have many people that thought I was out of my mind, that I was crazy for doing this," said Higgins.
The support grew out of the years of relationships and connections that Higgins already had established within the industry. These connections are her greatest resource for finding instructors and experiences to build the camp schedule around
Let's Build A Camp
The camp itself runs for a single week during the summer at the Mahoning County Technical Center. It is geared for ages between 12 and 17, and features a wide variety of things the girls get to do all with the explicit purpose of exposing and familiarizing the girls with things that, for most of their lives, have mostly been targeting boys.
On the camp's homepage it says, "LBCC, Inc.'s mission is to encourage middle school and high school-age students to consider a career in architecture, engineering, manufacturing and construction trades through education, hands-on experiences, mentoring and field trips." and they have a video posted where you can see some of what they get up to.
During the course of the week they get experience doing drywall, carpentry, HVAC, plumbing, as well as field trips to manufacturing facilities, architectural firms, and even local permitting offices.
"One of the biggest things that excited them was the welding," Higgins described a visit with the Local 396 where one of the welders named Brittany showed them how to weld their initials into a piece of metal. "She had the girls put on the welding hoods, jackets, and gloves. They were really excited. Some of the girls wouldn't touch the welding, but most of the girls thought that was the coolest thing." And surely having a woman role model the work for them only added to the success of the experience, getting to see themselves in the work already.
The biggest success for Higgins, however, is the growth she sees in the group of girls over the course of the week. "They're just stepping out of their shell. By Friday, they're feeling strong and powerful. They're willing to try anything we put in front of them, they're encouraging each other. It's just a huge transformation."
One of the more surprising things, according to Higgins, was the response she's received from adult women in the community who, when they hear about the camp, want to know if she has a version of the camp for grown-ups. "I'm hoping to maybe do a mom version someday," she said. "I think it's something we need to do."
She's not wrong about that. According to national labor statistics, the fastest growing demographic for construction industry employment interest is single mothers.
For more information visit: https://www.letsbuild.camp/home