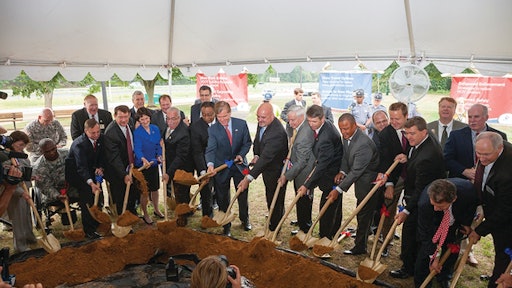 Ground breaking for the expansion and improvement of the I-95/395 High Occupancy Vehicle (HOV)/ Express lanes from near Edsall Road in Fairfax County, Va., to Garrisonville Road in Stafford County was held Tuesday, August 7. Completion is expected in December 2014.
Nearly $1 billion in infrastructure improvements to the I-95 corridor will be made. This project will include:
Adding a third HOV lane for 14-miles along I-95 from the Edsall Road area on I-395 south to the Prince William Parkway;
Improving two existing HOV lanes for 6 miles between Prince William Parkway and Rt. 234, Dumfries Road; and
Adding two new HOV/Express Lanes for another 9 miles south to Stafford County, Rt. 610 Garrisonville Road.
Fluor-Lane 95 LLC is the "design/builder of the 95 Express Lanes," the same group working on the I-495 Express Lanes, scheduled to open later this year. The contract will continue to permit cars with three or more passengers to use the express lanes free.
The project is expected to employ approximately 500 construction personnel and support 8,000 jobs in the region with an overall impact of $2 billion.